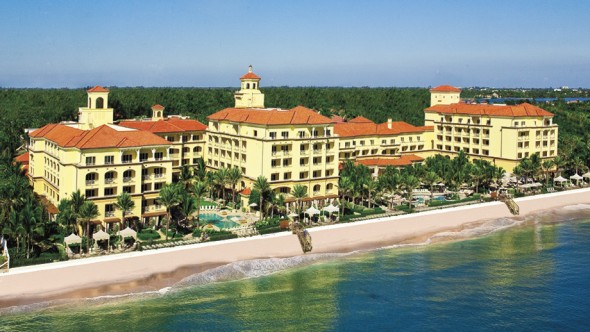 By Stacey Zable*
Family Travel Editor
The Ritz-Carlton, Palm Beach in Manalapan, Fla., epitomizes the glamour of Palm Beach and the luxury hotel chain itself, but guests will also discover a staff and fellow guests who welcome young hotel occupants and even their dogs!
To follow are five family features of The Ritz-Carlton, Palm Beach:
1. Age-appropriate Kid's Programs
Two dedicated spaces house the property's children's programs: AquaNuts (Ritz Kids) for ages 5 to 12 and Coast (Ritz Teens) for those 13 to 17. Both rooms are brand new as of late December, following Super Storm Sandy's destroying the original spaces. AquaNuts changes its theme and activities based on the day, with the focus on "edutainment." Inside the underwater world-themed space, you'll find rock climbing walls, a theater, Apple Mac computers with gaming consoles and even good ole' fashioned board games and coloring books.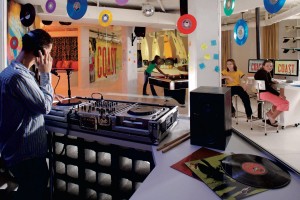 Teens step into a "beach shack" lounge with recording studio and DJ booth, gaming consoles and pool table at Coast. Teens can also create vacation videos with a video production and editing station. At night the space allows for dance and club nights and movie time.
In between the two spaces is [email protected], for tweens and teens who want to dress up, get made up and even participate in a photo shoot (all for a range of fees.) The resort salon within the Eau Spa will also give manicures and pedicures to teens, but parents must be there during the treatment.
All-day camp is from 9 a.m. to 4 p.m. including a lunch. A half day camp includes lunch and is offered from 9 a.m. to 1 p.m. or 12 p.m. to 4 p.m. Rates range depending on time of year. There are also a number of specialty programs that can be purchased separately, such as building an "AnimalNut." Though programming is available during off-peak periods, it is more robust during holidays and summer vacation when the family occupancy rate tends to run higher.
This summer, the property will launch a kids and adults "Camp Ritz-Carlton" program that would last one or two weeks and be similar to what kids would experience in a "true camp", such as arts and crafts, camping, marshmallows and ghost stories.
2. Dog-Friendly Digs
No need for guests to leave the family pet at home, with dogs 25 pounds or under welcomed resort-wide. The property even has a special dog menu featuring canine cuisine.
3. Key Location
It's only a 20-minute drive to the property from Palm Beach International Airport. The hotel is also within 30 minutes of many Palm Beach attractions that are great for families including the South Florida Science Museum, Palm Beach Zoo, Jupiter Inlet Lighthouse & Museum, Lion Country Safari and Rapids Water Park.
4. Healthy Kid's Menu Options
A new Ritz-Carlton-wide initiative brings healthy alternatives onto the kid's menu besides the traditional favorites of mac and cheese, chicken fingers, grilled cheese and sliders. There are even gluten-free options and the opportunity to have the chef create custom pureed baby foods to guests' exact specifications. Guests can upgrade to a Club Level room, and they will be treated to food and snacks virtually all day long. Morning continental breakfast and lunch, plus appetizers and desert in the evening are augmented by anytime drinks and snacks available at the newly renovated Club Lounge. Snacks include healthy choices, such as apples, bananas and yogurt. If they don't see what they want, the Club concierges will do their best to find it within the hotel to keep junior happy.
5. Eau Spa
With the kids having fun at AquaNuts or Coast, mom and dad can enjoy their own little private adults-only haven. The pampering begins with complimentary champagne and miniature cupcakes while enjoying the Self-Centered Garden, an open-air sanctuary with relaxing lounges and swaying swing chairs, or guests can soak in the indoor oversized Jacuzzi while the center water column flows down from the ceiling and onto their backs. Book side-by-side massages in the Couple's Villas for clients and they also get to enjoy their own private garden with an oversized tub and outdoor rainfall shower. After all, happy and relaxed parents create the best family vacations for their kids.
Nightly starting rates for The Ritz-Carlton, Palm Beach guest rooms are $199. Contact the property at 800-542-8680 or visit ritzcarlton.com.

* Stacey Zable is an award-winning veteran travel writer and family travel expert who has written about destinations, resorts and cruise lines around the world. Send travel questions and comments to Stacey at [email protected]