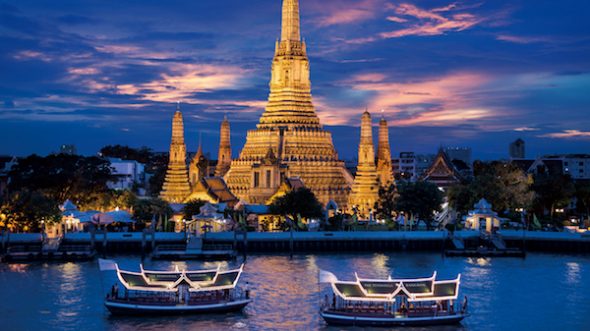 Take a History Lesson
Start with a visit to The Grand Palace, undoubtedly one of Bangkok's most famous landmarks.
Walk the expansive complex, which not only includes the former residence of the Thai monarch, but is also home to Wat Phra Kaew, the Temple of the revered Emerald Buddha.
The Golden Mountain ("Phu Khao Thong") is also well worth a visit. As one of the tallest structures in Bangkok, it allows for some of the most stunning panoramic views of the city.
Take Culture Dip
The Rattanakosin Exhibition Hall brings to life the story of Thailand's rich history through a combination of multimedia and interactive displays.
Jim Thompson's house is a lovely garden-enclosed compound featuring an arts center, souvenir boutique, and traditional teak houses reflective of unique Thai architecture.
Take a Recipe
Thai Cooking Classes have also become a must. Learn to prepare popular dishes such as Tom Yum Goong, Som Tum and Gaend Kiew Whan Gai with lessons conducted at Banyan Tree Bangkok.
Take it Home
Siam Square shopping district is the central shopping area for both locals and travelers alike. Here you will find everything from renowned high-end brands to boutiques of independent traders.
For a distinctive shopping experience, explore the Train Night Market Ratchada – Talad Nud Rod Fai. It sets itself apart from other bazaars by touting only the hippest and trendiest wares at competitive prices.
Or stick to the tried and true route with a visit to the famous Chatuchak weekend market boasting more than 8,000 market stalls.
Take a Taste
Travelers will find no shortage of inexpensive and delightful Thai foods along the streets of Bangkok. One of the most iconic street food locations is Chinatown – Yaowarat which offers a wide array of authentic Thai hawker fare.
For a unique gastronomic experience, head to Apsara Cruise, a vintage-style rice barge that sails along the majestic Chao Praya. Aboard the vessel, you will be treated to an exclusive selection of Royal Thai cuisine, courtesy of Banyan Tree Bangkok.
Saphan Leung –Yellow Bridge — is famous for its Anaharn Tham Suan (made-to-order) stalls selling noodle and seafood dishes.
Let Vertigo and Moon Bar, located on the 61st floor of Banyan tree Bangkok, do the wowing with alfresco dining experience and stunning panoramic views of the urban landscape.
Take a Detour
Immerse yourself in the action of the most popular sports in Thailand – Kickboxing or Muay Thai, by catching a live match or two in any of the stadiums littered throughout the country.
Take a Longtail Boat Canal Klong Tour and explore the ancient waterways of Bangkok and the communities that still live along them.
When day turns into night, ride a Tuk-Tuk or Sam Lor (three-wheeled taxis) to explore the buzzing metropolis.
Take a Break: Rejuvenate
Treat yourself to a revitalizing massage one Bangkok's many luxurious hotel spas (Banyan Tree, Mandarin Oriental, Sofitel), or one of its inexpensive options such as the Thai massage center at the Wat Pho temple complex.
Take a stroll around Lumpini Park, a green oasis in the middle of the city.
Visit Baan Silapin — Artist's House, a 200-year-old dwelling that serves as a great escape from the hustle and bustle.
Take a meditation class at the Wat Mahathat Yuwaratrangsarit Temple, a large and busy temple in the old Rattanakosin district of Bangkok, just North of the Grand Palace It has a well known Vipassana meditation center, also known as "insight meditation," with daily free (for a modest donation) three-hour classes in English.