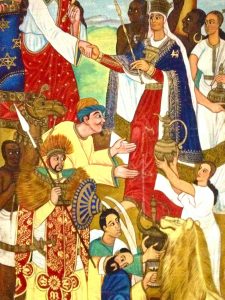 By Lark Ellen Gould
While most people who come to Addis Ababa come for business – the African Union is here, so is the World Bank, not to mention Ethiopia has more NGO projects in the works than any other country on the continent – those who come for pleasure can also aim to stay at hotels where service and workability can be trusted.
For visitors, this means using a computer without blowing out the power cord, consuming a hot cup of coffee in the morning, even having a swim and a workout in clean surrounds – accessing simple pleasures and conveniences without navigating an obstacle course of transportation and communications breakdowns.
Addis Ababa, a city of more than five million souls, can be daunting at best. The city is a maze of circular streets and avenues that seem to go nowhere amid line-ups of tin shelters selling cigarettes, laundry powder and phone cards, and throngs of pedestrians and cars vying for the same narrow byways.
The continuous dust and noise can be crazy-making, even for hardened Africa travelers. So it is good to know there are a few good places where you can reclaim your space in this crowded capital while making plans to visit amazing UNESCO World Heritage sites outside the capital or getting business done within it.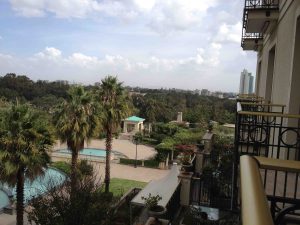 1. Sheraton Addis Ababa. This Starwood Luxury Collection property looks a little out of place on its hill over the city. It could be in Honolulu or Beverly Hills. Yet it is nearly always full as THE place in town to hold meetings and conferences if you happen to be a government delegation or a high level corporation. The 295 rooms (33 suites) overlook swimming pools and fountains (check the Vegas-like fountain music show that sprays nightly). Rooms have small balconies to take in the African breezes in this highland city (7,546 feet). A large flat screen TV, fridge and minibar, cable connected Internet (for a fee), full bathroom (including bidet) and, yes, butler service, add to the appeal.
Dining can happen at restaurants serving Indian, Continental and traditional food, but it's worth it to upgrade to the 4rth floor lounge levels for an added $25-$140 per night, depending on the season. The lounge serves a full breakfast (yogurts, cereals, pastries, bacon, toast, fruits – even an Ethiopian breakfast of zil zil tibs and shiro if you like spicy meat and sauce in the morning). Evening presentations offer roasted chicken pieces (these are big, tough pieces – from unpampered poultry) as well as finger sandwiches, hummus and babagnoush and crudités. Top shelf libations are also on the house here. Don't expect computers and business equipment. You can pay for those in the business center. But CNN runs at all hours and a couple of local papers hang on rolls.
There is a full service spa – the best hotel spa in Addis, with an attractive relaxation area containing steam, Jacuzzi and sauna, and an array of treatments to be had for rates that average $20 for 45 minutes. The pool is attractive, has a small beach area and seems to cater to kids on the whole. The Breezes terrace café serves Ethiopian and French wines by the glass (stay with the French).
Rack rates run around $310 per night with an added $140 for a suite upgrade.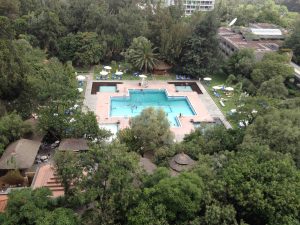 Hilton Addis Ababa. This was the first international business hotel in the city – built in 1969 and has always been a Hilton. High on a hill over Meskel Square, its central location, easy accessibility and welcoming grounds have made it ground zero all these years for expats, whether news reporters, NGO staff, pilots – anyone with regular business in this city and a moderate budget to spend.
Ten floors with 372 rooms and suites provide a pan of the city – mostly indistinguishable office buildings and tin hut dwellings along dirt path neighborhoods. Still, the property provides an oasis from all the bustle. The pool here is the most famous in the country. It makes the shape of a Coptic cross and is filled with the warm, spring waters that made Addis Ababa the current capital of Ethiopia after Empress Taitu discovered their magic in waning 19th century. So you swim and soak in ancient artesian mineral waters, walk the garden filled grounds, play tennis on clay courts, enjoy a traditional coffee ceremony in the hotel lobby, and walk the shops in the hotel arcade that provide quality souvenirs at very reasonable prices and even take credit cards (when the machine is working).
The hotel offers refined and casual dining in the Jacaranda Restaurant at lobby level, an active resto, lounge and entertainment spot at the Gazebo near the pool. There's a pizzeria and also a gelato bar to be considered, and the 12th floor lounge, which provides a fine choice of breakfast and cocktail/dinner repasts along with alcoholic and non-alcoholic beverages for Executive Club upgrades, which run $50-$65 per night. Internet runs $15/day extra, but is available gratis in the executive lounge.
Rates run $220 plus VAT and tax. Rooms are clean and comfortable, if not a little worn for their use all these years. Beds could use an upgrade. The flat, nearly board grade mattresses can be hard on the lumbar. But A/C works wonderfully, as does the television (yes, they have movie channels here), Internet cable connection and hot pot for coffee and tea – not things to be taken for granted in these parts. A balcony with chair and table overlooking the pool is also a welcome source of relaxation and entertainment, although the hotel's entertainment, whether live bands or recordings, come through the windows loud and clear – but never run later than 9 pm.
The hotel has a full gym area with helpers at the ready, no charge for guests. And a spa offers massages and treatments starting at about $12.
Contact: Hilton Addis Ababa Hotel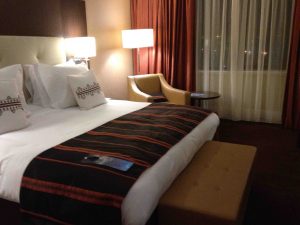 Radisson Blu. This is the latest business-standard hotel to be built in this town. It opened in January 2012 in the central business corridor, across from shack shops and down the block from the Munch Bakery that sells amazing German pastries, solid sandwiches, some of the best macchiato in town and offers free Wifi all day long. The areas down the street from this property are clanking with cranes and bulldozers putting up a new Marriott property and a Novotel, among other developments.
The rooms at the Radisson are among the most comfortable you will find. Everything is spankingly new and clean with large king beds, large desk spaces with adequate plugs, good light for reading, a large flat screen (mostly news and sports channels), and an inviting bathroom with a large soaking tub and separate glass shower. Wifi comes with the room for all guests and can also be accessed in the lobby and other areas of the hotel.
Business floor rooms can be procured for adding a mere $30 a night in most seasons and the 9th floor executive lounge provides continental breakfast as well as small finger foods at cocktail hour. Alcohol is extra. It also provides computers, a color printer and areas for meeting above the din of the city.
For those who pack a bigger breakfast, the lobby restaurant offers the mega-choice for around $22. Find options for Ethiopian foods, soups, fresh made waffles, eggs and pancakes, all manner of fruits and pastries, deli delights and even an Ethiopian attempt at bagels and lox.
The property offers a spa and gym but no pool. An outside relaxation area of shaded, pillowy pod arrangements easily makes up for that.
Rates run around $300 a night.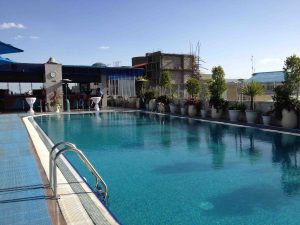 InterContinental Addis. Just around the block from the Radisson Blu, the InterContinental is a comely hybrid of Western and African standards in a business hotel. It broke from the franchise but is making its way back to those international standards and offers a lot of conveniences some of the other business properties don't – starting with a certain casualness.
The lobby has become a meeting place for locals and business officials with comfortable sofa-like chairs and tables to work from, coffee and libations and free Wifi for everyone.
Rooms are large, the bed is comfortable, but the lack of air conditioning forces a window to be left open, which would not be a problem accept for the continuous ambient sounds that come from drums, incessantly barking feral dogs, wafting music and traffic. Complimentary Wifi can be accessed in the rooms and runs well. As with most areas of Addis, electricity goes off and on and can cause gadget problems if not surge protected. Some hotels experience these interruptions more than others.
But the InterContinental comes with a huge plus: a rooftop pool. This spot also offers great views of the city. A spa on the floor below provides sauna and steam and treatments for $12.
Rates start at $100 and come with a great buffet breakfast.
Contact: Intercontinental Hotel Addis Ababa.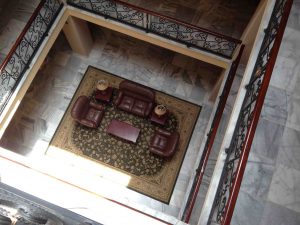 5) Desalegn. This is one of four Desalegn properties in Ethiopia, a chain that was started in 1969 with the idea of offering clean, comfortable, affordable business class accommodations. This latest Desalegn near Bole International Airport fits the bill. A rare non-smoking hotel in Addis, it offers complimentary transfers between the airport and the hotel and is close enough to the airport to be a comfortable overnight or a very comfortable several nights, with a location that is also in Addis's newest and most up and coming hot spots. The hotel is within walking distance to Edna Mall, one of the city's only enclosed shopping areas, which also houses a multiplex cinema (first-run flicks screen for about $3), an upscale beauty salon, clothing, purse and accessory stores and a great bookshop for English titles. Also find Altour, an international travel agency for local/country tours of Ethiopia or global air tickets.
Back at the Desalegn, rooms are spacious, clean and new. Find parquet wood floors, fridge, a private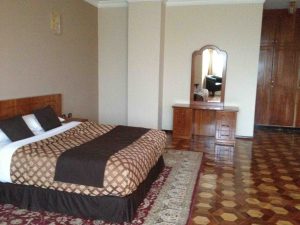 balcony, decent reading lights, a smallish Sony flat screen with a couple of movie channels, and a large bathroom with 24-hour hot water. No western plug outlets here. BYO or ask at the desk. Also, do not expect bottled water to be delivered or turndown service to knock. The frills here come in the form of broadband Wifi Internet (when it is working) on every floor and in every room. There is also a complimentary business center, complimentary live jazz on weekends and complimentary breakfast buffet in the mornings with spot-made lattes.
In addition, guests can work out in a fully equipped gym overlooking the street scene for gratis or a minor fee, or have a Swedish massage for about $10/ 45 minutes.
Each floor has a living room style common area for working or meeting friends. But the lobby, full of comfortable, cushy sitting areas, plus newspapers and televisions, keeps it feeling like a easy and free lounge where you can come and go.
The best part of this is the value. The $79 rate with all these amenities is probably the best deal you will find in a decent location.