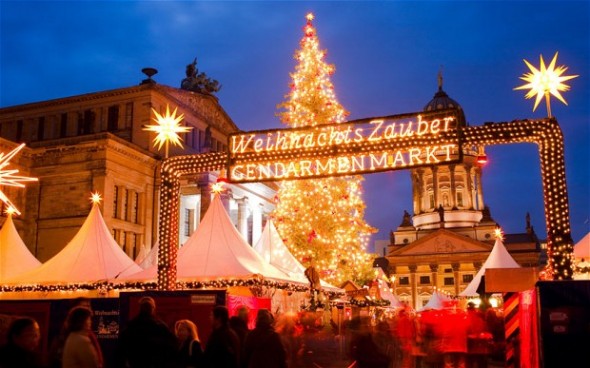 Christmas in Berlin is a special time for visitors, especially with the city's famous Christmas markets in full swing. Many of Berlin's best attractions are within easy walking distance of the biggest Christmas markets. For the perfect Christmas trip to Berlin, here are the five top Christmas markets and what sights and attractions can be enjoyed nearby.
Gendarmenmarkt
(11am to 10pm, access via Französische Str, Stadtmitte or Hausvogteiplatz U-Bahn stations)
With its impressive setting between the city's Deutscher Dom church, French cathedral and Konzerthaus concert hall in the central district of Mitte, this Christmas market is popular for its unique hand-made products and attracts more than 600,000 visitors each year.
It's also the perfect choice if you also want to visit the Checkpoint Charlie Museum. Just 10 minutes' walk away, the museum tells the story of the Berlin Wall and the many Cold War escape attempts made by East Berliners.  Alternatively, combine the market with the Pergamon Museum (a 13-minute walk), the city's most frequented museum which is home to an exquisite collection of classical treasures.
Also close by: The KunstHalle Deutsche Bank (4 minutes), Humboldt Box (10 minutes), Jewish Museum (15 minutes), Bode Museum (15 minutes).
Weihnachtszeit at Rotes Rathaus
(12pm-10pm Mon-Fri, 11am-10pm Sat & Sun, access via Alexanderplatz or Klosterstrasse U-Bahn)
Set in front of the beloved Rotes Rathaus ('red city hall') in the heart of Mitte, this market is one of Berlin's oldest, with traditional 19th-century style stalls.  But there's also a 50-metre Ferris wheel and a 600 square metre ice rink!
Just three minutes' walk away is the Nikolaikirche (Church of St Nicholas), Berlin's oldest church which dates back to the founding of the city in the 13th century. And across the street is the magnificent rococo Ephraim-Palais, housing exhibitions on Berlin's artistic and cultural history. Alternatively, take to the saddle with Fat Tire Bike Tours  –  on Wednesdays and Saturdays they run a four-hour city tour which starts and finishes at the Alexanderplatz just three minutes' walk from the market.
Also close by:  the city's Museum Island, offering the Berliner Dom (8 minutes), Egyptian Museum (11 minutes), Neues Museum (11 minutes), Altes Museum (11 minutes), Alte National Gallery (11 minutes).
Wintertraum am Alexa
(2pm-10pm Mon-Fri, 12pm-10pm Sat & Sun, access via Klosterstrasse or Alexanderplatz U-Bahn)
Berlin's most modern Christmas market, adjacent to the Alexa shopping centre at the Alexanderplatz public square.  With its Ferris wheel and rollercoasters, this market is particularly popular with Berlin's teenagers.
At the Markisches Museum (9 minutes' walk away) learn about the history of Berlin from the first traces of settlement through a series of themed rooms. Or why not join an Insider Walking Tours 'Cold War Berlin' guided tour and discover the world of Soviet secrets and CIA spies? Taking place on Tuesdays, Thursdays and Saturdays, the tour ends at around 2pm at the Alexanderplatz right on the doorstep of the Christmas market!
Winterwelt am Potsdamer Platz
(10am-10pm, access via Potsdamer Platz U-Bahn)
Located in another famous public square, West Berlin's Potsdamer Platz, this is much more than a Christmas market.  With regular live music and a rodelbahn – tobogganing on giant tyres – it's no surprise that more than 2.5 million Germans and tourists come to Winterwelt!
A short nine-minute walk away you'll find a world of Cubism, Expressionism and Bauhaus at the striking glass Neue Nationalgalerie (New National Gallery). Even closer are the Berlin Film Museum (2 minutes' walk) and the Gemäldegalerie (8 minutes), one of the world's most important collections of 13th-18th century European paintings.  And Insider Walking Tours"Third Reich Berlin' tour finishes less than 10 minutes away on the site of the former Gestapo and SS headquarters.
Also close by:  Musical Instrument Museum (6 minutes), Kunstbibliothek (8 minutes), Brandenburg Gate (12 minutes).
Gedächtniskirche
(11am-9pm Sun to Thurs, 10am-10pm Friday and Saturday, access via Kurfürstendamm or Zoologischer Garten U-Bahn)
Set around the remnants of the Kaiser Wilhelm Memorial Church on the 'Ku'damm', Berlin's answer to Oxford Street, this market boasts 170 stalls with a huge range of different products, food and drink on offer.
Art-lovers will want to take the opportunity to visit the nearby Kunstforum der Berliner Volksbank (7 minutes away), which presents world-class exhibitions, tours and creative workshops; also within easy reach is the city's Photography Museum showcasing the work of Helmut Newton, one of the most important fashion and portrait photographers of the 20th century.
Getting Around
All five of the above Christmas markets are right on the route of Berlin's 'hop-on, hop-off' sightseeing bus tour, running every 20-40 minutes until 3pm. All of the attractions and tours named are included with a Berlin Pass, which provides entry to more than 50 attractions and experiences, as well as free public transport in zones A, B and C of the city.  A two-day Berlin Pass is priced at 79 Euros per person.
Related Stories: