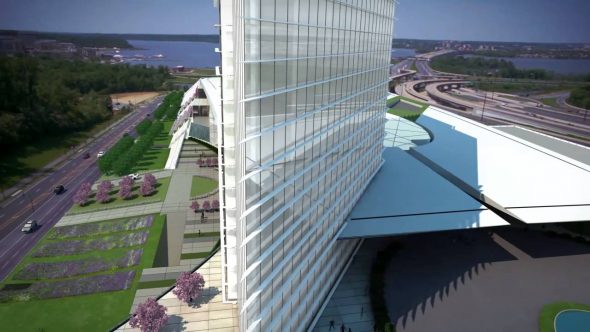 The MGM National Harbor is readying to become a shining property on the banks of the Potomac, just minutes from the nation's power center in Washington D.C. and thousands of miles from anything that even hints of MGM Mirage Resorts in Las Vegas.
When it opens December 8, the $1.4 billion property it will have 308 rooms and suites, an array of eye-popping art amid gleaming white spaces that look more like the marble monuments surrounding than places for gaming, shows, entertainment and haute dining. And it will have something else: MGM branding that promises and delivers on top shelf experiences in the nation's capital.
MGM National Harbor may be a sea-change for MGM as it combines interest in attracting a local market that is also an international market and sends its branding message far and wide. Just across the river from Old Town Alexandria, it will have two presidential suites in its collection, a dozen restaurants — including such names as José Andrés, Marcus Samuelsson, and Bryan and Michael Voltaggio, a 3,000-seat showroom theater, 27,000 sophisticated and light-infused spa, views of the Capitol and a stunning botanical conservatory larger than what one finds at Bellagio. And the 24-story hotel will have casino: more than 125,000 square feet of poker, a variety of table games and slots a-plenty jangling all night long.
MGM National Harbor: The Details
Fresh air meets spectacular views on MGM National Harbor's outdoor plaza, which will feature a fountain and reflecting pool alongside sweeping vistas overlooking along the Potomac River.
Accommodations — Find clean lines, modern functionality, signature wood millwork accents and floor-to-ceiling windows in guest rooms ranging in size from 400 to 3,210 square feet. Decor draws inspiration from forest and water elements native to Maryland and incorporating vistas of the surrounding landscape.
Culinary — Chef-driven food and beverage programs capture flavors of the Capital Region in both upscale and casual dining options. Acclaimed chefs José Andrés, Marcus Samuelsson, and Bryan and Michael Voltaggio each will introduce exclusive concepts to the resort. Delivering the vibe of a gourmet food festival, National Market will have nine distinct venues inspired by local and global flavors. Pan-Asian restaurant Ginger will serve authentic cuisine from regions throughout Asia, while TAP Sports Bar will offer regionally inspired comfort food and screen sporting events.
Bellagio Pâtisserie, — a European-inspired pastry shop reminiscent of its namesake in Las Vegas, will feature a 26-foot-tall chocolate fountain — one of the world's largest — circulating nearly two tons of sumptuous melted chocolate.
Pool — Beginning in spring 2017, hotel guests will be invited to relax and unwind at the resort's outdoor, heated, infinity-edge pool. It will offer a respite from the action with lush seating, private cabanas and poolside cocktail service.
Entertainment — MGM National Harbor has partnered with entertainment giant Live Nation for entertainment programming at The Theater at MGM National Harbor, a 3,000-seat venue slated to host the entertainment industry's biggest acts and events. Complete with VIP suites and reconfigurable seating arrangements, the venue will welcome A-list concerts, comedy shows, UFC fights, boxing matches and other special events.
Art — Adding to the city's many collections is the curated Heritage Collection woven throughout the resort's public spaces and featuring commissioned and procured artwork by renowned local and international sculptors, photographers and mixed-media artists including Bob Dylan, Margaret Boozer, Alice Aycock, Ron Beverly, Martha Jackson Jarvis, Sam Gilliam, John Dreyfuss, John Safer, Liao Yibai and Chul Hyun Ahn, among others.
Conservatory — A show-stopping two-story lobby area Conservatory features intricate design elements and vibrant floral combinations masterfully interwoven by famed designer Ed Libby and certain to become a must-see attraction in the region, Displays will change five times per year – one for each season plus a dedicated display in celebration of Lunar New Year.
Meetings & Events — Available for small private gatherings, engaging meetings and elegant galas, MGM National Harbor will be a premier destination for groups as it offers 50,000 square feet of versatile meeting space, two boardrooms, a 16,200-square-foot MGM Grand Ballroom with floor-to-ceiling windows, and a 6,000-square-foot terrace with spectacular views. For unconventional meeting and event locations, the flexible 3,000-seat Theater at MGM National Harbor with VIP suites and scalable chair and table designs, and the outdoor Potomac Plaza with stunning views of the nation's capital for important business receptions.
Nightlife – Find two distinct venues certain to become go-to spots for sophisticated socializing and inventive cocktails: Felt Bar & Lounge is an indoor/outdoor lounge featuring the region's first tableside mixology program; and Blossom Cocktail Lounge, inspired by Washington, D.C.'s famed cherry blossoms, will be at the center of all the action.
The resort is accepting room reservations for stays beginning December 10 via mgmnationalharbor.com or (844) 646-6847. Nightly room rates start at $399 and suite rates begin at $599.