By Susan Shapiro
In almost every city in North America, interest in wine is growing at an amazing rate. Wine bars are the fastest emerging segment of the bar industry and wine clubs are sprouting up all over. For travel, it means digging into a very popular trend.
Having really enjoyed Uniworld's Rhone River cruise through Burgundy two years ago, I decided to see if their new itinerary visiting the Bordeaux country of southwest France was equally appealing.  It was!  Having spent seven days on the newly refurbished River Royal, I found it to be a wine lover's paradise, not to mention an incredible gourmet experience.
A great river cruise consists of two parts: the boat itself and the itinerary. Both are equally important to satisfy discriminating cruisers.  Let's start with the ship.  Some very tasteful changes were made on the River Royal over the past two years.  On the top deck designers added a glass enclosed dining area for lunch and dinner (what incredible memories are made cruising down the river while dining on duck confit and sipping champagne!).
In other notable features, the gym offers seven different kinds of exercise equipment as well as a sauna and a river view.  Though compact, cabins are luxurious with all the features of an upscale boutique hotel. More entertainment has been added in the lounge area making it a real gathering place in the evening.
To pick one thing that sets Uniworld apart from other River cruises — it would be their staff.  As we know, a great tour guide makes a great tour.  The same can be said for a great cruise — and it's not just Sabastian, the Hotel Director or Natalie, the Cruise Director to go above and beyond to genuinely make sure every day is great day.  There are Constantine, Carmen and the other waiters and waitresses who anticipated our every need.  That's the kind of service you might get on a ship where the staff expects you to tip at the end of the cruise, but Uniworld includes tips in the price of the cruise so those decisions and concerns are not to be had.
Since this is a cruise through wine country, all but the top-top premium wines are included in the cruise price.  That means complimentary wine at tastings, lunch, dinner, in the bar or the lounge (or free cocktails if preferred).  That saves cruisers a bundle!  Each night the head sommelier describes which local wines would be served at dinner and where in the "neighborhood" they can be found.  But there's no snobbery attached to his message.  If you like the wine then it's a good wine.
Wine and food centric trips are not for everyone.  But for those who are, the itinerary of the River Royal can be a match made in heaven. Each day we got off the boat and went sightseeing to see lovely Chateaux, lush vineyards, fairytale villages, historic fortifications and half-timbered towns.  Guests are offered two choices of sightseeing: walking/bus tours or active sightseeing (bicycling through the vineyards).  Each person carries an IPod style device for listening to the guide's commentary. Highlights on this trip included the cobblestoned, hill town of St Emilion with it's incredible monolithic underground church dating back to 1000 AD, and charming Bergerac with it's two statues of the renowned Cyrano, its enchanting old houses and delicious foie gras.
Guests gets to test their wine knowledge on this trip and even pick up some more. Did you know that the best French wines start with Chateau, Domaine or Clos (for the vineyard where the grapes are grown)?  Unlike wines most of the world, French wines don't put the type of wine on the label (Merlot, Cabernet etc) but the area where the grapes were grown (Medoc, St. Emilion etc).  Or that normally one vine produces a bottle of wine but for Sauterne wine, one vine produces a glass. Speaking of Sauterne (a sweet desert wine), the best brand is Chateau Y'quem, owned by Louis Vuitton that sells for hundreds of dollars a bottle.
The cruise starts and ends in Bordeaux, a city that is as beautiful as Paris but without the crowds. In the 18th Century it was second only to London in the wealth produced by the colonial trade and much of that wealth went into magnificent buildings that line the riverfront.  In recent years the mayor restored the waterfront and public buildings to make Bordeaux the deserved UNESCO World Heritage sight it is. Uniworld's Bordeaux by night tour is well worth the wonder, as is the gourmet walking tour by day that includes tastings at a cheese shop, a chocolate shop and a bakery.
If those who have time, a few days in Bordeaux prior to the cruise is should be built into the package. Getting there is easy.  Rail Europe runs direct trains from Charles de Gaulle to Bordeaux in less than 4 hours.
For travel agents only:
Do you have clients who would love this trip?  It's easy enough to find out.  Invite clients to a wine tasting at your office or at a local wine shop where an "expert" (the shop owner) will talk about French wines.   Or speak to the owner of a local wine bar offering him/her a free cruise if they will lead a group and put tent cards on their tables promoting the departure.  This maybe the easiest and biggest commission you've had in a while.  As they say in France  "A Votre Santé!"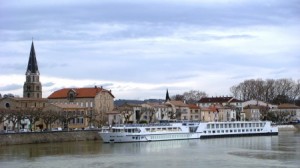 Susan Shapiro is the former head of GIANTS, the Greater Independent Association of National Travel Services – a travel agent consortium that later become Ensemble.