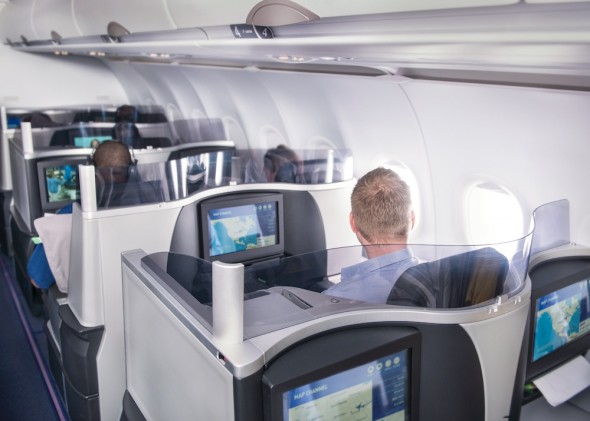 JetBlue's new premium seat option, fondly called JetBlue Mint, may be the hottest deal in the air right now if lie-flat seats on transcon flights are in the offing. The premium service that launched in June on flights between LAX and JFK offers a plush five-hour experience for anyone with $599 to spend and a desire for a good meal and comfortable snooze between hubs.
The front of the cabin on these A321 aircraft now contains 16 seats: 12 of them seat pairs and four of them "suites" that offer single seating for the same space allotment with significantly more elbow room and privacy. The seats are available on all five daily non-stop flights between the two cities and will soon become available on non-stops between San Francisco and New York in October. The trick, however, is to book fast and book way ahead. The $599 (non-refundable) price becomes $999 (so far refundable) the closer you get to your desired departure date.
The Mint seat, extending into a 6'8" platform, features the widest seat and longest fully-flat bed (tested and yes, no angle creep here) in the U.S. domestic route system. Among the amenities passengers will find are:
The only private suites with closing doors in the American domestic market, four on each flight
Seats up to 22.3″ wide, making them the widest seats on average in the U.S. domestic market (a)
Air cushions with adjustable firmness
Built-in massage function
15-inch flat screen with 100+ channels of DIRECTV® programming and 100+ channels of SiriusXM® satellite radio
 Shoe storage
 Dual 110volt power outlets with two USB ports
 "Wake me for service" indicator, allowing customers to customize their service needs
Pre-departure signature drink, followed by a cocktail and amuse-bouche once airborne
Curated menu by popular New York City restaurant Saxon + Parole
Customized meal with selections among five offerings, comfort food with a twist, served tapas-style.
Customized men's and women's kits amenity kits by partner Birchbox
Dessert from Blue Marble Ice Cream
Sweet treats from Mah-ze-Dahr Bakery
Complimentary self-serve station full of snacks, soft drinks and water for customers to enjoy at their convenience throughout the flight
Mint passengers also get a dedicated check-in line. However,  JetBlue is now offering free automated pre-check-in services for all passengers. Travelers will get an email with a ready-to-print boarding pass and an option to download a mobile boarding pass 24 hours before their flight. The move also helps the airline determine and fix problems that could arise, for instance, whether it will need to bump passengers if the flight is oversold or whether there will be upgrades to sell or give away.
Related Stories: