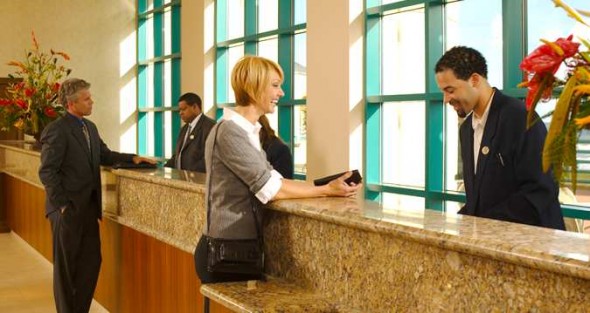 Mobile check-in is moving to hospitality. Hilton, Marriott and other hotel brands are catching on to the fact that guests on the check-in queue are in a hurry. Whether staying for business or pleasure spending line-time in the lobby is likely not on the "want" list.
Recently Hilton hotels took a swipe at solving this inconvience with the debut of a mobile room key that lets guests bypass the front desk and go directly to their accommodations – no lines, no signs, no managers to consult.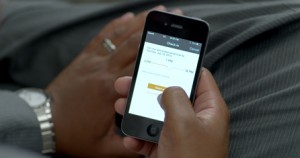 The process requires downloading an app on a personal smartphone, registering, choosing a room, paying, confirming and then using the smartphone to open the door.
The technology will be pilot tested at 10 U.S. properties in early 20-15 and then will roll out in phases across all U.S. properties of four brands: Hilton Hotels & Resorts, Conrad Hotels & Resorts, Waldorf Astoria Hotels & Resorts and Canopy by Hilton properties beginning in summer 2015.
In July, Hilton Worldwide debuted digital check-in with room selection technology, now available at more than 3,700 hotels, and worldwide by the end of this year.  This technology enables Hilton HHonors members to check in via their HHonors profile on desktop, mobile or tablet and choose the exact location of their room – right down to the room number. Now, the mobile-enabled room key goes a step further in simplifying the guests' journey, allowing travelers to check-in, choose their room and access their room upon arrival entirely via the HHonors app on their smartphone.
"It's pretty amazing that guests can not only do digital check-ins but also select exact room — the exact floor plan and where in the hotel that room is," says Joshua Sloser, VP of Digital Product Innovation at Hilton Worldwide. "Guests get the exact thing they want – this is pretty revolutionary and especially to be able to do this across all properties. That is no small feat."
Hotels may be scrambling to catch up to airlines in check-in innovations. Fliers can now use their phones to check in, select seats and move through the gate as a boarding pass.
Starwood Hotels and Resorts also now allows guests to unlock doors with their phones through new Bluetooth technology. Although this convenience is available at only a few Aloft, Element and W hotel locations but it is expected to expand to 140 more properties in those brands by the mid 2015.
Meanwhile, Marriott International launched an app for check-in at some 330 North American hotels – to be live at all 4,000 hotels worldwide. While, the app does not permit the phone to turn into a room key the hotel is able to send a message to the guest's phone that a key is ready and waiting, to be easily retrieved as the guests moves into a special express line where they flash their IDs and pick up keys.
InterContinental Hotels Group is also testing express check-in concepts for express check-in at 60 hotels. Geared toward road warriors who value speed and efficiency, the digital check-in can be a saver when time is short, clients are waiting, flights have been delayed, and the hour is late. Guests who are in a more leisure mode can still opt for a desk check-in where they can ask quesitons and make changes to their reservation if they choose.
"The ability to offer up anything the guest wants and make them easy to get through the app. This is where the future is," says Sloser. "Whether it is food delivered to their room before they arrive or the right pillows on the bed, what ever they need. We see there is great ability to extend these amenities and conveniences – and make them frictionless."
Related Stories: