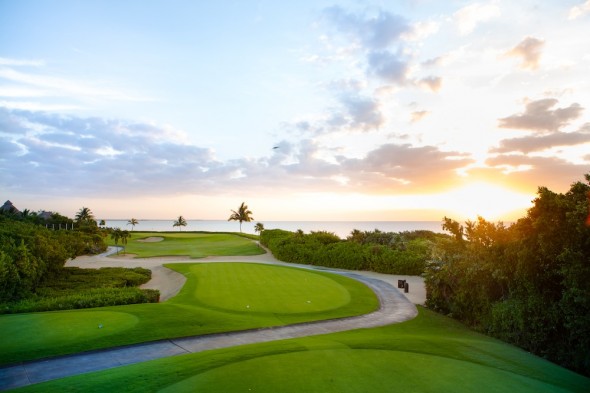 Is a golf vacation on the horizon? Whether you are a travel agent trying to give the best of your knowledge to a client or a golf enthusiast planning on a well-deserved retreat, here is a collection of savvy golf vacation tips to consider, and some premium courses that won't disappoint.
Packing for a Golf Vacation
Playing 36 holes each day? Wisdom says layer up and pair down. Temperatures vary widely on the greens this time of year, no matter whether you are in Pebble Beach or Myrtle Beach. It's a good idea for a serious golfer to pack a separate set of clothes for each round. If that golfer is you, you will likely heat up more than you anticipate. Dress well enough to look like your peers on the course but casual enough to be comfortable. Shoes? Bring a few pair of comfortable golf shoes (at least one of them waterproof) and always pack an extra pair in the golf bag. Golfing in wet shoes will destroy your concentration. Also pack a windbreaker, thick socks, rain gear, umbrella, lots of balls and tees, a few golf gloves, sunglasses, your trusted cap and not forgetting sunscreen and insect repellent.
If you plan on visiting a resort, remember there is more than golf to a vacation. Pack a swimsuit and beach gear, hiking/walking shoes, casual and dress clothes.
Golf Travel Bag
You'll need a traveling bag for transporting your clubs. And these come in three options: Hard cases will offer the most protection if you are traveling by plane. A padded soft case or a hybrid is fine for car travel and these options take up less space hard cases. A bag with wheels is ideal. 
Flying with Golf Clubs
If you are flying with your own clubs rather than renting at the resort, you can be hit with a hefty bag fee of $25 to $60 each way. Similarly, if you are renting a car at the destination, an economy car might not be big enough for you and your precious cargo. Consider the expense or savings of renting clubs – a savings that might include preventing extra hassles and damage. Also consider sending your clubs ahead of your arrival (with hopes that they actually get where they are supposed to go.)
Choosing a Golf Resort
Because green fees can be costly, golfers often find value in going with an all-inclusive golf resorts, such as can be found in plenty throughout the Caribbean and Mexico. Similarly, "Stay & Play" packages abound and usually every golf resort has some form of this offer. For instance, golfers heading to Charleston, South Carolina can check out the South Golf Package at the Wyndham Garden Mount Pleasant. It starts at $140 per person, per weekday and includes three nights and three rounds of golf at Charleston National Golf Club, Pine Forest Country Club and The Golf Club at Wescott Plantation. The package runs through September 10, 2015.
Duffers moving through the Midwest can opt for the Golf Kohler luxury golf package at Kohler Resort, an hour from Milwaukee or Green Bay in central Wisconsin. The two-night package ranges from $963 to $1,340 per person (golf season runs from May 10 to October 19) with stays at the American Club or Inn at Woodlake. Amenities include:
Three 18-hole rounds of golf per person on The Straits at Whistling Straits, The River at Blackwolf Run, and one round on your choice of The Irish at Whistling Straits or The Meadow Valleys at Blackwolf Run (golf car fees included). Also, caddie fees at Straits and Irish courses (does not include caddie gratuity).
Guests get a 30-minute golf lesson with a Kohler Golf Academy instructor, booked when booking the Golf Kohler package.
Complimentary green fees are included for replay golf, based on same-day availability on Meadow Valleys course and Irish course. Replay rounds may not be booked in advance. Golf car, caddie fees and gratuities not included.
Guests enjoy a pouch with several Blackwolf Run and Whistling Straits logoed items, unlimited use of practice facilities, advance tee-time scheduling, daily bag storage, cleaning, locker and shoe service. Guests also get discounts on Kohler Waters Spa services.
Choose a New Course
If you have the option of playing on a relatively new course, take it. Nothing ruins a golf vacation more than teeing off on a rutted and pitted former cow pasture. There are plenty of well-tended championship courses out there whether in Palm Springs, Scottsdale or Kiawah Island in South Carolina. New courses need to establish a reputation so they are likely to be attentive to details and scrupulous about keeping their fairways smooth.
If it is a particular course you must have, you can phone or email in advance to ascertain the expected conditions at the time of you visit. If you are set on a particular course that may also be popular with a lot of other golfers worldwide, book early. Bragging rights are important in this game and they come with destination name-dropping of places such as Pebble Beach, Mission Hills, St. Andrews and even Dubai (ever played on the sand at midnight with a mobile piece of turf?) Book early and book off-season.
If you are playing a top course, consider hiring a caddie. These services do not have to be pricey and there is nothing like getting a little help from someone who knows the course.
Play with the Golf Pros
There is nothing like watching a tournament and then putting yourself in the game. If you are going to play at a top course, call the course ahead of time and find out when the top tournaments are scheduled. Book a tee time for just after the tournament wraps and play the best game you've ever played – or at least feel like you have.
Where to play? Here are ten top golf resorts to consider that are within easy reach for American golf enthusiasts.
Amelia Island Plantation,  Florida
Sandestin Golf And Beach Resort, Florida
Four Seasons Resort Hualalai, Hawaii
Four Seasons Resort Lanai At Manele Bay, Hawaii
Divi Village Golf & Beach Resort, Aruba
El Tamarindo Beach & Golf Resort, Mexico
The Fairmont Mayakoba, Mexico
Sandy Lane Hotel & Golf Club, Barbados
Cap Cana Golf & Spa, Dominican Republic
Casa De Campo, Dominican Republic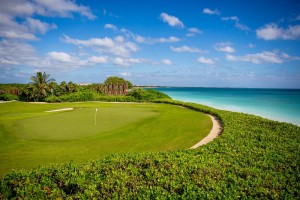 More Spring Golf Packages Links:
Enchantment Resort, Sedona, AZ
Landsdown Resort, Leesburg, VA
Sheraton Buena Vista, Orlando, FLA