Los Angeles has long been a magnet for gay and lesbian dreamers seeking fortune and bliss in Southern California climes. But the movie industry town churned by leading men clutching their leading ladies tight around Barbie Doll waste lines required certain secrecy where sex preferences were concerned.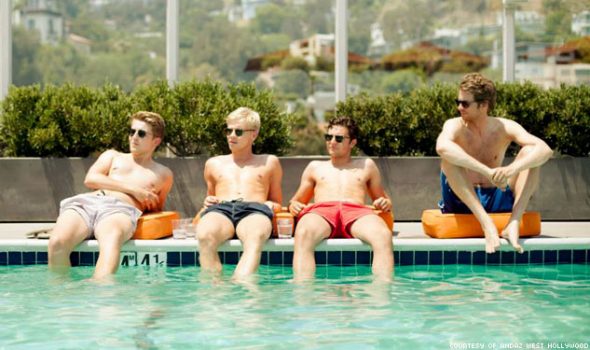 No longer hidden in the street shadows of noir film sets, Gay Los Angeles has fought its wars and wears its freedoms proudly in such "gayborhoods" as West Hollywood, Silver Lake and Downtown. West Hollywood is widely as regarded as the world's first Gay city. It was the first city council in the U.S. to elect a majority seating on the city council and, while not the majority, some 40 percent of its 39,000 residents are gay.
For LBGTQ visitors heading to Los Angeles, West Hollywood may be the epicenter of cool, but Silver Lake and Downtown are the epicenter of culture, story and diversity.
Starting with Downtown Los Angeles, gay life started to take shape only in the 1990s. The city invested heavily in refashioning boulevards of Art Deco high rises that once housed factories and business offices into chic lofts and new fangled urban lifestyle communities. In came the cafes, local theater venues and the Downtown Arts District of galleries and working studios along with a vibrant and creative cultural spirit that is unstoppable.
DOWNTOWN L.A.
EAT:
Bestia: Get here early (reservations are a must) and dine family style in crowded quarters, munching on handmade ricotta dumplings with pork sausage and black truffles, house cured salami, and wood fired pizzas. Find easy access and parking along warehouses lining the Arts District.
Baco Mercat: Find this fun spot in the historic Old Bank district. It has a menu meant to be shared developed by chef-owner Josef Centeno. A signature is flatbread sandwich with crispy pork belly and beef carnitas seasoned with caraway pepper sauce and salbitxada. The concept has expanded to include grilled meats, fish, vegetables, and creative saucing inspired by flavors of the Eastern Mediterranean, north Africa, southern Europe, and Asia.
The Pie Hole: This is Arts District phenom is ground zero for lovers of sweet and savory. Specialty coffees and pies by the slice here include Mom's apple crumble, Mexican chocolate, Smore's, chocolate caramel pecan… and not forgetting savories such as chicken 'n cornbread potpie. Food porn with early and late hours.
Grand Central Market: this massive indoor food stall space in the middle of Downtown has been there for about as long as talking movies. The sprawl contains 40 food stalls, some with herbs and potions that promise to cure cancer but most with produce and meets and other foodstuffs. In between are little known nuggets that will get you hooked on food you have never considered. Head to EggSlut for brioche buns filled with egg fantasies or be brave and try "the Gaucho" — seared Wagyu tri-tip, chimichurri, pickled red onions, shaved Manchego and arugula, topped with an egg.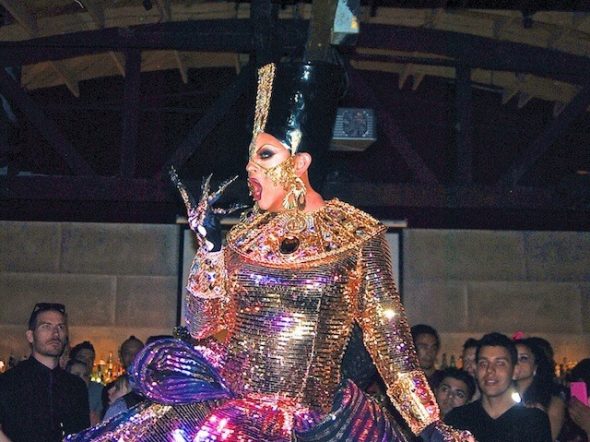 DRINK:
Bar Mattachine, named after the Mattachine Society of the 1950s 1950s, when Harry Hay and the men of the Mattachine Society, and the women of the Daughters of Bilitis, lived openly gay lives and led protests to support gay rights. The bar opened in 2015 and features a main bar downstairs for partying and live music and a quieter upstairs bar for sipping and conversation, with a balcony overlooking the lower level. The bar serves frozen cocktails and several classics, including Old Fashioneds, Monte Carlos, Manhattans and Creole Cocktails.
Red Line starts out as a fine dining restaurant (order the handmade empanadas with rib-eye fillers and wash it down with an Orange Bloom – a mix of vodka and orange juice) and morphs into a drag queen talent show and ends up as a dance club until the wee hours. Catch the action on Taco Tuesdays.
Precinct distinguishes itself as a "rock 'n roll gay bar," although formerly it served as the city's parole office. It has a massive dance floor and puts on parties around popular themes: drag nights, bear and Latin nights, complete with sweaty go-go dancers and live performers. Substantial munchies are served until closing.
New Jalisco Bar is a fun Mexican dive spot that has helped anchor the neighborhood gay scene in Downtown L.A. through the years and brings in believers throughout the LA corridor. Find cheap drinks, a crowded dance floor, cheesy entertainment and no cover charges.
SEE:
The MOCA: Stop by the Museum of Contemporary Art and the Geffen Contemporary for a quick dip into arts trends and modern urban culture.
Check out the boutiques and shops in the Arts District for creative leather goods, stationery, homewares, and locally crafted clothing.
Head to Santee Alley for an outdoor Third World-style bazaar selling all stuff cheap, from fishnet lingerie to clown wigs to knock-off bags to pirated videos.
SILVER LAKE
This hilly, Spanish bungalow-pocked enclave east of Hollywood, south of beautiful Griffith Park, and northwest of downtown is the historical epicenter of Gay Los Angeles. The Black Cat Tavern witnessed one of America's first gay riots on New Year's Day in 1967, spurred by a police raid, and resulted in a marked protest that predated the legendary Stonewall riots.
Today, the old bars and gathering spots have given way to edgy boutiques and craft cocktail bars found mostly along Sunset Boulevard and on Hyperion Avenue. Urbane cafes like LAMILL Coffee and Intelligentsia make great cooling places between eating, drinking and partying.
EAT:
Fred 62 is a souped up diner open 24-7 and close to great vintage shops and boutiques of Silver Lake. Find classics and contemporary comfort food: huevos rancheros to pork belly banh mis.
Barbrix is driven by a small plates menu and offers nearly two dozen wines by the glass in a '40s style bungalow with a quiet patio setting. Great for a first date.
Dresden has been around through L.A.'s better days and made appearances in a list of movies. It's kept up its Rat Pack élan and remains popular for classic steak dinners (veal marsala, prime rib). You can even order escargot. Vintage cocktails are a must here.
DRINK:
Akbar: the retro-style lounge here has become the symbol of Silver Lake's gay focus as the ultimate gay alternative hipster be seen spot. It waxes young but older fans love it too. Saturday night is Mario Diaz's big dance party with Full Frontal Disco. Guys in fishnets and stilettos keep the party moving.

Eagle LA: It's all beer and leather here, mostly in the form of jocks worn by otherwise nude hairy guys holding beer bottles. Bears feel comfortable here and there are regular beauty contests for boys who like to strut and pound.
Faultline: This is another entrée to the land of leather and proud to be a den of bears. It's a man's man bar rife with tattoos, beards, balds and bellies. Be prepared to hunt or be hunted.
Browse:
Lots of colorful and creative shops to be browsed on Sunset and Hoover streets. Find quality leather clothing and bags at Dean. The Mohawk General Store is a very popular clothing retailer men and women, and also offers handcrafted home goods, books, apothecary and music. Go to the Old Style Guitar Shop for lovingly refurbished stringed instruments. Explore Le Pink & Co. just to be in totally pink surroundings and buy lotions and lingerie in pink.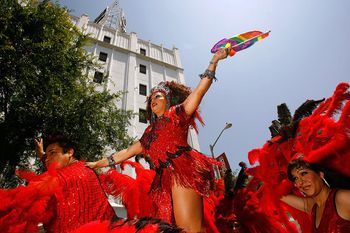 WEST HOLLYWOOD
All roads on the gayborhood path lead to West Hollywood where an unparalleled "mile of style" awaits. The city is small, comfortably walkable and packed with gay life.
EAT:
Marix Tex Mex Café: This is a West Hollywood institution and one of the best deals in town, especially on all-you-can-eat Taco Tuesday. Strong Margaritas and delicious servers.
Urth Caffé: Take in the scene in West Hollywood on Urth's often crowded but sunny and warm patio. Great location in a particularly tony part of Melrose Ave. Specialty coffees, expensive nibbles and wonderful eye candy … celebs sip here, scripts get penned here.
Canter's Deli: This L.A. institution on Fairfax has seen it all in its 86 years and still serves the best pastrami sandwich plate in town. Open all hours it gets quite colorful in the midnight hours as the streetwalkers head in and the rock and comedy talent from nearby clubs finish their gigs.
DRINK
The Abbey: Considered one of the best gay bars worldwide, The Abbey continues to attract the crowds (and lines) with its fancy Goth meets Med decor and its flow of indoor and outdoor spaces. Drinks are strong and crowds get rowdy, but the eye candy is bounteous. It was one of Liz Taylor's favorite haunts.
Flaming Saddles: It's described as "a gay bar that's part coyote ugly, part reality TV." Best advice: don the hat and boots, maybe the chaps, too (you can bag the jeans later) and head over. Food is good too with its skip-the-line daily special: a Pink's hot dog and bag of chips for $5, no waiting.
The Pick Up: WeHo has some 25 gay bars and 69 gay friendly restaurants in its zip code – and a dearth of on street parking. Opt to be picked up instead. The Pick Up is a free bus service running every 15 minutes in a six-mile loop around the neighborhood on Fridays and Saturdays from 8pm to 3am.
BROWSE

West Hollywood, with its sky-high real estate values, is right up there with Paris, Milan and NYC when it comes to fashion. Find eponymous designer shops along Melrose Avenue and Robertson Blvd. Kitson, Fred Segal, Rag and Bone, Alexander McQueen and Stella McCartney vie with upscale second hand and vintage clothing shops for some very enjoyable window-shopping.
Wrap it all up with a 2- to 3-hour tour of Tinsel Town's gay past and present by Out and About Tours, through The Lavender Effect.
A WeHo Halloween
A half-million costumed funsters must know something – that West Hollywood's Halloween Carnaval is fabulously fun, free, and a young partier's bucket list experience. What's less known is how to rise above the street party frenzy and actually enjoy a grown-up version of this quintessential rite of passage (turning 30 this year) by booking a visit the weekend before the mayhem. Maintain one's dignity and still revel in the city's energy while enjoying a dip in hotel rates by heading to WeHo October 27 to 30.
Guide for the Refined Halloween Partier in WeHo
Get a Room
For visitors of a certain age and means, there are cultivated options. Book a second-floor room with a pool view; ogle and appreciate the favor returned. Or, book a brand spanking new penthouse suite 10 stories above West Hollywood, where the air is more rarified and the view of the Los Angeles basin is a balcony surprise, and guests instantly morph into a Somebody. Book two or three nights in WeHo to enjoy the rest of the city without the Carnaval craze. Go here and find your hotel: www.visitwesthollywood.com/hotels
Linger Longer
Roll good times through the weekend right into Sunday Funday along Santa Monica Boulevard. Translation: happy hour deals abound, beginning with Bloody Marys or bottomless mimosas before noon and continuing all the live long day, right through a more conventional afternoon happy hour until about 6:30 p.m. It's day drinking at its packed finest, all along and just off Santa Monica Boulevard, including favorites like kitchen24, Revolver and Tortilla Republic.
When drunken munchies are outgrown head to The Abbey, which holds a see-and-be-seen party on the Saturday night before Carnaval. First timers to WeHo's Halloween are in for a treat, not a trick.
If You Must
The Halloween Carnaval takes place October 31, officially from 6 to 11 pm on Santa Monica Boulevard from Doheny Drive to La Cienega Boulevard, but city bars close at 2:00 a.m. Free bands and DJs and food trucks line the route; bars offer competing drink specials. It holds a special place in the alt universe with its killer drag queens, oh-so-gay-dress-up and general queer, bizarro excess.
Both Los Angeles International Airport (LAX) and John Wayne/Burbank Airport (BUR) serve the LA/West Hollywood area. More information: www.visitwesthollywood.com/halloween-carnaval.