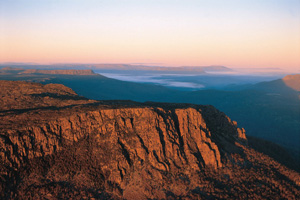 It's a rare moment in film when the lead actor has to compete with a destination for star credits. But The Hunter, which debuts nationally this week, presents the leading performances in just that manner. While leading man Willem Dafoe gives a restrained and powerful presentation as a lone tracker out to find the mythical or real Tasmanian tiger, it is Tasmania itself that binds the film with tension and beauty making it a captivating experience that begs to be followed up.
And Tourism Tasmania is doing just that.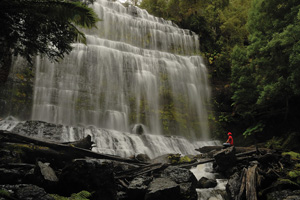 An Aspire Down Under Tasmanian Wilderness Package gives travelers the chance to see the real Tasmania as raw and mysterious as The Hunter suggests.
The Package includes:
• Round-trip Qantas Airways flights Los Angeles to Melbourne
• Domestic Qantas Airways flights to Tasmania (into Launceston, out of Hobart)
• Seven nights in 3.5 star Bed & Breakfast or Lodge accommodation
• Breakfast daily
• Seven days in a mid-size automatic car rental
• All airport taxes and airline fuel surcharges
The package priced from $2,540 per person, double occupancy, departs from Los Angeles between May 1 – June 8 and July 15 – September 21, 2012. A supplement of $250-$500 per person applies for travel outside of these dates. Add-on fares from other U.S. cities are available upon request.
The Hunter stars Willem Dafoe, Sam Neill and Francis O'Connor, with Dafoe playing a skilled mercenary hired to obtain the genetic material of the Tasmanian tiger, which many presume is extinct. Disguised as a scientist, he journeys deep into the Tasmanian wilderness, far from his home base, to a farmhouse owned by a grieving widow and her two children. As Defoe's character becomes increasingly close to the family, he is led down a path of unforeseen dangers that complicates his mission.
Alongside Dafoe, Tasmania's iconic wilderness shares the screen with equal billing. Locations include the World Heritage Listed Cradle Mountain Lake St. Clair National Park, the majestic Mt. Wellington that dominates the Hobart skyline, the beauty of Mt. Field National Park and the dramatic cliffs of the Great Western Tiers. Visitors can follow in the footsteps of The Hunter and experience the grandeur of Tasmania's wilderness with Aspire Down Under's seven-day self-drive escape. The tour starts in Launceston and finishes in Hobart.
For more information or to book, visit www.DiscoverTasmania.com/TheHunter.