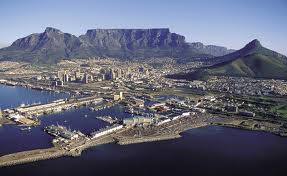 By Lark Ellen Gould
Few Americans go the distance to South Africa without checking out the beauty and culture of Cape Town. The city is overseen from on high by iconic Table Mountain (adventure travelers skip the tram and take the path for a good 12-hour hike), and by the confluence of the Atlantic and Indian oceans below. And it is filled with absolute must-dos, beginning with the half-day tour to Robben Island and a visit to the fabulous Two Oceans Aquarium.
But for travelers who have a little time and a yen for wine, Cape Country Routes is happy to provide the itinerary.
Cape Country Routes (CCR) was started in 1997 by a group of enterprising independent hotels and country inns, to encourage visitors to explore the scenic, romantic and historic routes between the two harbor cities – Cape Town and Port Elizabeth. Properties in the portfolio were chosen for character, charm and romance – what "CCR" likes to cast as its hallmark.

"We realized that there were a lot of us offering great places for people to visit in this region and if we put it all together and marketed it we could actually provide a lot more information and service than what would be by each of us doing this alone," says Reil Meynhardt, owner of the Evergreen Manor & Spa in Stellenbosch and CCR director. The venture offers suggestions and contacts for what to do along these routes, where to dine, what not to miss, how to reserve bicycles and how to reserve a car. All can be booked directly from the site or through each property recommended.
Cape Town is much characterized by its famous wine route that meanders through a scenic countryside of farmlands and vineyards anchored by quaint provincial cottages and inns that would look equally at home in Arles or the Cotswolds.
The product offers visitors the opportunity to meet the locals and take roads less traveled along safe, self-drive routes that run from Cape Town to Port Elizabeth about 420 miles away between the Western and Eastern capes.
The Winelands Route might be the easiest to manage if time is short, while still providing a fulfilling experience of the Cape Town countryside. The oldest stop on this sojourn is the trip to Stellenbosch winery, only 30 minutes from Cape Town and a jumping off point for the wine region. Stellenbosch is the oldest town in South Africa, after Cape Town, founded in 1679 by the governor of the Dutch East India Company. Homes here are well preserved, four of them form the town museum and it's an easy hop to Frankschoek, 20 minutes away and awash in Huguenot history as well as wineries and cafes.
Paarl is slightly north of Stellenbosch at the foot of what is the second largest granite outcropping in the world. Tourism offerings here include exploring the foothills and vineyards on horseback or checking out the sites by hot air balloon. North of Paarl, an hour from Cape Town is the trendy town of Riebeek Kasteel with award-winning wine estates to visit and a bounty of olive groves.
The Winelands Route is only one of six self-drive itineraries Cape Country Routes maps out for visitors. The second is the West Coast to Cederberg; Route Three is Overberg to Klein Karoo to Great Karoo, passing natural hot springs (believed to hold aphrodisiac properties), great nature walks and biking routes, nature reserves, ostrich farms, and estates known for their brands of port wine and brandy.

Route Four takes in Overberg and the Cape Agulhas Wine Route. The road opened in 1958 as a way to access popular tourist destinations on the Whale Coast at the southernmost tip of Africa. The route runs through seaside villages and into the charming backcountry towns of Swellendam and Montagu.
Route Five is considered the Garden Route that goes through Mossel Bay – considered the Eden of South Africa for its lush vegetation. Bungee enthusiasts will find the world's highest here at some 708 feet up at the Bloukrans Bridge. Knysna is considered the capital of the Garden Route – a seaside town known for the yellowwood forest and freshwater oysters.
Route Six runs along the Sunshine Coast from Plettenberg Bay through Oyster Bay and St. Francis Bay to Port Elizabeth. But a visit to Addo Elephant National Park just north of Port Elizabeth promises the largest concentration of elephants in the world, with big five wildlife preserves only a short drive away. 

CCR provides all the lodging suggestions and reservations assistance one can use for any or all of these routes. Spots may include a stay at Botlierskop in Mossel Bay – a 7,400-acre game preserve with a wide range of wildlife and accommodations in large luxury tents along the riverbank. Some two dozen properties ranging from quaint cottages to city villas to modest guest houses to resorts and spas can be accessed and booked through the website or email or phone call.  
Contact:
Cape Country Routes
Cape Town, South Africa
[email protected]
www.capecountryroutes.com