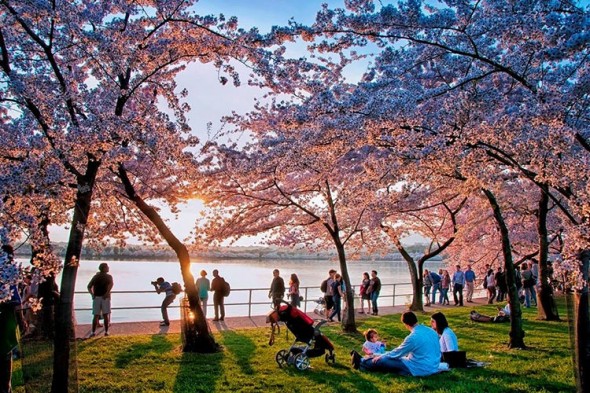 Springtime in Washington D.C. is nothing short of legendary. Perhaps it is why they built the Capitol and put the White House there. The fresh pink buds of cherry blossoms trees that bath the city in a pastel infuse the city in a scent especially sweet after a cool rain. A clear sky and shy sun edge through to warm the city as a polite unwinding, a thaw that takes hold. Everyone comes out to play. Frisbees cut the air on The Ellipse, while marble shimmers in the new light and it is possible to believe for a moment that all is well with the world.
Visitors to Washington D.C will find a city alive in the progress of neighborhood re-dos and the restaurants, shopping and attractions that the recent $9.2 billion in urban investment brings.
They are now met with more dining options, hotel styles and places to explore than ever before. A sense of vibrancy pervades every corner – from bicycle-filled Dupont Circle to the tony tree-filled streets abutting the southeast side of the Capitol Building. For those who have not seen the nation's capital in years, this is not your daddy's D.C.
"Washington, D. C. is known the world over as a place for government and diplomacy, monumental arts and culture. But there's a new and decidedly independent creativity in the city. We've become a city of great neighborhood restaurants, live theater and music, world class sporting events, bike lanes and now, a streetcar. At Destination DC we call this mix of the familiar and the new DC Cool," says Elliott Ferguson, president and CEO of Destination DC, the visitors and conventions bureau. "D.C. has long been a city that attracts high achieving young professionals. With an influx of physical development — $9.2B is currently invested – D.C. has become a compelling place."
Visitor numbers topped 20 million in 2014 with 18.34 million originating in the U.S. and 1.9 million coming in from overseas, (2015 figures are not yet available). A steady rise of 2 to 3 percent a year is expected through 2018, according to Destination DC. And Washington has the hotel room inventory and options to accommodate, adds Ferguson, with some 2,004 rooms in the pipeline for this year and some new properties opening in the coming months. Business travelers make up 43% of domestic arrivals and account for 62% of spending.
Spring in Washington D.C. should not be missed. Here are some of the highlights and new attractions and services that go with the changes in the season: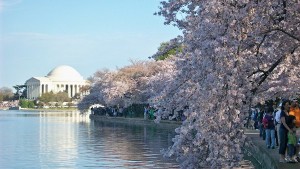 Festivals
National Cherry Blossom Festival (through April 17)
The nation's largest springtime celebration is a four-week extravaganza that includes the Blossom Kite Festival (April 2); the Southwest Waterfront Fireworks Festival (April 9) and nationally televised parade (April 16) followed by the Sakura Matsuri Japanese Street Festival at the Capitol Riverfront.
FilmFest DC (April 14-24)
The 30th festival continues its tradition of screening new international cinema.
Passport DC (May)
The month-long celebration of international culture includes: Around the World Embassy Tour (May 7); Shortcut to Europe: EU Embassies' Open House (May 14); Fiesta Asia (May 21) and Embassy Chef Challenge (May 25).
Ireland 100 (May 17-June 5)
A three-week cavalcade showcasing theater, dance, poetry, music and more, curated by the John F. Kennedy Center for the Performing Arts' artist-in-residence, actress Fiona Shaw marks a century of Irish independence.
Capital Pride (June 1-12)
The 2016 theme, "Make Magic Happen" honors the passion that drives the LGBT community to spark change across communities. The celebration includes galas, concerts, a 5K, pool party, parade and street fair.
DC Jazz Festival (June 10-19)
The fastest growing jazz festival in the United States features more than 125 performances by luminaries including Cécile McLorin Salvant and Eddie Palmieri at 40 venues across the city.
2016 Anniversaries
It's the centennial of the National Park Service and many of DC's 23 national parks celebrate the system's 100th birthday with the #findyourpark initiative.
National Gallery of Art
One of the world's finest art collections honors its 75th anniversary with events including "Sketching is Seeing" workshops (March 25-April 24); "75 Years/75 Stories" lectures (April 1-3) and an exhibition, "In Celebration of Paul Mellon," (May 8-Sept. 18).
Transportation
The Circulator: DC's dollar-a-ride bus network's National Mall loop departs every 10 minutes from Union Station to the National Gallery of Art, Washington Monument, Lincoln Memorial, around the Tidal Basin to the U.S. Holocaust Memorial Museum, National Air and Space Museum and U.S. Capitol before returning to Union Station.
DC Streetcar: Launched in February, the first segment runs from Union Station down H Street NE to Benning Road. Currently rides are free.
New Hotels
Among the latest openings is the Watergate Hotel, reopening in Foggy Bottom as a luxurious 337-room escape this year following a $120 million renovation. Worthy of notice: Top of the Gate, which is a rooftop bar with panoramic views of the Potomac River, offers a fine-dining restaurant and two event spaces. Evoking its 1970s roots, the hotel remains a high-styled nod to the Nixon years with period furnishings and staff uniforms created by "Mad Men" costumer Janie Bryant.
Glover Park Hotel is a new Kimpton property in a highly desired location high on the hill overlooking Georgetown. The eight-story property sits amid 3,000 acres of city parkland with views of the Potomac from many rooms. When it opens in June it will be the city's tenth Kimpton-branded hotel.
Another Kimpton, Mason & Rook, is opening this month (April) in a spot anchoring the bustling 14th Street neighborhood. A chic stay-work-play space, the contemporary hotel (formerly the Helix and many years before that, a Howard Johnson's Hotel) presents 178 rooms, 18 suites and a restaurant called Radiator serving Chesapeake oysters and local brews.