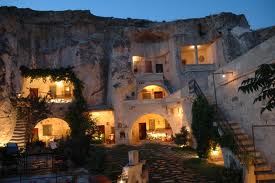 For those looking for a change from the tried and true hotel chain, this list of star (although not necessarily  five-star) hotels is THE LIST  when it comes to hotel stays to remember. They may not be tony rooms with a view but they will be rooms with a story. This list was compiled with help from Hotels.com.
Hotel: Featherbed Railroad Company
Location: Nice, California
What makes it stand out? If you grew up with Thomas the Tank Engine, this hotel will make your childhood dreams come true. The hotel features nine railway cabooses, all individually decorated in themes ranging from Las Vegas bordello to Easy Rider, which actually comes with an "Easy Glider" chair with saddlebags, Harley Davidson touches and a headboard with handlebars. And then there's the fact that "Nice" just sounds like a good place to visit.
Hotel: Capsule Hotel and Sauna Cosmo Plaza Akabane
Location: Tokyo, Japan
What makes it stand out? As the name suggests, it's not a big space. In fact it's just big enough for travelers to crawl in and get caught up on sleep. Not for the claustrophobic traveler, this modern sleeping area is worth checking out for those looking for a futuristic experience – plus for tight budgets, this option is extremely wallet-friendly.
Hotel: Hotel Im Wasserturm
Location: Cologne, Germany
What makes it stand out? A stay in this cool hotel gets you an inside view, literally, of some of Germany's history. This landmark is the biggest water tower of the 1800s and although it was redesigned inside to house 88 rooms, it maintains its classic heritage.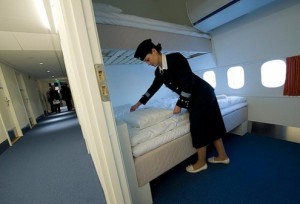 Hotel: Jumbo Stay
Location: Arlanda, Sweden
What makes it stand out? The Ice Hotel has some serious competition, as this pick is made from a grounded 747 (that's a jumbo jet for non-plane enthusiasts). The décor and colors are an homage to the 1970s – known as the golden era of air travel. There are 25 guest rooms with one located in the cockpit, plus the rooms come equipped with LCD TVs where you can view the schedule of departures.
Hotel: Sarah Cruise
Location: Venice, Italy
What makes it stand out? There's no better way to get into the Venetian mood than by sleeping on the water. This eco-friendly, 25-room boat is actually a bed and breakfast so you can spend your mornings dining on the deck (weather permitting of course). Ever popular Venice is a go-to for romance.
Hotel: Madonna Inn Resort & Spa
Location: San Luis Obispo, California
What makes it stand out? Contrary to its name, this property was not named after the famous entertainer – although it is just as unique. It includes 110 guest rooms with names like "Austrian Suite," "Safari Room," and "Jungle Rock" that feature a variety of eclectic designs to cater to a range of tastes. Fans of "The Bachelor" might recognize this property since it was featured in Season 14.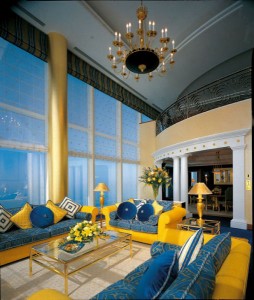 Hotel: Burj Al Arab
Location: Dubai, United Arab Emirates
What makes it stand out? While this hotel isn't for the budget-conscious (it's upwards of $2,000 per night), it is a once-in-a-lifetime opportunity to feel like royalty. Shaped like a sail and located on a private island with a private beach, this hotel takes luxury to new levels.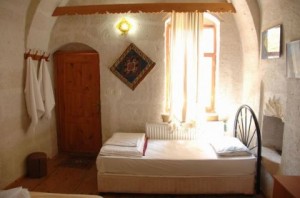 Hotel: Dream Cave Pension
Location: Goreme, Turkey
What makes it stand out? 
This hotel is located in an area of Turkey known for its unusual rock formations, so it only makes sense that they'd build one into a hotel, right? Although the surrounding area is quite beautiful, the option of staying in a fairy chimney makes it a good enough selling point.