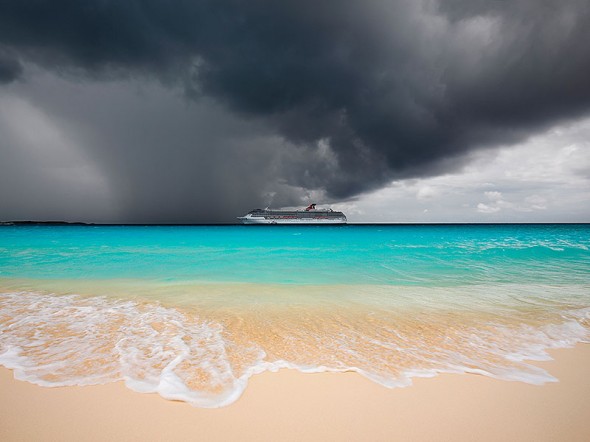 What's worrying travelers these days? Hurricanes. That's if you consider recent surveys compiled by the folks at InsureMyTrip.com, whose business it is to know these things.
Indeed, probably the top concern for summer travelers peering into their upcoming vacations is a question of whether some category 4 sweeping in from the Gulf will send them running for cover. Survey findings reveal that unexpected weather concerns have a significant impact on trip insurance purchases for summer travelers, and also an impact on what travel plans they do end up making.
Comprehensive travel insurance provides a variety of benefits including medical coverage, emergency travel services, baggage protection, trip cancellation and trip interruption coverage.
Travelers concerned about hurricanes should purchase travel insurance early. Once a storm starts forming, it is considered a foreseeable event and insurance coverage will no longer be available to cover losses related to that storm.
Top cancellation considerations:
Cancellations due to weather: when common carriers such as airlines and cruise lines cease service due to weather.
Cancellariona due to a hurricane warning: when a destination is under a NOAA-issued hurricane warning.
Cancellations because of storm damage at destination: when a hotel, resort, or vacation rental is devastated and made uninhabitable by a storm.
Cancellations because a home is destroyed by storm: when the home of a traveler sustains destructive storm damage.
Summer Travel Destinations in Demand
Meanwhile, the insurance carrier looked at data to determine where people will be going this summer, and compiled its Summer Guide 2015 for insights on summer travel. An overwhelming eighty-two percent of those polled said they were planning a summer vacation. Twelve percent said they had no plans yet. Six percent had no travel plans at all.
Top Destinations Abroad
The most popular summer destinations for travel outside the US (June 2015 – August 2015) based off internal customer data:
United Kingdom
France
Italy
Caribbean
Netherlands
Getting There
Out of those polled, 67 percent will get to their destination by air.
Prefer Staying in Hotels
42% will stay in a hotel
25% will go on a cruise
18% will stay in a vacation rental
10% prefer to stay with family or friends
4%   will use a timeshare
Sightseeing Tops List
50% enjoy sightseeing the most during a summer vacation
23% like going to the beach or relaxing
13% enjoy spending time with family and friends the most
10% other
3%   eating at restaurants
Travelers Booking Well in Advance
Most travelers prefer to book vacations in advance with 82 percent booking a trip more than 30 days in advance, 15 percent booking a few weeks prior to departure and three percent preferring spur of the moment trips.
See New Places
55% will visit a new destination this summer
24% will sometimes visit the same destination
22% do tend to visit the same destination
Top Travel Concerns: Money, Health, Weather
The poll reveals that most summer travelers are concerned about overspending, health issues and bad weather affecting travel. Here is the list of concerns in order of popularity:
Overspending
Health issues before or during a trip
Hurricane or bad weather affecting travel plans
Missing a flight
Bad experience with food or accommodations
Plans for Travel Budget
The survey also asked how much travelers planned to spend on a vacation. Nearly half polled (47 percent) will spend over $1500 on a vacation budget. Thirty-one percent will spend over $5000.
Europe, Europe, Europe
With the strong US dollar, it is not surprising to find more Americans booking trips to Europe this summer and taking advantage of a bargain. The cheapest times to fly to Europe are now and the end of August.
June is the most popular month for European travel
Prices peak at the end of July
Related Stories: