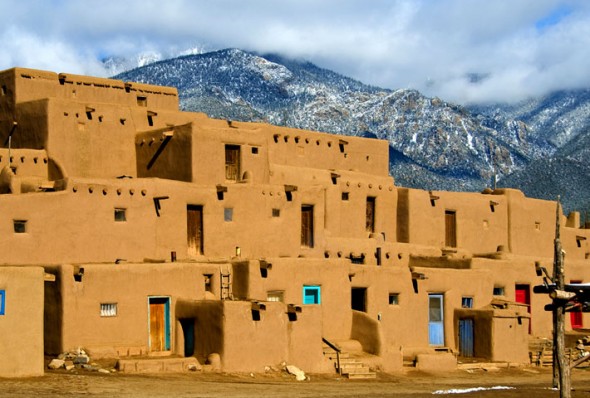 Autumn to Christmas is possibly the best time to visit New Mexico. The chilly weather means is perfect for shopping for unusual presents at outdoor markets and the luminarias the deck the adobe walkways and river paths as Christmas approaches. Here is a guide to what's new, what's cool and what's happening this season in The Land of Enchantment. 
Opening: Sunrise Springs Integrative Wellness Resort
Sunrise Springs Integrative Wellness Resort opened in late August 2015 with the mission of providing guests with a transformative wellness experience. The resort is located on 70 acres of towering cottonwoods and spring-fed ponds and offers an "integrative spa" and therapeutically-designed programming which allows guests the opportunity to pause, decompress and nourish both the body and the mind. Guests have access to a highly-credentialed team of wellness providers from medical doctors and licensed counselors to experiential instructors and massage therapists. Daily experiential and nature-based activities include mindfulness, meditation, yoga and fitness, Native American teachings and expressive arts. The dining experience incorporates locally sourced ingredients grown using organic and sustainable practices. www.sunrisesprings.com.
Food News
New Restaurant: Infierno
This Italy-meets-the-southwest establishment is billed as "Santa Fe's premier wine bar and lunch-until-late-night gourmet dining destination" and has the long, dark, sleek bar and speakeasy feel to back it up. Diners select from antipasti including calamartichokes—calamari with artichoke hearts and three dipping sauces—and gourmet pasta, salads, and pizza with the benefit of an internationally-focused wine list and unique beer selection. Finish with house-made tiramisu, panna cotta, flan, and other desserts. www.infiernosanta.weebly.com.
Opening: Sazón
Acclaimed Santa Fe Chef Fernando Olea's new eatery opened in early September. Chef Olea has been a fixture in Santa Fe since 1991 with his innovative interpretations of contemporary and traditional Mexican dishes. The menu at Sazón will feature traditional New Mexican cuisine with fresh, locally-sourced meats and produce. www.sazonsantafe.com.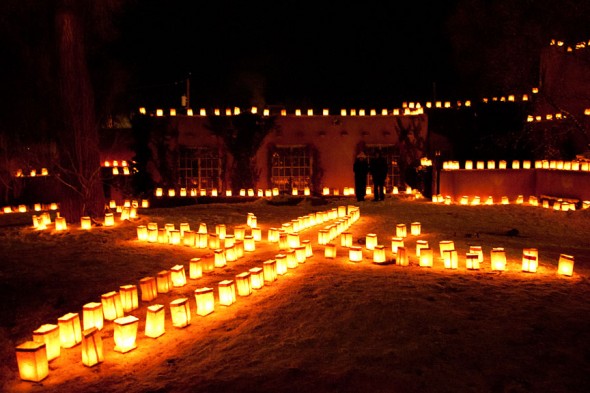 Opening: Derailed at Santa Fe Sage Inn & Suites
In September the Santa Fe Sage Inn & Suites opened Derailed, a new bar and restaurant from chefs John Bobrick and Jessica Butler. The restaurant has an eclectic menu with cuisine ranging from American comfort food to stylish fusion dishes. Derailed also offers craft beers, wine, locally-distilled spirits and specialty cocktails. Find it adjacent to the celebrated Santa Fe Railyard and Arts District. The interior space provides a warm and appealing industrial railyard motif with a fireplace, outdoor portal and patio with personal fire pits and stone water features. www.santafesageinn.com.
New Chef's Table: Luminaria Restaurant at Inn and Spa at Loretto
Santa Fe's award-winning Luminaria Restaurant at Inn and Spa at Loretto has launched a "Chef's Table," featuring eight globally-inspired menu options designed by renowned Executive Chef Marc Quiñones. The experience will be offered to groups of six to eight people at a private table near a roaring kiva fireplace on the Luminaria patio. Following the meal, guests will be treated to a surprise bonus course and a culinary gift to take home. Pricing for the Chef's Table is $79 per person excluding wine pairings and $99 including wine pairings. For more information, visit www.innatloretto.com.
New Event: Terra Restaurant at Four Seasons Resort Rancho Encantado
Terra Restaurant has launched a weekly event, "Artful Pairings: Wine, Bites, Art." The resort has combined two past popular events—Wine & Bites and Artist Reception—to create this engaging event. The night features a live artist demonstration, gourmet bites and wine pairings. The event is free and open to the public every Friday at 5:30 p.m. www.fourseasons.com/santafe.
State of the Arts
New Citywide Arts Celebration: Fall Of Modernism
Fall Of Modernism runs through February 2016—a citywide Santa Fe collaboration anchored by the New Mexico Museum of Art and the Georgia O'Keeffe Museum that celebrates the Modernist art movement in America. Ten leading galleries are also participating and eight premier Santa Fe hotels are creating packages for travelers. www.fallofmodernism.org.
New Exhibit: Flamenco—From Spain To New Mexico
The Museum of International Folk Art will present Flamenco: From Spain to New Mexico, the most comprehensive exhibition to celebrate and study this living tradition as art form. The exhibition opens November 22, 2015 and runs through September 11, 2016. More than 150 objects will be featured that trace flamenco's journey from fifteenth and sixteenth century Spain to twentieth century Europe's most cultured cities, including costumes both historic and contemporary, musical instruments, costume and set design sketches, playbills, sheet music, posters, and more. www.internationalfolkart.org.
Facility Enhancement: Museum of Contemporary Native Arts
The Museum of Contemporary Native Arts opened a new wing showcasing a permanent collection on August 21. The new Kieve Family Gallery renovation features a 1,670 square foot gallery on the second floor, which increases the exhibition and public space of the museum by nearly one-third. The exhibition Visions and Visionaries curated by MoCNA Chief Curator Candice Hopkins, inaugurates the Kieve Family Gallery. www.iaia.edu.
New Exhibit: New Mexico Museum of Art – Georgia O'Keeffe in Process
This exhibit is part of the Fall of Modernism cultural collaboration with the Georgia O'Keeffe Museum. Georgia O'Keeffe In Process runs through January 17, 2016. The show spans the artist's career from her student portraits of her family members created in 1905 to her paintings in the late teens and early 1920's. The museum opened an additional Fall of Modernism collaboration on October 2, An American Modernism, which brings work drawn from the museum's own collection of Modernist art. www.nmartmuseum.org.
New Exhibit: Georgia O'Keeffe Museum – From New York to New Mexico: Masterworks of American Modernism
The exhibition at the Georgia O'Keeffe Museum opened in September and features more than 60 works from the Vilcek Collection, known as one of the finest collections of American modernists from the 1910s to the Post-war era. The exhibition runs through January 10, 2016. www.okeeffemuseum.org.
Related Stories: