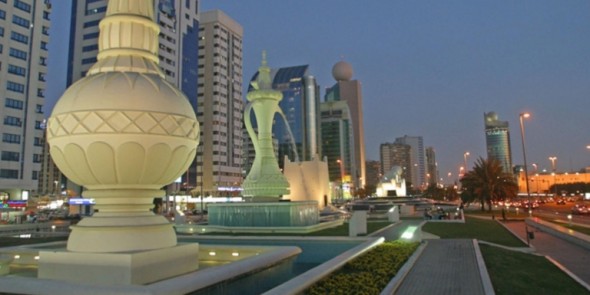 Most of us fly from one city to another just hoping to get to some target destination in one piece and with all possessions within a reasonable radius of our promised arrival time. But some of us, more experienced, perhaps, or just a little more adventurous and with a lot more time, travel to get to the points in between.
One super secret of flying these days, as noted in a recent issue of Business Traveler, is the free stopover. Those are the cities between Point A and Point B where you can actually get out of the plane and even out of the airport without suffering a penalty.
Most air routes do not have these advantages. They are governed by international air contracts that limit these options to keep airline routes competitive. But some routes do. You won't necessarily know about it unless you ask or are careful to read the fine print on the booking site. They are not often advertised but can be a boon to any traveler with some extra days or even weeks to kill and a yen for trying things that depart from the usual agenda.
There are some ten official stopover destinations between the U.S. and third countries. The latest is Ethiopian Airlines, which flies non-stop from Los Angeles to Dublin and then, after a two-hour layover, onto Addis Ababa in a complete trip that can take around 20 hours for some — or a couple of months for others.
The airline takes advantage of complex bilateral negotiations resulting in what's known as "Fifth Freedom" rights. The term stems from the nine air-rights or "freedoms" that countries typically negotiate in their bilateral aviation contracts outlining the parameters of their landing rights. These range from straight-forward, one-way rights to fly from one country to another to complex third country operations that may or may not stir up controversy. (See sidebar)
Ethiopian Airlines was awarded hard-won "Fifth Freedom" privileges that allow the airline to pick up passengers in Los Angeles and deposit them in Dublin for a brief layover or indefinite stopover or as an end destination. The airline is allowed to pick up new passengers for an onward flight to Addis Ababa, Ethiopia. Similarly, the return ticket on the thrice weekly flight to LAX offers the same flexibilities and at the same time has allowed Ethiopian to become the only direct flight from the U.S. West Coast to Africa and the only non-stop service between Los Angeles and Dublin.
The stopover is often a hidden secret for flyers and something airlines are just now beginning to market as a desired commodity. They are not granted but something to be negotiated within their commercial aviation portfolio and may involve a stopover in a third country, or in the case of the "Sixth Freedom," a stopover in the airline's home country for passengers flying onward to someplace else.
And while Fifth Freedoms can be a boost for travelers — offering them adventure and added value along certain routes — they are a problem for U.S. legacy carriers that are suddenly seeing foreign-flagged planes originating in another country, picking up passengers in New York or other gateway cities, ferrying those passengers to popular ports in Europe, and then heading on their way.
Emirates Airline boldly became the first "Fifth Freedom" carrier to fly between New York City and Milan, Italy in 2013 —  allowing a full Fifth Freedom stopover between New York and Dubai to take place in Milan in a move that would increase services between not only Italy and Dubai, but also the United States and Italy. It has come under fire since that time from American-flagged competitors, and even took some blows in Lazio Regional Administrative Court (TAR) in Italy, but Emirates was ultimately granted permission by the Italian Aviation authorities (ENAC) to operate between Milan and New York.
Fifth Freedom rights are usually good things, if you are not a legacy carrier based in the U.S. They help airlines maintain capacity on underused routes and thus remain competitive and they keep route prices in check. As Emirates was able to open up the route from New York to Milan a fare drop ensued and generated true competition on that route.
For U.S. travelers trying save money and squeeze in a little extra travel between their points A and points B, here are some ways to do it while managing some unexpected wonders.
Chilling out at the Blue Lagoon on Icelandair
Since the 1960s backpackers have long been using Icelandair's great rates from the U.S. East Coast to get to Europe and taking advantage of the free stopover of up to seven days the airline offered. A little Walter Middy can be a good thing for anyone wandering this geothermal landscape. Temperatures in Iceland are far from icy and if the long, dark night does get a little cold, there's nothing like watching the Aurora Borealis from the steamy open waters of the Blue Lagoon – Iceland's most notorious spa.
Buying-in on Dubai
Emirates offers a host of options for trying out Dubai, easily known as the playground of the Middle East. It's where sheikhs go to shop and royals go for sizzling r&r. Passengers can just enjoy the airport for a long layover. It offers a flyers a good mile of shopping and entertainment and even rest without having to leave the tarmac.
A better idea, however, is the three-night visa. Passengers must be using Emirates on at least one leg of their itinerary to qualify and can either book through the Emirates website or head to the "Hotels & Visas for Dubai" desk located in the arrival hall prior to passport control/immigration on arrival.
A Dubai stopover is not free. Package prices start at $45 per person per night sharing for three nights. Include your estimated stay and play time in Dubai when booking your Emirates flights to avoid paying additional fees to change your itinerary after completing your booking. (When booking online at Emirates.com, this can be done by selecting 'Multiple Destinations' in the booking tool). A stopover package includes:
A wide choice of hotels and apartments
24-hour check-in/check-out at selected hotels
All taxes and service charges
Transfers between Dubai International Airport and hotels
Options for tours and safaris or private car transfers
A 96-hour UAE visa, subject to proof of hotel accommodation
Approval of visas is at the discretion of the immigration authorities.
Transit passengers with a few hours to kill can head into Dubai after checking in with a dedicated counter inside Terminal 3, operating 24/7.
Onto Abu Dhabi with Etihad

U.S. passengers flying through Abu Dhabi on Etihad can get a visa on the spot and stay for one night or several through arrangements made with the airline. First Class passengers automatically get two complimentary hotel nights in the city, while Business Class passengers receive one complimentary night. A package called the Essential Abu Dhabi Stopover offers guests a free night (and rates can be as low as $37 per person), two-for-one activities, and choice of 61 hotel options in Abu Dhabi and Dubai to consider. Also on hand is a menu of tantalizing tours, from city tours to tickets to Ferrari World and Waterworld, to wild desert safaris.
Tokyo To Go on JAL
Passengers on Japan Airlines can enjoy a free stopover in either Tokyo or Osaka. The JAL website has a "make stopover" tool that lists prices that can include up to two free stopovers. But best to call the airline and arrange directly so you can negotiate a better fare.
Singapore Slings at the Long Bar on Singapore Air
Singapore can be a long flight from the U.S. In fact, it listed as the world's longest long haul earlier this century when it flew non-stop from Newark's Liberty Airport to Changi. A Singapore stopover is easily booked online (book a multi-city option rather than a standard roundtrip – comes out to more or less the same price) and inexpensive packages are available by the night for those who want to indulge in some first class bargain shopping and perhaps a required cocktail at the Raffles Long Bar.
Taking Time to See Toronto
Air Canada customers travelling between the U.S. and Europe or Asia via the airline's Toronto Pearson global hub have the opportunity to pause their journey in the city for up to one week with no stopover fee. Air Canada's extended stopover offer is available to U.S. originating international customers connecting through Toronto while travelling from more than 50 U.S. cities to Europe or Asia. The benefit can be applied to either the outbound or inbound portion of the trip. Passengers can book the stop online at Aircanada.com using the multicity booking tool. The promotion runs through May but does not include tour or packaging services.
Helsinki Holiday with FinnAir
FinnAir flights connecting the United States with west and central Europe now include stopovers in the Finnish capital — one free stopover per flight and a second stopover at a cost of $100. The stopover cannot be booked online. It requires a phone call and may offer some gems as you discover just what FinnAir plans to offer to complement stopover stay.
Three Days in China on Air China
While it is possible to obtain and enjoy an on-the-spot 72-hour visa when you pass through – and stop – in China, Air China makes a stopover in China all the more easy.
Air China sells a range of pre-packaged trips, including hotel accommodations and organized touring to match the length of your stay, and its visa-free. It may not be the most flexible or imaginative way to spend time in China, but it will get you to the most famous spots in Shanghai and Beijing and ensure nothing gets in the way of a smooth departure at the end. Best to call Air China's global ticketing desk to arrange a stopover.
Halfway to Australia on Hawaiian
Hawaiian Airlines allows a stopover in Honolulu free of charge to all passengers flying to or from international destinations, no matter what the fare. In fact, a stop in Honolulu comes with few, if any limitations at all. Stay a day, stay a year. It's a well-known benefit of the airline and travel agents can create a worthy package around this stop, which is a good five hours from Los Angeles, two hours from Tahiti, five hours from Fiji and ten from Sydney, Australia.
Many other airline hubs can be visited in stopover fashion pending patience, flexibility, and practiced abilities to cut through each airline's multi-city booking options as promotions, parameters and privileges change. These include:
Malaysia Airlines (Kuala Lumpur)
Lufthansa (Munich)
KLM (Amsterdam)
Avianca (Bogota)
LAN Chile (Santiago)
British Airways (London)
Korean Air (Seoul)
Cathay Pacific, (Hong Kong)
Air France (Paris)
Qantas (Sydney)
TAP (Portugal)
SIDEBAR: Freedoms of Flying
Commercial aviation rights according to the Convention on International Civil Aviation of 1944 (known as the Chicago Convention).
First Freedom: The right to fly over a foreign country without landing.
Second Freedom: Technical or refueling stop. Passengers usually stay on the plane.
Third Freedom and Fourth Freedom: Basic international service between two countries. Third is A to B, Fourth is B to A. May also include "Beyond Rights" where a foreign carrier may be allowed multiple stops in that second country.
Fifth Freedom: An airline is allowed to carry revenue traffic between foreign countries, mostly a midpoint country, as a part of services connecting the airline's own country. Fifth freedom flights allow airlines to sell seats on any sector and were intended as a way of enhancing the viability of expensive long-haul routes for the airlines and bulking up sales in underserved and underused routes. These rights were essential until advances in avian technology allowed for more fuel- and cost-efficient non-stop long haul routes.
Sixth Freedom: This freedom combines the Third and Fourth, allowing a carrier to sell tickets from Point C to Point A and in the reverse while stopping in Point B, the home country, and allowing passengers to use it as a stopover destination.
Seventh Freedom: This allows a carrier not originating from its home country to pick up passengers in a second country and take them to a third country without involving any service to or from the airline's home country. It becomes "cabotage" when a foreign carrier transports goods or passengers between two points in a foreign country.
Eighth Freedom: This right is usually reserved for "island hoppers." It allows a carrier from one country to carry passengers and goods between two or more points in a closely linked foreign territory. It can pick up goods and passengers from those areas and carry them back to the carrier's home country in a routing also known as "consecutive cabotage."
Ninth Freedom: This gives an airline the right to carry passengers around points within a foreign country without involving any service to or from the home country.
Related: