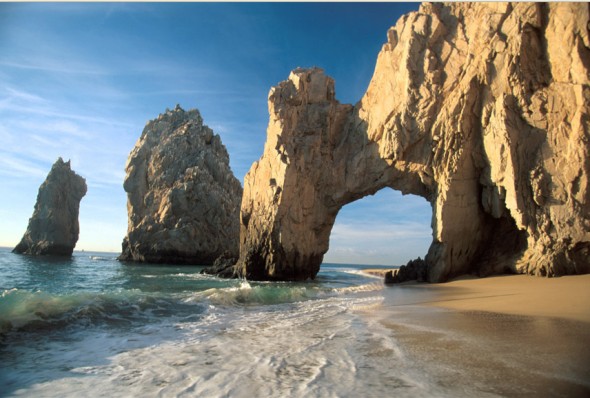 While Mexico has its Day of the Dead pageants, its artful Frida Kahlo culture and its indigenous culinary enchantments, it also has sand – some 4,500 miles of it along the Pacific Ocean and the Gulf of California alone. Neck deep in winter, residents of northern climes are creeping southward and finding that warm sand and cold tequila cocktails make great bedfellows.
Travel to Mexico for a quick break from the cold has its compelling points. The dollar still buys a lot of pesos – the peso has fallen 12 percent against the dollar since June allowing dollar-bearing tourists to wander a landscape of ever-better deals at top resorts. Cities, such as Cabos San Lucas, Mazatlan and the Riviera Nayarit are welcoming hot spots for all types of vacations and they have the comfortable, if not luxurious, infrastructure to make visits magical.
And then there is the beach. Mexico's warm sands and bustling beach life means it is possible to find deserted strands of walkable shoreline and have divine moments all to yourself, or find the party where you want it along with the company of compatriots well practiced at the art of relaxation, Mexico-style.
Winter Vacation in Cabo San Lucas
Cabos San Lucas at the bottom of the Baja remains a place where the rich can get pampered, romancers can get their sunsets, adventurers can find a bounty of natural thrills and seasoned travelers can dig up some unexpected treasures.
Lower Baja contains its own golden triangle of sorts, easily explored by drives along Highway 1 and Highway 19. Gems include the magic mountain town of Todos Santos and the sleepy fishing town of La Paz going north, and the chic tourist destination of Cabos San Lucas (and the colonial artist outpost of San Jose del Cabo nearby) at the southern-most point to create a wonderland of resorts, beaches, great food, value-laden designer shopping.
While the town of Cabo is fun enough, what's outside of town is what gets most visitors coming back for more. Find along the scenic peninsula a selection of romantic beach settings – including Lover's Beach facing the Pacific, considered as much a "must-see" as the area's iconic Los Arcos rock arches for its location at Land's End (and the great snorkeling to be had when conditions are right). It's possible to catch a water taxi from the marina to get here, but pack what's needed, as this is all beach and no services. Unfortunately, the adjacent beach is called Divorce Beach, possibly because of a deadly undertow that plagues the location.
Snorkelers will want to check out Santa Maria Bay and Chileno Bay, close to each within along the "Tourist Corridor" along the Sea of Cortez. The calm waters there are great for swimming and kayaking and the Sea is widely referred to as the "Aquarium of the World." Surfers in the pack will want to head farther north to the beaches around Costa Azul where they can pick up some surf lessons and local surf tips.
Cabo San Lucas has a lively line-up of top tier lodging properties to be considered, from all-inclusive/all-adult resorts, such as Secrets Marquis, to five-star legends, such as the One&Only Palmilla, Capella Pedregal and La Esperanza. In between are a variety of fabulous brands that have all the required wants: luxury amenities, upscale servicing, sensational ocean locations, brag-worthy dining, unusual spa experiences and luxurious accommodations overlooking the surf. These include the Fiesta Americana Grand, the Sheraton Hacienda del Mar, Las Ventanas al Paraiso and Hilton Los Cabos.
Lose the Winter Blues in Mazatlan
Mazatlan, the international port of call on Mexico's Pacific coast, is, once again a top choice for tourists. Cruise lines have returned in recent years following some hits the location took due to Mexico's volatile crime profile. The good news? The city is a completely delightful town with a thriving art scene and throngs of colonial charm – and beach resorts are just minutes away from this heady Old Town immersion. For a once sleepy fishing village Mazatlan can pack a lot of value for visitors with the food, beach, shopping, adventure and pampering options at affordable prices.
A top luxury resort beach property to consider for sun and sand just outside of the town is Pueblo Bonita Emerald Bay, one of six resorts from this resort family scattered around Mazatlan and Cabos San Lucas. This spot has a private beach with delicious white sand and all the perks a luxury resort can bring.
Within a few minutes drive from the resort are restaurants, galleries, boutiques, silver and souvenir shops and a lovely shorewalk called the Malecon that runs for 13 miles (possibly the world's longest) along the beach and what is called the Golden Zone. You can walk into town this way or take an open-air jitney for pennies on the dollar.
The city puts on a major party for Carnival in February, a six-day tradition that dates back to 1898 and is said to be one of the largest Carnival festivals in Latin America.
True Mexico Warmth in Riviera Nayarit
Riviera Nayarit was barely a blip on the map until a decade ago. Now the 200-mile stretch of pristine Pacific coastline just north of Puerto Vallarta has sprung into a corridor of all-inclusives at the bottom end, a pocket of mucho-exclusives edging north and a sprinkling of precious backwater villages at the top.
All this is within easy reach of Puerto Vallarta International Airport for a trip that has it all: beach, shopping, art galleries and local cuisine, all-inclusive or exclusive hospitality, and plenty of natural and local culture to explore.
Puerto Vallarta, also a popular cruise port, has a fabulous downtown, full of colorful design and textile galleries and museum-quality outlets selling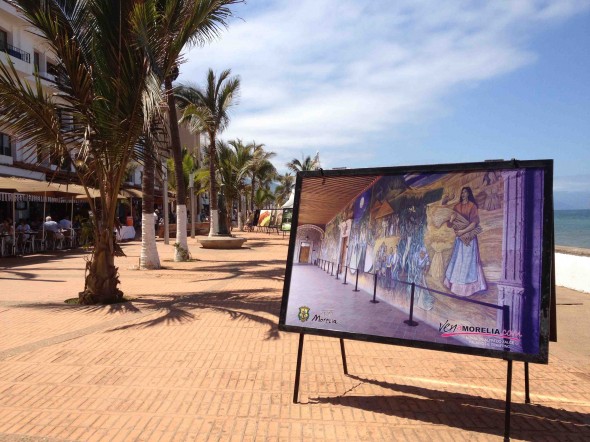 delicate Huichol artifacts and artworks. It's easy to spend a day here. The town's malecon is only 1.5 miles but packs in the color and action along an inviting beach.
Wander off along cobbled streets; find romantic out of the way bistros. This is traditional Mexico wrapped in a package of possibility.
Travel north along the coast to the grand hotels and white-sand beaches of Nuevo Vallarta. This is where the tourist zone has migrated. The hotels line the shore, one after another, each grander than the next. Beaches are busy and the party is non-stop.
However, continuing north, the finds become evermore precious as villages, such as the beachside hamlet of Bucerias, and the magic outposts of Sayulita, San Blas, San Pancho and San Francisco prove their value as colorful, sleepy towns with plenty of ambience and unusual shopping and dining. For instance, San Blas dates back to 1531 and offers plenty to explore in odd museums and markets in the town square. Some outdoor cafes provide the afternoon Cervezas but the real culinary treat lies at the Garza Canela Hotel where Chef Betty Vazquez whips up gourmet mole. The Cordon Blue-trained chef worked with Michelin three-star chef Juan Mari Arzak in Spain and serves up "slow food," locally sourced, seasonally concepted dishes from a well-run kitchen in an unexpected place.
Top places to stay in this area include resorts in Punta de Mita where exclusive properties, such as Imanta, Hotel des Artistes del Mar, and the Palladium Vallarta carve their spots in the land without crowding. It also includes the private Punta Mita golf, resort and residence peninsula well known for the locations of the St. Regis and Four Seasons resorts.
Similar Stories: