At this year's CES in Las Vegas earlier this month an unlikely keynote opened the tech show with some "key" announcements. Carnival Corporation's CEO Arnold Donald told leisions of listeners – some 150,000 to 200,000 attendees and exhibitors in to check out the very latest in a global society that is growing increasingly smaller and more digital by the day – about the quintessential cross section of technology and leisure about to be unveiled on cruise company ships.
For CES, it was the first time a major player in the travel industry took a place at the show, much less made an announcement. For Carnival Corp. it was all about steaming ahead, going toward the future and getting there first.
"With this interactive technology platform, we are poised to have our global cruise line brands at the vanguard of forever changing the guest experience paradigm – not just in the cruise industry but in the larger vacation market and potentially other industries," Donald said. "We are in prime position to take the guest experience to a level never before considered possible and build on cruising's popularity and value as the fastest growing segment of the vacation sector."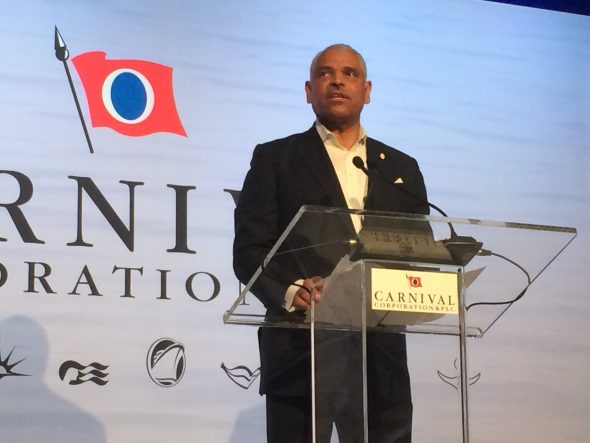 What was he talking about? A simple piece of jewelry, formally called "The Ocean Medallion." It's a wearable device powered by a proprietary interactive technology platform within the "O·C·E·A·N," or One Cruise Experience Access Network, which enables a new level of personalization and enhanced guest experience previously not available in the global vacation industry.
The quarter-sized, 1.8-ounce disc will be given to each passenger and can be worn as jewelry around the neck or as a clip, a key chain and a band, or simply carried in a pocket or pocketbook.
Powered by technology developed by Carnival Corporation, it features an Internet of Things (IoT) network of intelligent sensors and experiential computing devices and revolutionizes guest service in a ways seen in various functionalities at theme parks and major hotels.
When it finally rolls out in the fall of this year the Ocean Medallion will:
streamline and expedite the port embarkation and disembarkation process
allow guests to access their staterooms as they approach the door (no keycard required)
locate friends and family around the cruise ship
enable guests to purchase merchandise without any transaction, cards or paper
deliver enhanced dining experiences based on food and beverage preferences
power an array of interactive gaming and immersive entertainment experiences
significantly enhance interactions with crew members and guests.
The Ocean Medallion pairs with an optional personalized digital concierge called the "Ocean Compass," a digital experience portal available online, on smart devices, on kiosks in home ports, on stateroom TVs, on interactive surfaces located throughout the cruise ship and on devices carried by all guest service hosts.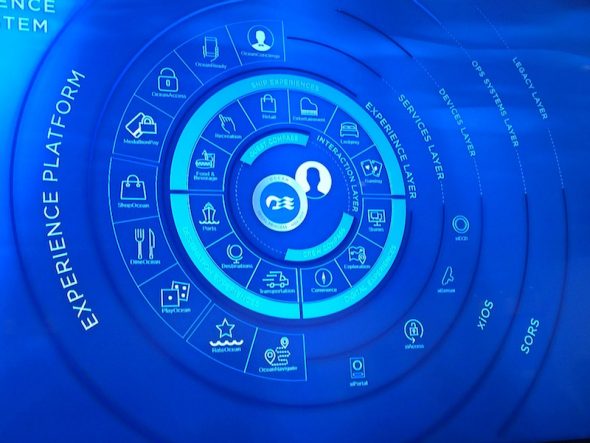 The proprietary xiOS uses a guest-centric, Internet of Things approach to enable guests to maximize their experiences in real-time based on their choices and preferences. For instance, a guest can use an app on a phone or tablet to order a drink at the pool and the drink will appear shortly, given that the F&B department is hooked in, sees the order and, through the clip, knows exactly where the party is lounging. The xiOS seamlessly leverages hardware and software to enable all experiences including access, lodging, food and beverage, entertainment, retail, navigation, payment and media. And it also opens the stateroom door.
The Medallion has no discernible technology – no on-off switch, no charging, no menu to navigate. Each Medallion is laser-etched with the guest's name, ship and date of sailing, is given to all passengers to keep at no cost. Inside each guest's Ocean Medallion are multiple communication technologies including – Near Field Communication (NFC) and Bluetooth Low Energy (BLE).
For all the technological sophistication it packs, Ocean Compass that interfaces with the Medallion requires no education or instruction thanks to its intuitive, innovative operating system. Passengers easily access the Compass online, on smart devices, on kiosks in port terminals, on stateroom TVs, and interactive surfaces and walls located throughout the cruise ship and on devices carried by crew members. The Compass also serves as a digital media platform that features custom experiential media content as well as access to vacation photos captured during the cruise.
"The Ocean Medallion creates an elevated level of service that's made possible by technology but doesn't feel like technology," said John Padgett, chief experience and innovation officer for Carnival Corporation. "Whether guests are exploring new experience options, having a drink delivered to their seat at the night's show or trying their luck gaming while lounging poolside, staff can assist guests wherever they are and the technology can engage with them in a uniquely personal way."
The first of Ocean Medallion Class ship experiences will depart on November 11, 2017 on the Regal Princess, followed by the Royal Princess and the Caribbean Princess in early 2018. The new Medallion Class on Princess Cruises will be rolled out over multiple years on the entire Princess Cruises fleet.
Carnival Corporation is the largest leisure travel company in the world, with a portfolio of 10 cruise brands in North America, Europe, Australia and Asia comprised of Carnival Cruise Line, Fathom, Holland America Line, Princess Cruises, Seabourn, AIDA Cruises, Costa Cruises, Cunard, P&O Cruises (Australia) and P&O Cruises (UK). Together, these brands operate 102 ships visiting over 700 ports around the world. Seventeen new ships scheduled to be delivered between 2017 and 2022.