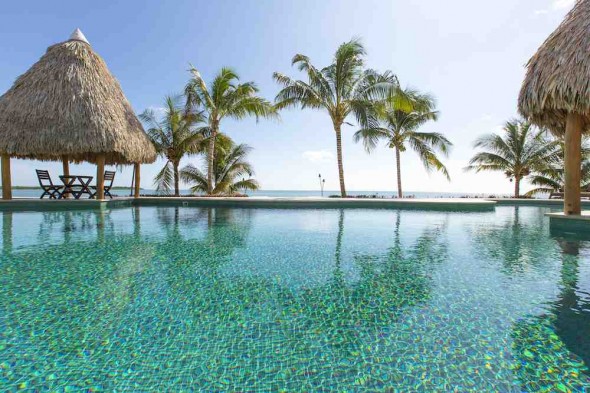 Sanctuary Belize is becoming a buzzword for those who want to experience the resort life in a Central American paradise only two hours from U.S. gateways.
Belize is a place you can take sanctuary from life's hassles and not have to be found for a few days, a week, or longer (or, if you take Heisenberg's approach in Breaking Bad, make that forever). In fact, Belize is becoming the next hot spot for haven seekers noodling around for the inexpensive vacation that turns into a lifetime way of life.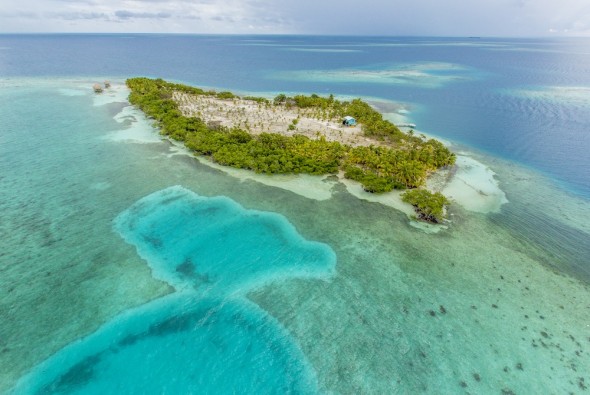 Wedged onto the Caribbean coast between Mexico and Guatemala, Belize used to be British. That means the lingua franca is English and the political system is democratic with familiar laws that uphold the tenets of innocence until proven guilty.
But this ancient Mayan land is also the land of hidden secrets – and those explorations are affordable to most Americans seeking to squeeze value from the U.S. dollar where 50 cents buys on Belizean dollar.
There's a certain going-back-in-time quality in Belize, even if that time is measured in geologic and cultural antiquity. Because the country is as big as Massachusetts but only has around 330,000 citizens, much remains untouched. Tourism and resort infrastructure, while taking off in recent years due to popular interest and an increase in cruise ship stops and air routes, is not dominant or noticeable. Rather there are sporadic hidden spots along the Caribbean coastal waters that bring in the celebrities and small numbers of mass-market tourists, but most of the country remains fairly pristine.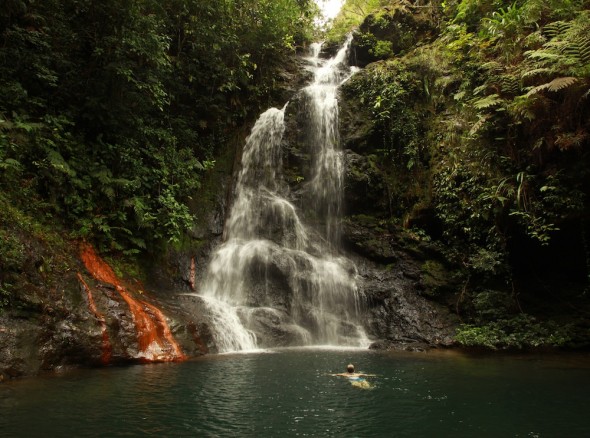 Sanctuary in Belize: Five Reasons to Head to Belize
1) The Big Blue Hole: OK, maybe holes are not your thing but the Big Blue Hole in Belize is worth the trip, especially if you are a diver. Brought to fame by Jacques Cousteau in his 1970s adventures on the Calypso, Belize's big hole is believed to be the world's largest: 1,000 feet across and 412 feet in depth. It might be considered the Ngorongoro Crater of the Caribbean as it contains a variety of local wonder in one rounded place: giant stalactites, dripstone sheets, nurse sharks, groupers, midnight parrotfish, and Caribbean reef shark, as well as bull shark and hammerheads. Best for divers. Snorkelers will find better experiences elsewhere.
2) Snorkeling in the second Great Barrier Reef: Belize boasts the second largest barrier reef in the world, compared only in breadth and beauty to the Great Barrier Reef off the coast of Australia. The water here is warm and blue and the underwater visions take in a carousel of color from thriving corals and reef fish to varieties of shark, rays, even turtles, dolphins and manatees (the waters around Caulker Care provide a preservation habitat for manatees, although you cannot swim with them).
Top snorkeling spots are Hol Chan and Shark-Ray Alley. Be warned, though, these spots have been discovered by tourists. Still they are close to shore and provide stunning views of undersea life. Consider doing a night excursion and see a secret nocturnal swell of bioluminescence, eerie green moray eels and sleeping parrotfish. Belize has three major atoll reefs worthy of a day's snorkeling trip: Turneffe, Glover's and Lighthouse.
3) Mayan culture and caves: The once powerful Mayan civilization flourished in Belize from around 300 to 900 AD and counted more than a million souls at its peak. The country is pocked with plenty of remnants – temple sites such as Caracol, Xunantunich, Altun Ha, Cahal Pech and Lamanai are worth the visit. Caves were much a part of this civilization and used for sacred rituals. The Chiquibul Cave System – the longest in Central America – presents endless places of geological and archaeological wonder.
4) Food for thought: In the mood for Mayan? How about Garifuna? Belize has a lengthy history of cultures, domestic and foreign, that have reigned upon its shores and the foods reflect the mix in fresh and succulent fruits and staples and what can be done with fish. Try the Hudut – a Garifuna (descendants of indigenous Caribbean populations, such as the Awawak) dish of mashed green and ripe plantains (called fu-fu) and a fish coconut stew. Other must-try plates: Rice and Beans, Fry Jacks, Johnny Cakes, Stew Chicken, Gibnut, Escabeche, Tamales, and Fish Sere.
5) All the bounty of nature: Belize is a wonderland of wildlife, many rare and endangered. Some 145 species of mammals live in Belize. Also count 139 species of reptiles and amphibians identified so far, including more than 56 species of snakes (only eight are poisonous, though). However, some 40 percent of the land is under protection to preserve these creatures. Cockscomb Basin Wildlife Sanctuary was founded in 1984 as the only protected preserve for Jaguars. The 150-square-mile-reserve is also home to all five of Belize cats: Jaguar, Puma, Margay, Jaguarundi and Ocelot.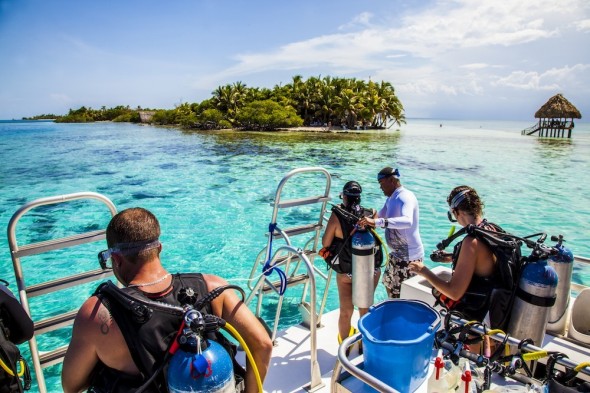 One development company, Sanctuary Belize, abuts this jaguar preserve and has carved out a sliver of what is not preserved in Belize to develop dream vacation homes and a retirement fulfillment destination in a swath of paradise that encompasses five local eco-systems (Riverine, Tropical Savannah, Belizean Jungle, Caribbean Marine and Coral Reef).
The concept at Sanctuary Belize is not far off from Oscar nominee Leonardo DiCaprio's recent announcement of intentions to build a high-end resort and eco-lifestyle location on Blackadore Caye, about 5 miles from Ambergris Caye and 105 miles north of Sanctuary Belize on the Caribbean coast. Sanctuary Belize is also putting ecological sustainability best practices together in its master plan and capitalizing on the surge of interest in recent years for people to not only visit Belize but to live there. Belize laws offer some optimal opportunities for vacation home purchases and retirement home planning with affordability not available in other resort destinations.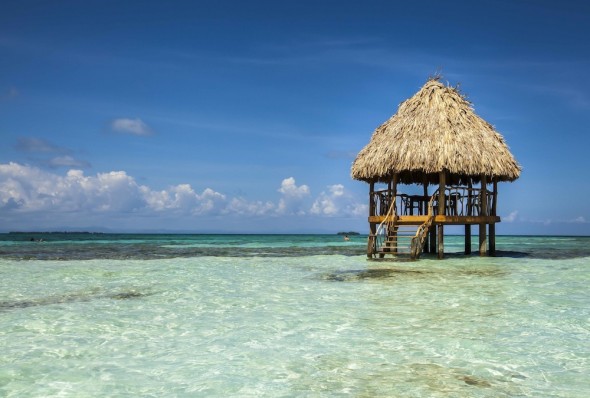 Figures note that Americans are flocking to Panama, Nicaragua and Belize, pursuing what is a permanent vacation lifestyle in retirement in places where the dollar can go much farther than it can in the U.S. Numbers of Americans flocking to Panama, for instance, jumped 65 percent between 2006 and 2011 and more than doubled in Nicaragua, according to numbers from the Social Security Administration. Belize, too, is on the rise but these numbers are just beginning to emerge.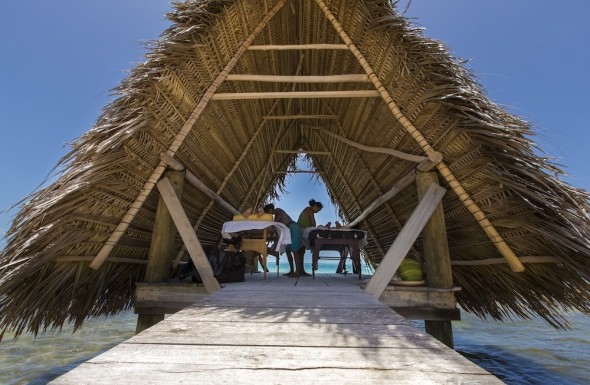 Beyond Sanctuary Belize: Top Resorts to Consider
As for resorts that will help take that singe of burnout away and put things back in order, here are five top Belize resorts that may be just what the doctor ordered.
Chaa Creek: Rustic, thatched cottage eco-lodge in a riverside setting within a private rainforest reserve in the Cayo District of Belize. Find wellness programs, organic eating, hikes that criss-cross sacred Mayan sites.
Las Terarazas: Luxury hotel setting in Ambergris Caye. Diving, wellness spa, bikes, pool, gym, and free Wi-Fi within a modern beachfront resort.
Matachia: 27 Villas and casitas on an intimate stretch of Ambergris Caye. Find hammocks, private porches, a spa that specializes in papaya facials, snorkel gear and easy proximity to the great reef nearby.
Radisson Ft George: This property has two primary conveniences going for it. It's a known brand and its location is in the historic Ft. George area of Belize City. It caters to business and leisure guests with 102 business-style rooms and suites overlooking a marina and swimming pools, and the range of full-service amenities. For quick trips, urban explorations or a need to be near the international airport, this hotel works.
Turtle Inn: Near the chic city of Placencia on the central Caribbean coast, Turtle Inn is part of the Coppola Resort Collection, acquired by Francis and Eleanor Coppola as a beachside refuge in 2001. It was destroyed by Hurricane Iris that year and rebuilt from the ground up into a luxury resort two years later. Today it has 25 cottage rooms decorated with handcrafted Balinese furnishings and offering private decks near white-sand beach strands of the Caribbean Sea. The resort has two infinity swimming pools, a spa, a coral reef just off shore and plenty of places to hike, bike and find wildlife.
Getting to Belize: American Airlines, United, Delta, US Airways and TACA offer flights from US gateways to Belize International Airport (BZE). One-stop flights are available from BWI. More information: Tourism Belize.
More information:
http://www.sanctuarybelize.com/
1401 Dove St #610, Newport Beach, CA 92660
(949) 757-0949
Related Stories: