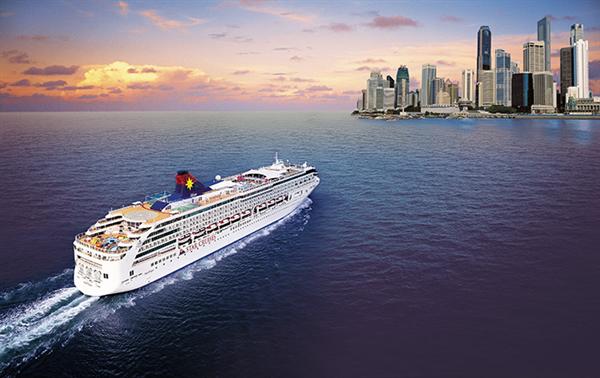 By Bill Becken, Senior Cruise Editor
Hong Kong-based Genting HK is certainly an up and coming travel conglomerate. Its Star Cruises and Norwegian Cruise Line (NCL) brands together form the third-largest cruise concern in the world—comprising a fleet of 20 ships cruising to more than 200 destinations. That means they offer nearly 42,000 lower berths to the global cruise market, and mostly in Asia. Star Cruises' rapid rise leaves little doubt that an Asian firm based in Asia can at least approximate the success of the two global cruise market leaders, Carnival Corp. and Royal Caribbean Cruises Ltd.
Naturally, then, says William Ng, chief operating officer, during 2014-2015, Star Cruises will continue to upgrade its fleet, expand itineraries and otherwise develop its potential: "identifying opportunities, within our core competencies and capabilities, to drive our cruise business," he says. Currently, Star Cruises is the Asia giant with luxury cruises that sail to ports in Brunei, Hong Kong, Japan, Malaysia, Singapore, Taiwan, Thailand and Vietnam.
Apart from the fleet's renovation and redeployment, new onboard shopping venues will help the ships stay successful and prosperous. In this and other ways, says Ng, the value the company brings to the table will be based as much on its unrivalled experience and enthusiasm in, as on its deep understanding of, the Asian market.
The company, says Ng, is in the throes of making heavy growth-oriented investments in both refurbishment and strategic deployment, among other things—all in order to maintain its leading position in developing and serving the Asia-Pacific region as an international cruising destination.
Ng recounts a number of the cruise line's recent milestones. For example, in 2011, SuperStar Aquarius and Star Pisces underwent refurbishment. In 2012, the SuperStar Gemini, formerly the Norwegian Dream, had a hefty $50 million redo; later in 2012, the Superstar Virgo (Star's current flagship and largest vessel) was redone, with an emphasis on the Asian market–its expanded retail space now featuring a new upscale, duty-free "boulevard" for shoppers.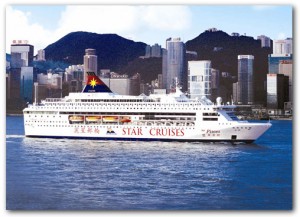 Through most of 2013, the SuperStar Gemini homeported in Shanghai, sailing to destinations in North Asia. The drydocks continued unabated. After a four-week drydock that year, Star Cruises' SuperStar Libra began offering cruises to Yangon with a range of new shore excursions. Finally, in 2013, the cruise line refurbished and launched the vastly smaller Genting World (formerly the MegaStar Aries) in order to wade into the premium-level market (comprising more-elite customers looking for a unique cruise holiday with small groups of family and friends).
Indeed, by the end of 2013, every member of the fleet had been refurbished within the previous few years. As well, Ng notes, by repositioning the SuperStar Aquarius, "we became the very first global cruise line ever to homeport a ship in Kota Kinabalu." Then, in January, 2014, the SuperStar Virgo underwent its second refurbishment (costing nearly $20 million) in less than two years. Star Cruises remodeled more than 270 balcony cabins and tripled the ship's retail area to more than 6000 square feet. "This work reflects our ongoing growth in Asia and will reinforce our position as the Asian-Pacific market leader," says Ng.
As will, no doubt, Star Cruises' 150,000 GRT newbuild, slated for delivery in 2016, now under construction at Meyer-Werft shipyard, Papenburg, Germany. Costing 707.2 Euro, with more than 1,600 cabins and a capacity of 4,500 passengers and 2000 crew members, it will, says Ng, be the largest ship permanently homeported in Asia and, of course, will easily rate as the largest ship in Star Cruises' fleet.
Through March 2014, SuperStar Virgo homeported in Singapore and offered itineraries to Penang, Phuket (where the elephant riding shore excursion is highly popular), Malacca and Port Klang. For April through October, The Virgo will homeport in Hong Kong, sailing to Keelung (Taipei), Taichung and Kaohsiung in Taiwan, Sanya in Hainan and Halong Bay in Vietnam; then homeport for the end of the year in Singapore. It would seem the faster-paced renovation and repositioning of the ships will enable Star Cruises, if it wants, to graduate to selling a more all-inclusive product, along with its current products.
How will Star Cruises' products also reflect elements like new itineraries and onboard innovations? It seems the line's onboard strategy is geared to "our current customers, who they are and what they like. Certainly we stand out with freestyle cruising—just like NCL. In fact, we are constantly innovating, adding new entertainment, food and beverage choices, shore excursions, and retail variety and wellness options, both to attract new customers and to ensure that our existing customers keep coming back," says Ng.
In this respect, new shopping options have dominated as much as anything. For example, the latest retail expansion on the Virgo "enabled passengers to buy products from international brands such as Shiseido SK II, Biotherm, Lancome and Shu Uemura. The ship also features our duty-free shop China Duty Free; jewelry and watch specialist Canopus; luxury leather goods retailer Milan Station; and our Ports O'Call souvenir shop," he says.
Shore excursion development shines, too: "For summer, 2014, we have lined up many new places of interest among our itineraries and activities in terms of shore excursions. For example, in Naha, travelers can snorkel and dive; in Ishigaki, they can have a Segway riding experience; our Taiwan excursions will also cover several new destinations such as Paper Dome and Taiwan Times Villages in Taichung."
Generally, says Ng, "Star Cruises' growth trajectory in Asia could be quite rapid, since we will continue our strategic development of products with highly targeted appeal," he says — requiring more than the firm's unilateral, if redoubtable, refurbs and newbuilds: "We need investments in infrastructure, terminals, ports and support services, coupled with an easing of visa requirements and more cooperation amongst regional governments to make cruising hassle-free: all are indispensable to making new products possible. It may take some time: considering it took some 30 years for the market to mature in the U.S., cruising is still an infant in Asia," he says. "That's why we are in favor of competition. We believe it helps expand the market and the industry to grow at a faster pace."
Related Articles: