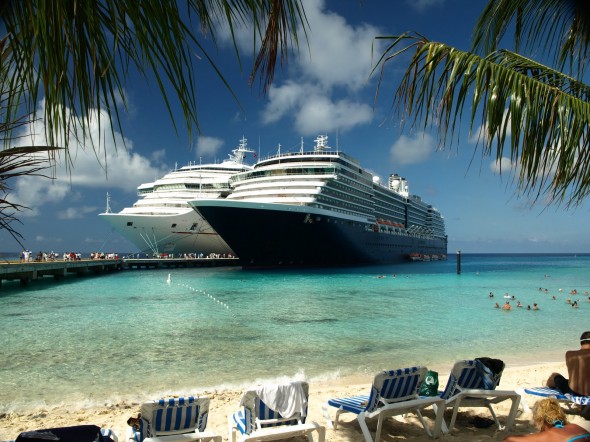 According to recent surveys of travel agents by Cruise Lines International Association (CLIA), 37 percent of agents reported an increase in bookings of 14- to 100-day cruises.
Longer sailings, including world cruises of several months, are increasingly popular among both retired and affluent travelers, according to travel agents.  Agents also reported that the top advantage of long cruises is the ability to see many places hassle free, without having to deal with multiple airports and packing and unpacking. Travelers also like the exciting itineraries offered by cruise lines to places around the world that would be difficult to visit on land.
So who's sailing these lengthy seas?
Norwegian Cruise Line's Norwegian Sun
America for the first time in five years with 14-day cruises between Santiago (Valparaiso), Chile and Buenos Aires, from November 2015 through March 2016. Included is scenic cruising in the Chilean Fjords, Strait of Magellan and around Cape Horn.
Carnival Cruise Line's Carnival Miracle
This ship will operate three 15-day round-trip cruises from Long Beach to Hawaii, embarking October 17 and November 28, 2015, and November 16, 2016. On these sailings, guests can visit Maui, Honolulu, Kauai, Kona and Hilo, as well as Ensenada, Mexico.  From Baltimore, Carnival passengers can cruise on the Carnival Pride, embarking March 13, 2016, on a 14-day eastern Caribbean cruise that visits Grand Turk, San Juan, St. Thomas, Dominica, St. Lucia, Martinique, Antigua and St. Maarten.
Princess Cruises' Sea Princess
Princess Cruises has 10-day and longer cruises including a 40-day World Cruise Segment on the Sea Princess, embarking New York on July 25 and taking passengers to Sydney by way of the Panama Canal and South America, French Polynesia and New Zealand.  Highlights will include a visit to Easter Island.  Princess Cruises' Full World Cruise on Pacific Princess will be the first time a Princess' World Cruise will depart and return from North America. The 111-day voyage sails round-trip from Los Angeles, embarking January 23, the itinerary spanning six continents.
Holland America Line's luxurious Seabourn Odyssey
Holland America Line's luxurious Seabourn Odyssey heads to Central and South America on a 34-day itinerary embarking March 21, 2016. The Path of Galleons cruise, from Los Angeles to Barcelona brings guests to ports in Mexico, Guatemala, Costa Rica, Panama (including the Panama Canal and San Blas Islands) and Colombia, and also visits Fort Lauderdale and the Portuguese island of Madeira.
Silversea Cruises' World Cruise 2015
Silversea Cruises' World Cruise 2015 will take passengers on the elegant Silver Whisper on an epic, 115-day voyage to 30 countries and 50 ports of call. The sailing embarks January 5, 2016.
Crystal Cruises Longer Sailings
Luxury line Crystal Cruises has a variety of 10-day or longer sailings on its 2015 to 2017 calendar including a 108-day Crystal Silver Celebration World Cruise on Crystal Serenity, embarking next January.
Costa Cruises Voyages to Five Continents
Costa Cruises heads off on a 115-day, 40-port voyage to five continents. Cruising from Savona, Italy next January, the Costa Deliziosa will visit such "Bucket List" places as Rio de Janeiro, Tahiti, Auckland, Sydney and Cape Town.
Meanwhile, with the number of cruisers to surpass 22 million for the first time in 2015, Cruise Holidays International identified the most popular ships being selected by groups for 2015 in its Cruise Holidays Cruise Trends report, based on actual cruise bookings made for the year ahead by its network of 1,300 cruise-focused agents.
Top 10 Cruise Itineraries of 15 or More Days
1. 15-day Hawaiian Islands from San Francisco, California – This itinerary is offered on a variety of dates throughout 2015 on Princess Cruises.
2. 15-day Panama Canal [Westbound] from Ft. Lauderdale, Florida – This itinerary is available on numerous dates and through a variety of cruise lines in 2015.
3. 16-day Trans-Atlantic [Eastbound] from Miami, Florida – Of numerous trans-Atlantic options in 2015, this 16-day itinerary by Celebrity Cruises is the most popular.
4. 15-day Hawaiian Islands from Los Angeles, California – This sailing from Los Angeles is offered on numerous dates by two different cruise lines.
5. 18-day Trans-Pacific from Sydney, Australia – Passengers on this April 2015 Celebrity Cruises sailing will travel from Australia to Hawaii via New Zealand and Tahiti.
6. 15-day Trans-Atlantic [Westbound] from London, England (Harwich) – This repositioning cruise on Royal Caribbean International allows passengers to have more time to enjoy the ship and spectacular North Atlantic ports as it shifts from a summer in Europe to North America for the fall and winter.
7. 21-day Suez Canal from Istanbul, Turkey – This ambitious itinerary on Oceania Cruises brings guests from Istanbul to ports in Israel, Egypt, Oman and the United Arab Emirates.
8. 15-day Panama Canal [Eastbound ] from Los Angeles, California – Guests eager to explore the Caribbean and the engineering marvels of the Panama Canal have numerous dates to choose from in 2015.
9. 15-day Panama Canal [Eastbound] from San Diego, California – There are additional opportunities to sail through the Panama Canal for passengers departing from San Diego.
10. 21-day Southern Caribbean from Ft. Lauderdale, Florida – This three week itinerary enables travelers to explore lesser-visited islands such as Antigua, Barbados, Bonaire, Curacao and Martinique.
The Cruise Holidays Cruise Trends report also looked at the size of the most popular ships being selected for 2015, no matter what the itinerary, and came up with the top five cruise ships for groups this year:
1. Celebrity Summit 
2. Celebrity Reflection 
3. Independence of the Seas 
4. Norwegian Dawn 
5. Oasis of the Seas
Similar Stories: