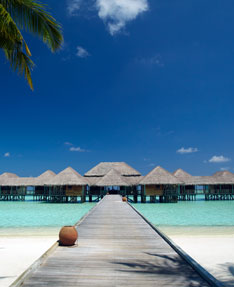 Gili Lankanfushi in the Maldives and Wakaya Club & Spa in Fiji answer the call of imagination when it comes to luxury island fantasies.
It may be the sound of wind in the trees or ocean waves in the distance … and you take off. Spicy scents of exotic hardwood interiors with images of Balinese design come to consciousness. Maybe there is a large, four-poster bed surrounded by tableaus of blue ocean horizons coming in through the windows. You see the blinding white coral sand on the beach, tortoises playing in the shallow waters; you imagine sipping a fresh cup of Keurig espresso on the daybed on your terrace.
You are there. But where? The images just won't let go.
And then you know. You remember Gili Lankanfushi
 — a precious 45-villa resort on its own coral island in the Maldives. Or your thoughts pull around to the South Pacific where the Wakaya Club & Spa on its own far island in Fiji has you locked in silent meditation.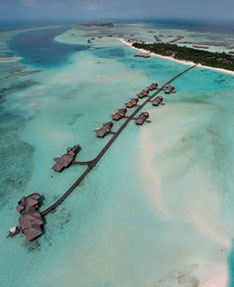 Gili Lankanfushi occupies a spot of land in the Maldives, where 19 atolls and 1,190 islands form stepping stones to nowhere in the vast Indian Ocean just south of Sri Lanka. Remote as it is (10.5 hours from London, 4 hours from Dubai, 20 minutes by speedboat from Malé, the capital of the Maldives) Gili Lankanfushi (formerly the Soneva Gili) finds fans that come this way because they must. Luxury is not a choice here. It is an imperative. Each villa, spreading into three over-water rooms at their minimum, is attended by a dedicated genie able to make vacation fantasies come true.
Each villa is private (try the Private Residence, with three bedrooms and two 24-hour butlers, reachable only by boat) with a large open-air living space, dining facilities, outdoor terrace with day bed, open-air private bath, and all over open waters. The surroundings: a vast private reserve in the Malé Atoll.
No News – No Shoes
Expect to tune the world out for a time and just be. No newspapers, no Bollywood TV, no noise but the wind and the ocean. There is an extensive library of CDs and DVDs available, even loaded iPods, but most guests are satisfied with the twice-weekly films projected in the outdoor jungle cinema under the palms.
Honeymooners find plenty to do. There is snorkeling just off the villa. There are sunset cruises that sail to places off the map.
Learn to dive; have a sunrise yoga session on the beach; ride bikes through the island; have a private beach picnic; take a shopping trip to Male; learn to prepare Peruvian sushi. Then retreat to the Meera Spa. Treatment rooms are open- air and invite the surrounding beauty. Masseuses deliver inspired treatments while sea breezes cool the room. Guests rest and look down from their treatment bed to watch sea life through a floor window on the ocean.
This is not a family hot spot. Children are discouraged and honeymooners or romancing couples make ideal guests. Packages packed with add-ons (in-villa breakfast for two; private Holistic Aromatherapy Bath for two; 60-minute Swedish or Balinese Traditional Massage for two) make a honeymoon or romantic sojourn at Gili Lankanfushi all the more enticing.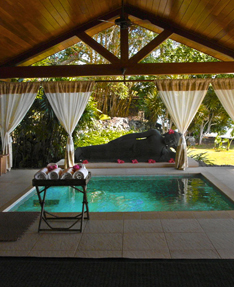 Much closer to the U.S. and only 10.5 hours from the U.S. West Coast, Wakaya Club & Spa on Wakaya Private Island in Fiji becomes an alluring choice, indeed for honeymoons, romance or any fantasy of island-style luxury. The 2,200-acre island in the South Pacific contains only nine "bures" or exotic wood cottages. Think lava-rock indoor showers, Tibetan rugs, Indonesian sculpture, and huge four-poster beds with lavish linens. Think Bill and Melinda Gates.
If you are among the wealthiest couples in the world, you, as the did the Gates, might choose this spot for your honeymoon. It is private. It is exclusive. It is more than beautiful. And it has a heart.
Whether your choice requires a philanthropic edge, an ecological signature or just the perfect ring of privacy and exclusivity, Wakaya will not disappoint. The resort's 28 guests are given a 12-1 one staff-guest ratio of service. Cottages are composed of woven bamboo that grows freely in the jungle, with floors of indigenous yaka wood. Some villas come with their own garden, pool, staff and chef.
Tattinger's flows like water here (but do try the resort's signature organic ginger margaritas) and the all-inclusive hospitality menu runs the range from lobster to organic vegetables to New Zealand meats, all prepared Pacific Rim style. Have a honeymoon here – or have a marriage. Wakaya can accommodate the simplest of vows exchanged in a 19th century church or a full-court Fijian ceremony on the beach.
Deep Thrills
Enhance those moments with deep thrills. Wakaya's location makes it one of the most desirable diving spots in the world. More than a dozen hot dive sites are just minutes away by boat from the marina. Dives are included in the room rate, as are tennis, croquet, and even laundry, along with keepsake sandals and sarongs. What is not included is the private flight to the resort from Nadi or Suva, at $960 per couple.
Wakaya is offering a 7th night free option for all stays through December 22. The option includes a 50-minute treatment in Wakaya's private couples' spa, Breeze.
Contact:
Gili Lankanfushi

Lankanfushi Island, North Malé Atoll
Republic of Maldives
(011) 960 664 0304
[email protected]
www.gili-lankanfushi.com 
The Wakaya Club & Spa

Wakaya Private Island, Fiji
(011) 679 34 48128
[email protected]
www.wakaya.com