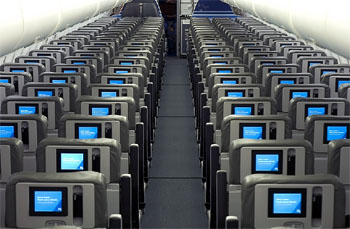 Los Angeles to New York flights can be dreary, especially in the midnight hours. But Jetblue, mostly known as a progressive discount airline, has just pushed the comfort factor up a notch with a new lie-flat seat option announced this month at the Global Business Traveler Association conference in San Diego, CA.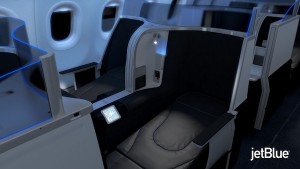 The new, fully customized sleep seat will be available on highly popular transcontinental routes next year. The seats will be sold as Business Class seats and compete with such coast to coast carriers as Virgin America, which charges between $3,000 to $5,000 for their lie flat Business Class. Delta Air Lines started offering lie-flat seats in March in its flights between Los Angeles, San Francisco and New York. United is talking about doing the same by the end of the year and American wil be taking delivery of Airbus A321 jets this fall, equipped with lie-flat seats in Business Class. JeBlue, however, expects to be the first and only airline in the market to offer customers the option of a completely separate single suite seat that includes a closable door for increased privacy. The company has yet to announce any price points for these seats.
JetBlue's lie-flat seats are expected to debut on new Airbus A321 aircraft beginning in the second quarter of 2014 on the two most popular nonstop routes in the United States – New York to Los Angeles and New York to San Francisco. Transcontinental nonstop flights are a favorite with business flyers and are, perhaps, the most popular routes in the U.S. In the past 12 months ending in April some 3 million passengers flew between Los Angeles and New York.
"We expect to invigorate the market with our competitive price," says JetBlue CEO Dave Barger. "Building on our original strategy of serving the under-served with a unique product and service-focused culture, we believe this new product will be very popular with current coast-to-coast customers, and may motivate new customers to choose JetBlue."
On an industry-wide basis, revenue from the New York JFK-Los Angeles and JFK-San Francisco markets is more than 50% higher than any other route in the United States, as airlines have dedicated more premium seats and charged much higher fares on these routes on a per-mile basis. There are more than 6,000 passengers each day on the two routes combined. Most of those fliers travel in economy seats, which will take a further hit in space and number once the new configurations debut, Those seats commonly sell for $600 to $700.
The new Buisness Class seats will offer air cushions with adjustable firmness, a massage function, a 15-inch widescreen television featuring the most live entertainment in the skies, and a "wake-me-for-service" indicator if the customer chooses to sleep in. The comfortable seat design will have movable headrests, a new entertainment system with up to 100 channels of DirecTV programming, and 110-volt and USB power ports accessible to all customers.
JetBlue expects to increase frequencies on JFK-LAX and JFK-SFO with new Airbus A321 aircraft next year.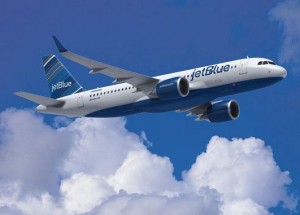 Baggage Upgrade
Also of note at JetBlue: Bags VIP. Even if you are not flying in a lie-flat Business Class seat your bags will be treated like a VIP. The airline known for offering the first-checked bag free for all travelers announced Bags VIP, a new concierge service option (provided in partnership with Bags, Inc). . This service provides hand-delivery of a customer's checked luggage from the arrival airport to any doorstep at their destination for a minimal fee. The option is available seven days a week, including holidays. And is available for all seat.
Interested passengers can place an order online for the Bags VIP service up to one hour prior to departure from all JetBlue domestic airports, Puerto Rico, U.S. Virgin Islands and select pre-cleared international airports arriving into Boston, Orlando and New York's JFK airport.
Currently, and for a limited time, Bags VIP pricing starts at $25 for the delivery of one bag, $35 for two and $40 for up to ten bags to a hotel, business, residential address or anywhere the customer chooses within a 40-mile radius of the airport.
Contact:
JetBlue
(800) 538-2583
 JetBlue: Boosting Business with Lie-Flat Seats