Vegas can be a very scary place. Losing a small fortune at the betting tables can be as scary as any zombie encounter, Certainly there are shows in odd corners of the Strip that seem as though they have been revived from the dead. And what about all those Bachelor Party tales that end with a punch line about the groom's best friend who passes out in a bar and ends up in a tub full of ice and one kidney removed?
If weird, wacko and disturbing are on the agenda for an upcoming Vegas vacation this month, make it a Halloween jackpot with all the haunted rooms, mystery floors, and frightening characters one could hope to find in the neon capital of doom.
Circus Circus Las Vegas
Those afraid of clowns may want to steer clear of Fright Dome at Circus Circus Las Vegas this Halloween season. The 250,00 sq ft Adventuredome will become Fright Dome from Oct. 3-31 and will feature six haunted houses and four scare zones. The Las Vegas Halloween event will also feature nightly live performances and more than 25 rides and attractions. For the 2013 year, Fright Dome has added two new haunted houses inspired by horror films "The Collection" and "The Collector." The 11th year of Fright Dome is sure to be the most terrifying installment of so far. If the promotional trailer starring scream queen Danielle Harris and horror movie legend Sid Haig is any indication, Casino Boy is certainly not brave enough.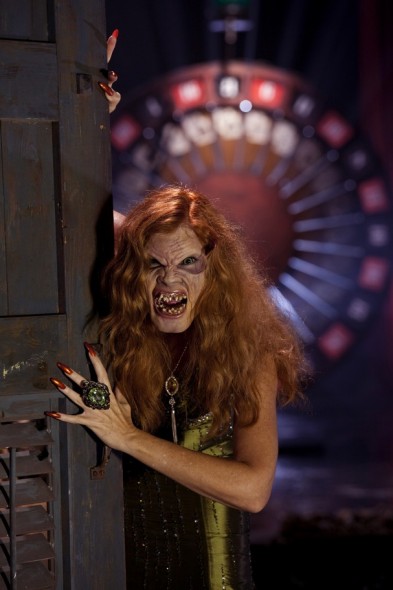 13th Floor Circus Experience
Ever wonder why Las Vegas hotels don't have a 13th floor? Head to Circus Circus to participate in "The 13th Floor Experience" where creepy elevator ushers guide patrons up to the unlucky level. All the rooms on the 13th floor will be transformed into individual haunts. The 13th Floor Experience runs October 7-31 from 3-11p.m. and tickets are $19.95. Scaredy cats can take the stairs.
Haunted Reef at Mandalay Bay
Once again Shark Reef Aquarium at Mandalay Bay transforms into Haunted Reef for Halloween 2013. Experience ghoulish sounds and spooky music on Oct. 25-27 at this haunted aquarium at Mandalay Bay Las Vegas. Don't worry, it's nothing too scary. Costumed kids under 12 can get in free and snag some free candy on Friday, Oct. 25.
Haunted Titanic Tour at Luxor
Take a guided haunted tour of the Titanic at the Luxor Hotel and Casino. Titanic: The Artifact Exhibition gets a bit creepier this time of year. From Oct. 31-Nov 1, guests can experience the tour every 30 minutes from 5-8 p.m. This tour is part educational, part spooky. Guests will learn about the suspected paranormal activity surrounded the ships ultimate demise. Also, patrons will be chilled to hear of tales of lost souls haunting the exhibit itself. Tour guides claim their are distant ghosts from the past lurking at the exhibit, but maybe they are just hearing Celine Dion singing "My Heart Will Go On" down the street at Caesars Palace.
Las Vegas Halloween Parade
The creeps come out for the Halloween Parade, now in its fourth year, in Downtown Las Vegas at 7 p.m. Halloween night. All ages are welcome and costumes are a must. This year, prizes will be awarded for best group costume, best float, best illuminated costume, best Vegas costume, best baby costume (children 10 and under) and Most Outrageous. Patrons can even march in the parade for no additional cost.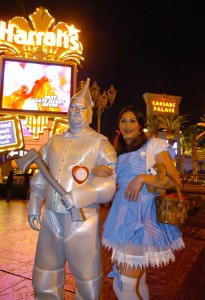 Parting of the Gates of Hell
Not feeling frightened enough? The Freakling Bros.' Trilogy of Terror runs Oct. 4 through Halloween night, offering guests three haunted houses to explore — including the R-rated Gates of Hell. For guests 17 or older, Gates of Hell has an actual electric fence, guaranteeing at least a few screams. And be ready to sign a waiver that you won't sue the pants off of them for scaring the pants off of you. Find it somewhat west of the Strip at 2321 N. Rainbow Blvd. (702) 362.3327. www.freaklingbros.com.
Freakish and Frightening Fantasies
Vegas would not be Vegas without some utterly scary and sexy soirees. They happen late at night at the Hard Rock Hotel's Fetish & Fantasy Halloween Ball, that starts at10 pm and goes well beyond the witching hour on Oct. 26. Find this scintillating horror show happening at The Joint Las Vegas. www.halloweenball.com
Blood Bath at the Mall
Blood Village is the epicenter of gore at the Galleria Mall, off the Strip in Henderson near the Green Valley Hotel and Spa. Zombie and haunted house addicts can check out The Haunted Mansion and The Zombie Infection (two for the price of one). The end comes in the form of a final ride — inside a wooden coffin as each guests gets to experience a burial – their own — and what it's like being buried alive. Hours through October are from 7 -11pm weeknights, and to midnight weekends.