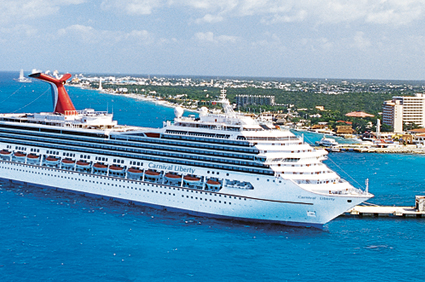 By Bill Becken, Senior Editor
Carnival Cruises has been neck deep in mass overhauls in hardware, operations and corporate structuring following recent engine room fires aboard the Carnival Splendor (2010) and Carnival Triumph (2013).
While the line did respond swiftly and capably to those misfortunes, it's now focusing on ways to newly and truly satisfy the 4.5 million passengers it carries on its vessels each year, says its President and CEO, Gerry Cahill, who has been at the helm since 2007. For starters, he mentions, the Carnival Sunshine will make her U.S. debut next month. Since her European debut in May, "she has introduced several exclusive, never-before-offered innovations for our guests," he says.
The innovations are the fruit of the vessel's 75-day, $155 million stem-to-stern, top-to-bottom refurbishment earlier this year. They include adding the Speedway Splash, with its dual 235-foot-long racing slides, as part of the ship's new WaterWorks aqua park; introducing Ji Ji Asian Kitchen, Carnival's first full-service Asian restaurant; a Latin-inspired venue called Havana Bar; and two new food-and-beverage options, ShakeSpot and JavaBlue Café.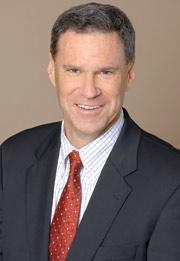 "Our guests reaction to her has been clear," says Cahill. "Now that Carnival Sunshine has been in service awhile, they regard the ship's new top-deck amenities as sensational—they're the heart and soul of this new ship." Cahill adds that the vessel will reposition in April, 2014, from New Orleans to Port Canaveral, FL, expanding Carnival's presence in the Central Florida market (he soon comes back around to the ship's overall enhanced allure: "She will not only offer exclusive amenities, but will be the first in the region featuring all of our groundbreaking Fun Ship 2.0 innovations," he says). Simultaneously, he adds, the Carnival Dream will reposition from Port Canaveral to New Orleans, expanding Carnival's capacity in the latter market by 22 percent—that is, for its year-round 7-day Caribbean sailings.
Carnival's Fun Ship 2.0
Fun Ship 2.0 is the line's fleetwide program, started in late 2011, to upgrade bar, dining and entertainment options. At this point, there are no immediate plans, Cahill acknowledges, for Carnival's other ships to undergo quite the makeover that the Carnival Sunshine did.
But Cahill points out that, by the end of the program's first phase in late 2015, at least several of the fleet's 24 ships will have received many of the Fun Ship 2.0 changes. By that time, Carnival will have invested more than $500 million in the new program—including, by the way, its "soft" investment in partnerships with celebrities and their exclusive brands from the worlds of live comedy, cuisine, sports, and video games.
Carnival Liberty Homeport in Florida
Fast on the heels of the Carnival Sunshine's and Carnival Dream's redeployments, Cahill adds, will be those of the Carnival Liberty (she was actually the first ship in the fleet to receive the Fun Ship 2.0 treatment–in late 2011). In May, 2014, Carnival Liberty will join the Sunshine in Port Canaveral, homeporting there.
That move is expected to increase Carnival's capacity by another 30 percent in the Central Florida market and will put two totally-tweaked-Fun Ships 2.0 vessels at the disposal of Space Coast-embarking patrons. In January, 2014, the cruise line will deploy the Carnival Imagination to Long Beach, expanding its West Coast operations, says Cahill.
Coming in 2016: Carnival Vista
As remarkable as any of Carnival's recent adventures in renovation, of course, is the ongoing construction of its latest newbuild, which will soon become the fleet's 25th (and its largest) vessel.  In October, 2012, the line had announced a contract with Italian shipbuilder Fincantieri for the 135,000-ton, 4,000-passenger ship. The company announced in late July that the ship will be called the Carnival Vista and will debut in spring, 2016.
Cahill says that the Carnival Vista will boast "many of the exciting features and design elements of the Carnival Breeze"—currently the latest-largest Carnival Dream-class vessel. That ship first sailed in 2012.
But the Carnival Vista will also have some truly unique innovations, Cahill adds, thanks to the efforts of Carnival's redoubtable product development team. (details on the ship's itineraries, homeports and features will be announced later).
When it comes to the Fun Ships 2.0 program—as well as the new ships and their strategic deployment –Cahill's and his staff's enthusiasm is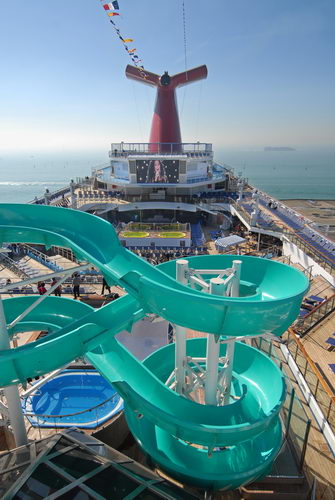 understandable. Obviously, they've longed for quite some time to put the Carnival Triumph and Carnival Splendor mishaps behind them. But, as the larger sibling subsidiary to Italian carrier Costa Crociere (under their identical corporate parent, Carnival Corp. & plc), the line has been even further propelled toward reforms—that is, by the Costa Concordia's fatal, costly 2012 grounding.
Then again, for quite some time Carnival has been in the throes of accelerating and further articulating its mechanical and safety protocols, which are designed to make any and all shipboard mishaps far less likely. In April, Carnival announced a $300 million fleetwide program to install more advanced fire-suppression systems and additional emergency backup generators. It also reconfigured key systems to ensure redundant power for both propulsion and general operations. "Carnival Triumph and Carnival Sunshine," says Cahill, "have been equipped with many of these upgrades and the program's initial phase relating to additional auxiliary generators will be complete by November, 2013. We have also formed a Safety & Reliability Review Board comprised of outside experts in marine and occupational safety, marine regulatory compliance and quality control/assurance."
Cahill has usually worn great confidence and competence on his sleeve (born of spending many years, prior to taking Carnival's top management job, as the expansive parent's chief financial officer). He is not just acutely aware of the need to continually enhance the Carnival vacation product; he upholds the importance of travel agents in getting the word out about it, and in their otherwise helping to attract new cruisers and retain and stimulate longtime repeat cruisers.
Carnival fields a dedicated team of business development managers throughout North America to assist travel agents. "And, of course, we host travel agent ship inspections, giving agents a chance to see the product firsthand," says Cahill. As well, he points to the debut, in July, of the new "Carnival Conversations" outreach program. This program includes road show events, agency visits and daily feedback opportunities via Carnival's travel agent Internet portal, GoCCL.com.  Travel agents can attend in-person events led by its senior sales executives; in-agency seminars; seminars at sea; and visit with Carnival at trade shows and conferences.
"The dedicated Carnival Conversations section on GoCCL.com has short daily surveys with open-ended questions for agents. We'll share those responses, once we receive agents' feedback, to help all of our agents know what programs and packages they can implement and what we will need to further review prior to release.  At this point in Carnival's history—indeed, as always–we truly value and appreciate travel agents' role in the cruise-selling process and will continue to look for new ways to keep them abreast of the latest developments here at Carnival."
Similar Stories: