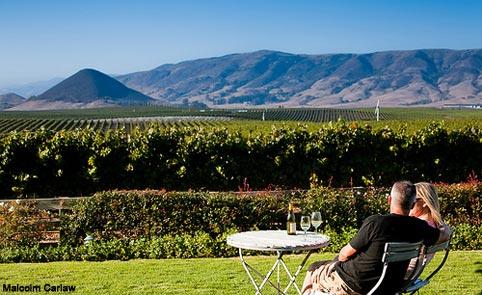 The California Central Coast is the U.S. epicenter of incredible scenery, fabulous food, great wines, and interesting, if not exotic and fun, things to do. The region also offers visitors a different flair in the off-season, or the winter months. Hundreds of miles of beautiful, pristine coastline, unique wildlife, noteworthy wineries, award-winning restaurants and intimate hotels, motels, inns and lodges dot the coastal communities. Below is VirtualSLO's list of this winter's Top 5 Places to Stay:
Cambria Pines Lodge – Cambria
The pristine and utterly adorable town of Cambria has a population just over 6,000 and is the perfect getaway for a vacationing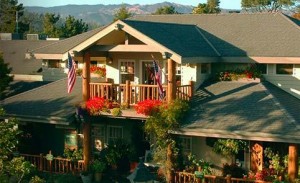 couple to spend some quality time together. Cambria Pines Lodge offers nightly entertainment (live music!), incredible gardens, and comfortable accommodations. Guests feel at home in this quiet coastal town, and Cambria Pines Lodge is a great way to take advantage of the scenery. Rates start at $109 per night.
Madonna Inn – San Luis Obispo
Whenever San Luis Obispo is mentioned, people seem to ask, "So, did you stay at the Madonna Inn?" This quintessentially San Luis Obispo hotel is a must-stay for anyone traveling to the city of San Luis Obispo. There are 110 individually decorated rooms in some very intriguing themes, often providing a kick of kitsch. Play tennis on the pink court, dine in the steak house or just enjoy the convenience of being close to town but amid rolling hills and true California countryside. Rates start at $189 per night.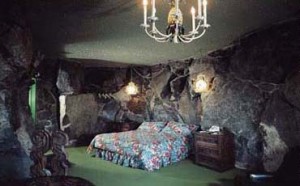 SeaVenture Resort – Pismo Beach
Stay with the sands of Pismo Beach at the doorstep. SeaVenture Resort looks over the vast Pacific, so open the windows and let the sea mist drift into the room. Full, partial, and corner ocean view rooms give guests the feeling that they are alone in this romantic part of California. This is big clamming country with great surf. Room rates at the SeaVenture range from $159 to $399. A full ocean view room option includes full 180° ocean views, a king size featherbed, fireplace and private balcony hot tub.
Inn at Morro Bay – Morro Bay
Morro Bay is home to the famous Morro Rock, the tail end of the nine sisters volcanic peaks. Surrounded by pristine beauty, the Inn at Morro Bay boasts newly renovated accommodations and an incredible location. Stay in the beach town of Morro Bay and enjoy the unique landscape of this coastal hotel. Three-night Bed & Breakfast packages includes a stay in a newly renovated Deluxe Garden View guestroom and breakfast for two each morning for prices averaging $100 with a 14-day advance reservation.
Pismo Lighthouse Suites – Pismo Beach
Tucked in the quiet beach community of Pismo Beach, Pismo Lighthouse Suites offers oceanfront suites, family suites, and master suites. This dog-friendly hotel is a perfect option for travelers escaping to the Central California coast this winter. Make it a romantic getaway with the Sip & Savor package, which includes a wine tasting for two plus either a salami platter or a half bottle of Central Coast wine to take home for weekend rates starting at $231. Average room rates start at $169.
Similar Stories: