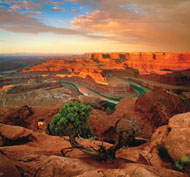 Traveling out west this summer? Put some water on those plans with some easy to rough and rugged river rafting experiences on the Rogue and Colorado rivers.
Salt Lake City-based Western River Expeditions has more than half a century of wild river running days behind it and operates two- to five-day wilderness adventures that can fill the range of needs: from outdoor camping to inn-to-inn, Class II-IV, all within fun and team-building days navigating some of the country's most challenging whitewater.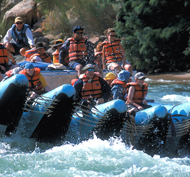 "Until someone has experienced the beauty of sleeping under the stars on a riverside beach, they can often be reluctant to sign up for an overnight rafting adventure," says Brandon Lake, Western River Expeditions CEO. "We realize that many want to experience a one-of-a-kind overnight rafting adventure without sacrificing the roof over their head. Some folks just want to sample a single night under the stars before signing up for a longer experience."
With this in mind, Western River Expeditions offers three experiences to accommodate those searching for an adventure vacation with all the comforts of home. The water-filled choices are rivers in Oregon and Utah.
Oregon's Rogue River near Medford remains so remote that boats deliver the mail in some regions where the river is the only road. Wildlife sightings may include otter, deer and black bear. Whitewater on this itinerary is classified Class II-IV. Three and four-day whitewater rafting trips include overnights at riverside lodges where dinner and breakfast are served. The per-person double rate is from $959. The trip accommodates ages 5 and up.
Utah's four-day Southwest Sampler includes two nights at Moab, staying at Utah's hip and trendy Gonzo Inn. Guests go off-road on a Hummer Safari and also tour Arches National Park. The final two days are spent rafting a mild, but breathtaking section of the Colorado River where guests can experience one night of all-inclusive river beach camping Western style.
"This trip is incredibly popular as it allows guests to 'sample' a single night under the stars and dine in the most amazing setting. Once they realize how easy it is to camp with us, they often come back for a longer rafting experience," says Lake. The per-person double rate is from $615. The trip accommodates ages 5 and up.
Moab, Utah is also home base for Western's popular Westwater Multisport Adventure that includes three nights at Red Cliffs Lodge on the banks of the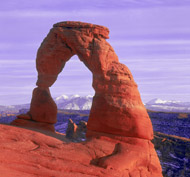 Colorado River, an off-road Hummer Safari on a trail known as "Hell's Revenge," and a full-day of rafting through Westwater Canyon, known as one of the best short whitewater trips in the West. Whitewater on this itinerary is classified Class III-V. The per-person, double rate is $675. The minimum age is 12.
The company also provides Grand Canyon rafting, Utah rafting, and Idaho rafting trips. It pursues a "guiding green" philosophy and belongs to top environmental tasking organizations: Grand Canyon River Outfitters Association, American Rivers, Leave No Trace Outdoor Ethics, Utah Rivers Council, America Outdoors, and National River Cleanup Week.
Contact:
(866) 904-1160
(801) 942-6669