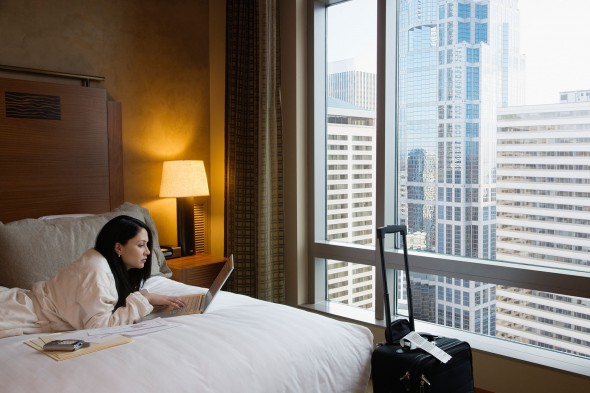 Free WiFi ranks right up there along with free breakfasts when it comes to the most desirable hotel amenities, according to Hotels.com.
But anyone who has traveled and stayed at a hotel hoping to catch up on emails, not to mention sneak in an episode of "House of Cards" on Netflix, knows what disappointments may be in store. The beach ball circles endlessly while a stare at the frozen screen does little to move things along.
It turns out it may be as much a fault of the city or region as it is the hotel at hand. And while not all cities are equal, who would have guessed that Atlanta, GA would sit at the bottom of the list as a city with some of the worst WiFi in the world – just above Albufeira, Portugal in a survey of 50 cities examined for their WiFi standards.
A new report from Hotel WiFi Test — a company that analyzes hotel Wi-Fi data – took the time to examine strength and speeds of broadband signals from Istanbul to Kuala Lumpur to Denver.  Not surprisingly, the United States ranked 40 out of the 50 countries monitored – well below Russia, India and even Croatia. Top honors go to South Korea.
The report focuses on the geographical aspects of hotel WiFi and looks at two characteristics of hotel WiFi: the quality of the WiFi and whether in-room WiFi is free. A hotel judged as having "adequate" WiFi would have to provide an expected download speed of at least 3 Mbps (the Netflix recommendation for SD-quality streaming) and an upload speed of 500 kbps (the Skype recommendation for high-quality non-HD video calling).
Key Takeaways
– In Europe, it is 33% more likely that a hotel has adequate WiFi than in the United States; but in the United States, it is 14% more likely that a hotel will offer free in-room WiFi.
– Asia is at the top when it comes to hotel WiFi quality (49.5%), but at the bottom for the percentage of hotels offering free in-room WiFi (61.2%).
– The United States is only in the 21st percentile for WiFi quality; 79% of countries have better hotel WiFi.
– South Korea is the leader in hotel WiFi quality (92%) by a healthy margin in 7.1 percentage points to the second best country (Japan).
– In the U.S., Portland is in solid first place with a 10 percentage point gap over the second-place city (Seattle) in terms of WiFi quality. It also has one the highest percentages of hotels offering free in-room WiFi (86.7%). The chances of getting a hotel with adequate WiFi are almost three times higher in Portland than in Atlanta.
Even though Sweden is only #7 in the country ranking, Stockholm is #1 in terms of WiFi quality and is one of the leaders in terms of the percentage of hotels providing free in-room WiFi (89.5%). By contrast, Albufeira, Portugal, is by far the worst city for high-quality hotel WiFi worldwide. Write a letter, go to a movie. Leave the iPad at home.
Wifi by World Cities
| | | | |
| --- | --- | --- | --- |
|   | City | WiFi Quality | Free WiFi |
| 1 | Stockholm, Sweden | 88.9% | 89.5% |
| 2 | Budapest, Hungary | 84.4% | 75.8% |
| 3 | Tokyo, Japan | 81.9% | 51.2% |
| 4 | Dublin, Ireland | 77.5% | 72.3% |
| 5 | Montreal, Canada | 69.0% | 85.8% |
| 6 | Portland, United States | 66.7% | 86.7% |
| 7 | Moscow, Russia | 63.6% | 86.8% |
| 8 | Amsterdam, Netherlands | 61.9% | 84.9% |
| 9 | Toronto, Canada | 61.5% | 76.0% |
| 10 | Kowloon, Hong Kong | 61.3% | 64.4% |
| 11 | Vienna, Austria | 61.2% | 83.1% |
| 12 | Singapore, Singapore | 58.8% | 72.8% |
| 13 | Brussels, Belgium | 57.1% | 72.6% |
| 14 | Berlin, Germany | 56.9% | 75% |
| 15 | Munich, Germany | 56.7% | 64.1% |
| 16 | Bengaluru, India | 56.7% | 61.3% |
| 17 | Seattle, United States | 56.7% | 64.6% |
| 18 | Rome, Italy | 55.9% | 79.8% |
| 19 | Barcelona, Spain | 53.2% | 87.9% |
| 20 | Cologne, Germany | 52.9% | 62.0% |
| 21 | London, United Kingdom | 52.8% | 67.2% |
| 22 | Bangkok, Thailand | 52.5% | 73.1% |
| 23 | Frankfurt, Germany | 51.7% | 68.6% |
| 24 | Kuala Lumpur, Malaysia | 48.5% | 75.9% |
| 25 | Chicago, United States | 47.5% | 67.4% |
| 26 | Dubai, United Arab Emirates | 46.8% | 40.9% |
| 27 | Los Angeles, United States | 46.3% | 69.3% |
| 28 | Orlando, United States | 45.9% | 75.6% |
| 29 | Las Vegas, United States | 45.5% | 59.1% |
| 30 | Madrid, Spain | 44.8% | 82.8% |
| 31 | Hamburg, Germany | 44.6% | 69.9% |
| 32 | New York, United States | 44.5% | 65.4% |
| 33 | Dallas, United States | 43.9% | 74.8% |
| 34 | Washington, United States | 43.1% | 58.0% |
| 35 | Istanbul, Turkey | 42.9% | 91.5% |
| 36 | San Francisco, United States | 42.7% | 72.2% |
| 37 | San Diego, United States | 42.4% | 71.1% |
| 38 | Milan, Italy | 41.9% | 71.3% |
| 39 | Boston, United States | 41.0% | 56.6% |
| 40 | Austin, United States | 40% | 87.9% |
| 41 | Sao Paulo, Brazil | 40% | 69.4% |
| 42 | Houston, United States | 37.7% | 84.9% |
| 43 | Prague, Czech Republic | 37.3% | 83.6% |
| 44 | Denver, United States | 37.1% | 81.8% |
| 45 | Pattaya, Thailand | 35.5% | 71.1% |
| 46 | Paris, France | 30.8% | 86.4% |
| 47 | Jakarta, Indonesia | 30% | 63.2% |
| 48 | San Antonio, United States | 25.6% | 85.2% |
| 49 | Atlanta, United States | 22.5% | 68.4% |
| 50 | Albufeira, Portugal | 8.8% | 37.6% |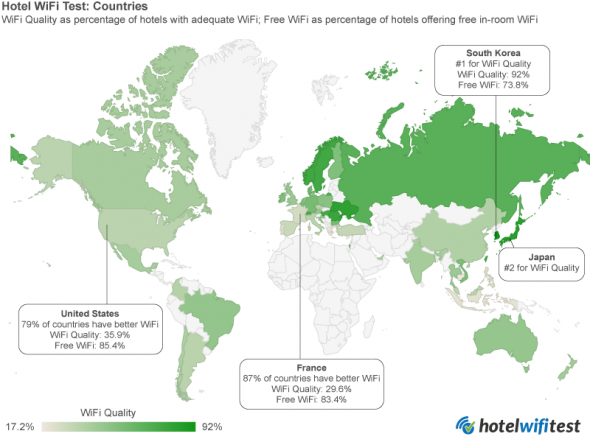 Similar Stories: