Heading to China? Forget the hustle and bustle of Beijing and Shanghai. Instead, feed your soul with the beauty and spice of what is considered one of China's most beautiful and most green cities (according to China Institute of City Competitiveness: "Hangzhou's quality of life, excellent ecological environment, high degree of social civilization and safety….the embodiment of the happiest cities.").
Find Hangzhou a mere 50 minutes north of Shanghai on China's on-stop CRH high-speed train with frequent service between the two cities. It sits at the head of Hangzhou Bay on China's east coast between Shanghai and Ningbo.
Here are five ways to go zen in Hangzhou:
Trod the Yunqi Bamboo-Lined Path, an ancient Buddhist walkway winding through an age-old bamboo forest. It's so quiet you can commune with the trees — maybe even hear them growing – bamboo can spurt up 35 inches in a 24-hour period. Buddhist theory? You can brush up on it at the Buddhist Culture and Arts Center.
Wend your way through misty-mountains-backed West Lake, a UNESCO World Heritage site, perennially chosen as one of the world's most alluring lakes for its mirror-y surface reflecting a host of fanciful bridges, temples and pagodas.  You needn't go by boat: During the Tang Dynasty, Bai Juyi, governor of Hangzhou, built a causeway connecting Broken Bridge with Solitary Hill, aligning it with willows to create a beautiful, walkable landmark.
Spend Zen time in Hangzhou's Botanical Gardens contemplating the hammock forest in summer; Yulan trees in spring; the cherished, fragrant osmanthus in autumn, piney woods in winter and, in all seasons, the lotus (Buddhist sacred flower).  What really draws the gaze, though, is Lingfeng Hill – more than 5,000 plum trees standing upright in a roseate blaze. Come winter, when snowflakes fall silently onto the plum blossoms, creating a lacy tree tunnel, you'll smile as you chill out.
The Longjing Tea produced outside of Hangzhou is the world's most renowned Dragon Well Tea. In the tranquil Imperial Tea Garden at the foot of a terraced hill you can enjoy dishes made with Longjing tea leaves. But for a truly experiential adventure, join a tour and handpick the fine green tea leaves yourself.
Of Longjing Manor, Hangzhou's most famous restaurant, it is said: "The finely-tuned harmony (of the food) is best appreciated through calm meditation." Set in an authentic Chinese garden environment on islets linked by zigzagging bridges, Longjing presents dishes of the less-well-known but highly-valued ZHE cuisine, made with the finest organic ingredients locally sourced. Waiters explain the derivation of each dish.  Though expensive, dining here is an exceptional experience.  Tip: tell the waiter how much you want to spend and he will work within your budget.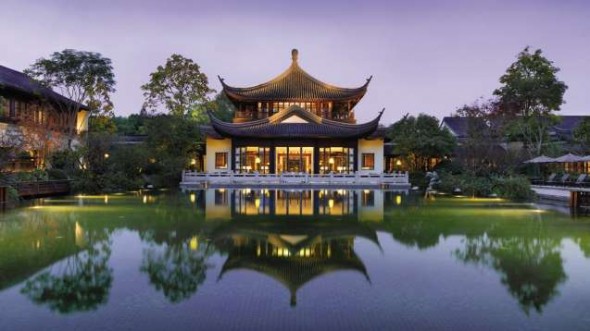 Four Seasons package: Four Seasons West Lake anchors one of China's most beautiful locations. A two-night stay can be complemented by a third night free for that extra dose of well-needed Zen. Rates run around $500/night. Not available Oct. 1-5.
Related Stories: