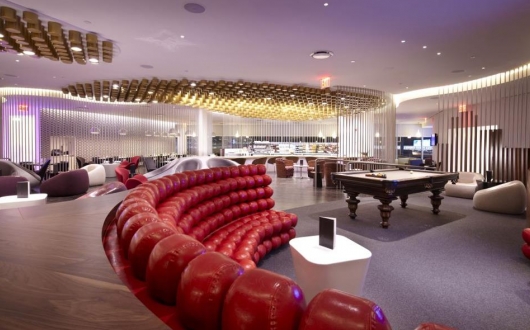 Airline passengers flying to London and beyond aboard Virgin Atlantic can now have that VIP Upper Class experience without paying Upper Class prices.
Well, at least that goes for the off-aircraft ride. Airline passengers flying in Virgin Atlantic's economy or premium economy seats can pay a little more and get all the Club Lounge comforts and Guest List perks that come with being an Upper Class passenger – all except those lie flat seats, flight pajamas and in-flight pampering services.
Now available to travelers flying from Gatwick, Heathrow, New York JFK, Newark, Boston, Washington and San Francisco, the package allows flyers to experience the ground-service amenities such as chauffeur-driven transfers to the airport, Upper Class check-in facilities, fast-track security, Upper Class-tagged luggage treatment, and, of course, the legendary Virgin Clubhouse. The lounge is especially inviting for travelers with long layovers as it not only offers gourmet chef treats, a music room, and plenty of places to get quiet rest, but passengers can also take showers, get a massage, have their hair styled or nails treated and plenty of other perks.
The added costs starts at $384 for a passenger traveling alone, $544 for two passengers traveling together.
Chauffeur driven car service
Choose from one way (home to the airport) or two way (home to the airport on departure and from the airport to home on your return), and one can also choose three and four way, if both ends of the journey offer the Guest List package.
Door to door service
Passengers step out into the Upper Class Wing at London Heathrow. It's an oasis of calm that lets them effortlessly check in and head directly to Virgin's Private Security Channel.
Baggage attention
Bags fly priority and get the Guest List treatment as it's tagged as Upper Class.
Fast track security
When flying from London Heathrow, VIP guests zoom through security with Virgin's fast track Private Security Channel. Passengers traveling out of London Gatwick, Boston, San Francisco or Washington will also be fast tracked through immigration & security, leaving more time for the Clubhouse.
Clubhouse access
Passengers on the Guest List get the ultimate preflight experience. Bite into some gourmet food or sip a cocktail at the bar. Relax in style.
Reserve: (800) 862 8621
Virgin's Guest List: VIP Perks for All Passengers