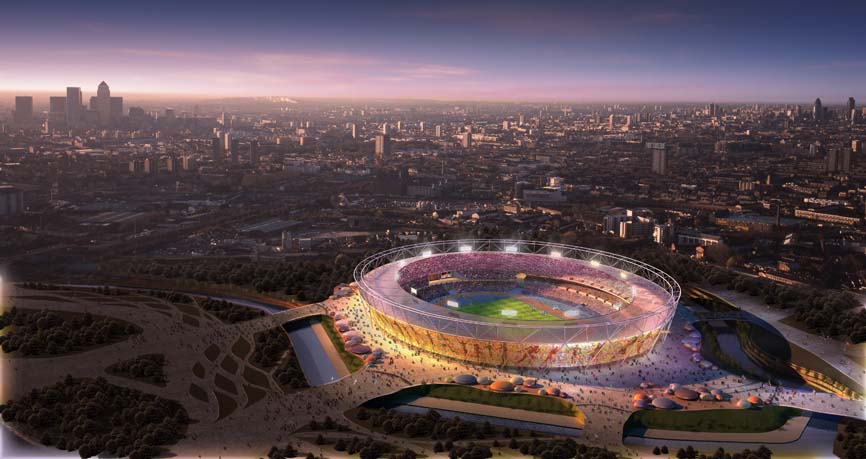 By Lark Ellen Gould
The games are on. The 2012 Summer Olympics in London are within cheering distance, running from July 27 to August 12 – close enough to feel the heat but in time enough to make travel plans and still get a room at the inn.
The Olympic Park has transformed a formerly industrial section of East London into a complex that will welcome up to 180,000 spectators a day. The primary venues, including the Olympic Stadium, Aquatics Centre, Velodrome and BMX Circuit, and not to leave out the hockey, handball and basketball arenas, will be easily traversed through a network of footbridges and walkways within the Park.
The Olympic Village will be within walking distance of all the venues in the Park, although the games will also employ some other well-known, if not prestigious, spots – such as Wembley Stadium for football, the All-England Club in Wimbledon for tennis, Lord's Cricket Ground for archery and Horse Guards Parade for beach volleyball – during the London 2012 Olympic and Paralympic Games.
London has beefed up public transportation infrastructures throughout the city, including new trains and enhanced platforms leading to the Olympic site.
And hotel properties are rolling out their Olympic best to stoke the excitement.
Hotels are facing a challenge in trying to maximize their revenues during this rare opportunity while not warding off customers in the process. Many hotels have chosen not to increase rates beyond normal high summer season pricing – although these rates can be steep in their own right.
For instance there is still availability at The Ritz, although guests might be paying $1,200 per night for that room at the low end. Claridge's still has rooms for around $955, possibly a bargain in these parts for standard accommodations (make that $1,600 for a suite), although guests may have to stay a minimum of five nights during the festivities to get those quarters. Similarly the recently redone Savoy can produce a suite on the Thames for a paltry $4,400 a night.
VisitBritain.com is a good place to scope out hotel deals and travel information for planning an Olympics vacation, but hotel deals and booking information for the period are not yet available on the site.
One company that just might have the right stay for the right price is OneFineStay.com. The site allows visitors to live like a Londoner through a roster of residences available for booking while owners are away.
"It's London's first unhotel and it redefines the experience of visiting London. Instead of hotels, onefinestay allows visitors to stay in a home away from home while the owner is out of town, with a service that offers all the convenience and comfort of a hotel," says Greg Marsh, CEO.
Some 400 upscale homes, flats, even houseboats across London are available to consider and with a multitude of bedrooms and living spaces, may provide the least expensive luxury accommodations for the price in London during the Olympics. For instance, a two bedroom high-style flat at Scampston Mews in Central London sleeps four and runs around $380 per night.
Through onefinestay, guests enjoy luxury amenities such as high thread count hotel linens and toiletries from The White Company, says Marsh, and every guest is also lent an iPhone for the duration of their stay, which is stocked with local tips and helpful videos recorded by the home's owner, and from which they can make free local calls.
The properties offered have been vetted for their appropriateness and the unusual experiences they can produce. The company ensures kitchens are stocked with tea and coffee, proper toiletries are available for use, proper linens and towels are in place and services, such as free wifi, are online. A staff member greets each guest,  just as might happen in a hotel, but without the marble lobby.
2012 Olympic Games at a Glance
26 Olympic sports in 34 venues
20 Paralympic sports in 21 venues
10,500 Olympic athletes and 4,200 Paralympic athletes
 20,000 press and media
 More than 9 million tickets