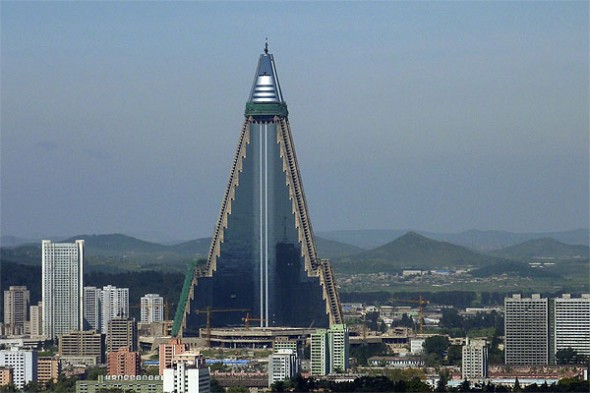 What is being tabbed as the tallest hotel in the world by some and the "hotel of doom" by others is on schedule – albeit 26 years after it began – to open next year. However, this behemoth of hospitality is not going up in Dubai, or Beijing or Shanghai. The world's tallest hotel tower will be found in bustling downtown Pyongyang, North Korea.
Plans for this pyramid, or rocket-shaped tour de force, started with the previous Kim regime in 1987 to deflect attention away from North Korea's pervasive poverty and give the struggling dictatorship a sheen of affluence and competitive mettle. But an ongoing plague of poverty and famine that took hold in the 1990's caused construction to stop and not begin again until 2008.
At 105 stories and 1,083 feet high it beats the current record holders for this hotel-focused feat, both in Dubai– namely Rose Rayhaan by Rotana and the Burj Al Arab. The Rose is 1,093 feet but has only 72 stories. The Burj tops 1,035 feet and holds 28 bi-level stories. There is also the JW Marriott Marquis Dubai Hotel, part of the Emirates Towers in Dubai, which reaches 1,234 feet and holds 77 stories. Thus, whether the new hotel will, in fact, be the tallest on earth may be up for debate or the dictates of the current regime. However, it will be the hotel with the most floors.
Called the Ryugyong Hotel, it will be managed by Kempinski and will be the first western hospitality company ever to operate in North Korea, North Korean leader Kim Jong Un is said to be looking to the new property to attract needed foreign currency, despite the fact that many industrialized western countries have bans in place to prevent their citizens from traveling to North Korea. Travel industry sources estimate that around 400 to 500 Americans travel to North Korea annually.
The top floors of the hotel will house guests in 150 of the originally planned 1,500 rooms, which, according to recent reports from Bloomberg, "will be developed over time." Shops, restaurants, a ballroom and offices for foreign companies involved in this enterprise will open on the ground and mezzanine floors next year. Completion is targeted for summer, but don't start firing your travel jets quite yet.
No booking or contact information is available: ryugyonghotel.com