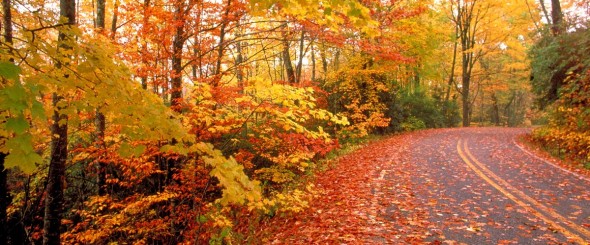 There are plenty of reasons right now to get packing and have a fabulous fall adventure. Roadtrips are at a premium these days with gas costing about a $1 less per gallon than last year. For road mongers, this chance may not come again. Here are some suggestions from the map mavens at Rand McNally for best car trips to take while the taking is good.
Monterey, Calif. 
Monterey's highs of 70s this time of year make it a great place to bid farewell to summer and welcome fall. Take in Cannery Row (www.canneryrow.com) shops, restaurants, and nightspots in the one-time sardine canneries, or check out the Monterey Bay Aquarium (886 Cannery Row, 831-648-4800, www.montereybayaquarium.org), featuring exhibits on sea otters, sharks, jellyfish—and sardines, of course.
Crystal Bridges Museum of American Art – Bentonville, Ark.
 Crystal Bridges Museum of American Art (600 Museum Way, 479-418-5700, crystalbridges.org) includes great views of native Ozark forest and galleries with works by American masters like Norman Rockwell, Winslow Homer, and Edward Hopper. Take time to enjoy more than 3.5 miles of trails winding through Crystal Bridges' 120-acre site.
Bennington, Vt. 
Bennington offers scenery and charm in the Green Mountains in the state's southwestern corner. A great first stop is the Bennington Center for the Arts Covered Bridge Museum (44 Gypsy Lane, 802-442-7158, www.thebennington.org), which features an interactive kiosk to plan a tour of covered bridges.
Peak-to-Peak Highway/Scenic Byway – Estes Park area of Colorado 
Looking for a scenic drive? Colorado's Peak to Peak Highway is flanked by Continental Divide vistas along 55 miles. A good stop is Estes Park near the Rocky Mountain National Park on the byway's northern edge.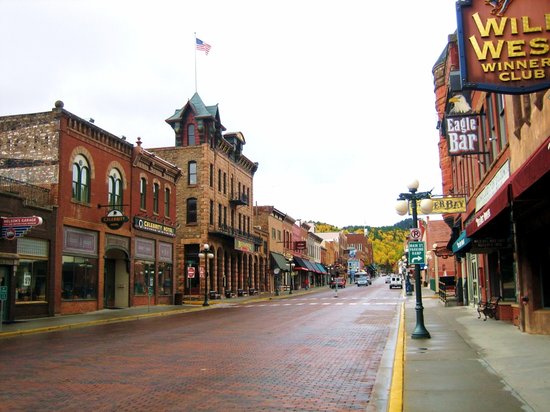 Deadwood, S.D. 
Take in some Wild West lore. An 1874 expedition led by Gen. George Custer found gold here and drew throngs of prospectors. Original Deadwood Tours (677 Main St., 605-578-2091, originaldeadwoodtour.com) take you through the storied streets.
And fall is also a particularly sweet time to visit some of this country's top destination cities for off-season rates. Here are nine solid recommendations* for travelers who want to take advantage of fall deals and save up to 60% on destinations like Europe, Hawaii, Myrtle Beach and Orlando.
Hop a Flight: In summer, airlines raise prices in July and August due to increased demand. But come fall, the sharp decline in leisure travel forces airlines to drop fares to fill seats. Travelers can expect to pay 25%-50% less on fall flights compared with peak summer dates.
Hit the Beach: Shoulder season – the period between peak summer season and the winter offseason – is the perfect time to visit beach towns like Cape Cod, Hilton Head, Myrtle Beach and the Outer Banks. The crowds are fewer, the weather is still warm and the deals are better. For example, travelers can save up to 60% on Myrtle Beach hotels in September and October.
Check out Orlando: What happens when a destination's target clientele is stuck in school? Deals – and lots of them. With kids back in school across the country, September is one of the only times travelers can find the rare Disney deal. Orlando hotels offer deals up to 65% off regular rates plus free extras to entice travelers.
Say Aloha to Hawaii: Similar to Orlando, Hawaii also sees a drop in demand from Labor Day to Christmas, resulting in better deals on flights and hotels. United Airlines just launched a fall sale to Hawaii with fares starting at $273 each way – a savings of 27% on regular fares.
Cast Off to the Caribbean: If Hawaii is a bit of a haul, look to the Caribbean for savings. Hurricane season coupled with less demand results in 50% savings for September travel. Tip: Purchase travel insurance just in case Mother Nature throws a curveball on your travel dates.
Climb Every Mountain: If you're ready to ditch the sun and embrace fall, resorts in Colorado, New Hampshire, Utah and Vermont offer peak fall foliage sightseeing at non-peak prices. Travelers can stay at a "World's Best Resort" in New Hampshire including a 3-course dinner for two for $179 per night – a 55% savings.
Hop the Pond:  While the cheapest time to sightsee through Europe is winter, the best time to hop the pond is September. Shoulder season offers affordable flights, comfortable weather, fewer tourist crowds and strong deals for popular destinations like London, Paris and Rome. You can also start planning for 2016 as travel experts predict the same seasonal trend.
Crossover to Canada: A weaker dollar plus lower demand makes Canada a perfect place for a budget-friendly getaway. Popular summer destinations like Niagara Falls, Mont Tremblant, Ontario cottage country, Whistler and Prince Edward Island offer savings up to 45% on fall travel.
Avoid Big Cities: While many places offer big savings for September, big cities do not. As business and convention travel picks up after the summer lull, cities such as Chicago, New York and San Francisco see a spike in occupancy rates. Travelers can expect to see rooms go for $300 to $400 per night, compared to lower summer prices that were closer to $200.
* Deal recommendations through www.travelzoo.com.
Related Stories: