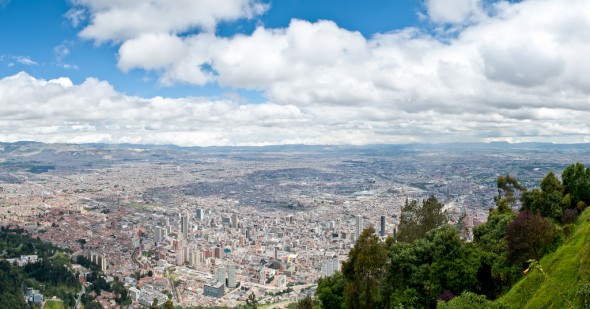 Colombia is putting foreign visitor arrivals on the fast track, whether for business or leisure, especially if those visitors are from the U.S. and Canada. It counted some 864,000 foreign visitors in the first half of 2013, with the largest number visiting from the U.S. and the tenth largest visiting from Canada.
To smooth that travel, an increase in lift was in order and JetBlue complied last month by increasing its New York-Cartagena weekly flight frequencies from three flights to five. The added lift is a seasonal adjustment that allows travelers from New York to make the trip in five hours.
In addition to a number of other U.S. nonstop flights, American Airlines began direct Dallas-Bogota service in November. Canadians can reach Bogota via five weekly direct flights from Toronto on Air Canada, and via connecting flights on Avianca, Copa and others.
"According to Colombia's Immigration Department, the year-end season is when the majority of Americans and Canadians travel to Colombia," said the president of Proexport, Maria Claudia Lacouture. "We hope that demand for the increased frequency will remain high, leading to additional permanent flights to our vibrant country." Proexport is the government agency charged with promoting tourism, foreign investment and trade with Colombia.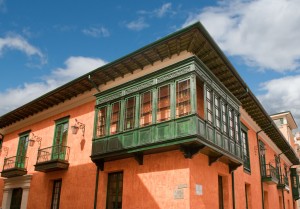 Colombia expects 2014 to be a busy year for tourism. This month, Cartagena will host the International Music Festival, welcoming classical artists and opera singers from all over the world. In February, international buyers from the leisure, meetings and tourism industries will convene in Bogota for Colombia Travel Mart, the country's most important tourism industry event. Later, in March, thousands of international visitors will travel to Baranquilla for the city's legendary Carnaval festival.
Colombia launched its "Colombia Is Magical Realism" tourism campaign earlier this year to showcase its varying vacation destinations, from beaches to mountains, deserts, cities and jungles. With more than 800 direct flights from 20 different countries and 27 cruise lines stopping in three major ports of call, there are many ways for visitors to experience the country.
Banking on Bogota
Bogota is often the target destination of business travelers and certainly an arrival point for international tourists.
The city is one of the world's largest – in leagues with New York and Mexico City in dimensions, nearing 9,000 feet in altitude but only 8 million in population. With a modern history that dates back to the first Spanish conquerors and a mélange of cultures — native, Middle Eastern and European – that moved that history forward, Bogota is perhaps one of the most colorful and inviting cities in Latin America to explore.
"Bogota is a very metropolitan city and very close to the U.S. – even closer with the new Open Skies agreements that allow more airlines from the U.S. and Europe," says Claudia Davila, the US Tourism Director for Proexport Columbia. "The U.S. is our number #1 market and I would say 40-50 percent of those visitors are here on business."
Most visitors staying in Bogota will already in or near the lively Old City center called Candelaria. For those seeking colonial Latin America, these streets are steeped in history and carefully preserved for all their characteristic color and grandeur. Plaza de Bolivar sits squarely in the center provides a seamless orientation experience as well as a great meeting place by the hero's statue. From there it is a stone's throw to the city's circa 1553-1823 (present form) Capilla del Sagrario cathedral that also holds the tomb and many paintings of Gregorio Vazquez de Arce y Ceballos (1638-1711), one of the country's most celebrated painters of the time.
In this eminently walkable area find a phalanx of museums worth the time, starting with the Museo de Oro. Two of earth's most prized products characterize the rise of Columbia: gold and emeralds and for anyone looking for El Dorado, the Gold Museum has the map. Museo del Oro is home to more than 30,000 objects of pre-Colombian gold work. Find there a gold replica of the Muisca boat showing the ritual of throwing gold into nearby Lake Guatavita to appease the gods. Similarly, there is a model of the Ciudad Perdida — the Lost City of Taironas — found near Santa Marta in 1975. The discovery has been deemed larger and more significant than Machu Picchu in South America's archaeological eurekas. Also check out the strong room illuminated by the glint of 12,000 pieces of gold.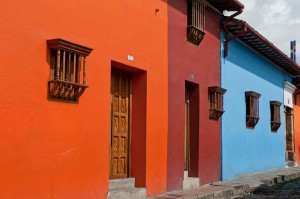 Another important take-in to any tour of Bogota is the  Botero Museum where some 123 works of Fernando Botero and 87 works by other international artists  of the Renaissance and impressionist periods can be enjoyed in an impressive modern space at no charge, in accordance with the legendary Columbian painter's wishes.
The Botero Museum could be complemented by the Museum of Modern Art for a look at a Latin American focus in graphic arts, industrial design and photography. Nearby, the Museum of Colonial Art could be considered important for its holdings in rare colonial art from Colombia.
History of the city, the country and the land can be found amid a smattering of great collections, which include the Museo de Bogota, for an interpretation of the city surrounds, Museo del Siglo XIX, a preserved house with furnishings from the late 19th century, and the compelling Museo Arqueologico where pre-Columbian relics can be viewed in a preserved 17th century Spanish mansion. If time is short, the best choice for area history would be the Museo Nacional in the Downtown area. The building, a former prison, houses what may be the country's strongest archeological collection, including gold treasure. The top floor features 20th century fine art and sculptures.
Beyond Bogota
Monserrate may be easiest local excursion to take for time and distance. It's the most famous peak in Bogota and, at 10,000 feet, offers some stunning views of the city. A mountaintop restaurant serves French cuisine in fancy surroundings – an excellent choice for important meetings and guests. A Swiss-made cable car  (daily through 11 pm, $7.50 roundtrip) takes visitors to the top – a 90-minute climb for the active set, although due to random crimes in the capital, walking is highly discouraged.
A not-to-be-missed excursion out of town is Zipaquira and its fabulous salt cathedral. It's about 33 miles from Bogota in a mountain area known for salt mines in operation well before the coming of the conquistadors. Never the less the town was established in 1602 and a cathedral dug out of the mines and tunnels that eventually became unsafe. A new cathedral was crafted from the subterranean sodium chloride a few paces away with spaces soaring to 75 feet and enough standing space for 10,000 souls. Tours in English, Spanish, French and German happen throughout the day. A souvenir square in the colonial streets makes the journey a festive destination. Another salt cathedral and mining town can be seen nearby in Nemocon. A great way to get there is by the Tourist Train, a sightseeing train that leaves from La Sabana Station in Bogota. Leave Bogota at 8:30 am; get to Zipaquira at 11:30 am. Leave Zipaquira at 3:15 pm for a 5:40 arrival back in Bogota. Roundtrip fare is $22. The drive averages two hours.
The Laguna del Cacique Guatavita, or Lake Guatavita, is a powerful identity anchor in these parts and thought to be the origin of the legend of El Dorado. Muisca kings would have religious ceremonies in the middle of the lake with their bodies covered in gold dust. Sacrificial offerings in the form of gold objects were given to the lagoon and the bottom of the sacred lake is believed to hold many of these treasures to this day. It's a hike from the drop off point to the lake, about an hour for a roundtrip walk and guides can be found to explain the sights. Foreigners pay a $7 entrance fee.
Parque Natural Chicaque is a lovely, 750-acre private reserve about an hour's scenic drive from the city. It's a cloud forest of ecological paths that run along peaks and across waterfalls for an immersion in the magic of the Columbian countryside. There's a restaurant there and tree houses for overnight lodging.  Bird and butterfly species abound and, super-trained eyes may light upon some of the UFOs that have been reported there.
A recommended tour operator to consider is Audley, a noted Conde Nast-listed specialist in Columbia. Eight-day tours of the country begin at $1,850 per person, land only. Call (855) 838-8600.
For more information on Colombia visit: For more information visit: http://www.colombia.travel/en/