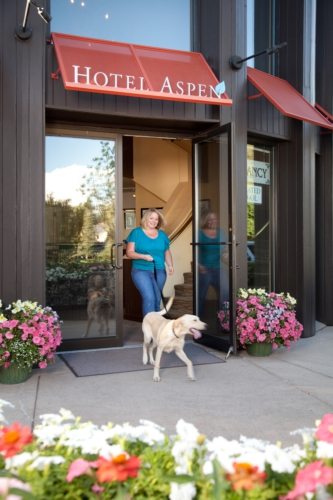 Two renovated sister properties in Aspen, Colorado invite travelers to plan a trip to a paradise in the peaks this summer without breaking the bank. Hotel Aspen and Molly Gibson Lodge offer high value, affordable and stylish landing spots with friendly service and comfortable surroundings for visitors and their pets. The properties face each other on a fashionable street in downtown Aspen, with summer rates that one could only dream about come ski season.

Summer nightly rates start at $149 at the Molly Gibson and $179 at Hotel Aspen, including a full, complimentary breakfast each morning, free parking, free Internet access and free airport transportation. Molly Gibson Lodge has evolved into a restyled-retro haven over the last several years as the 58-year-old landmark has undergone a continuing, multi-million-dollar renovation. All of the property's 53 guestrooms feature new flooring, cozy furnishings and plush bedding. Over the last six months, the owners completed total renovations to all "Lodge Rooms" – one of the most popular and affordable room types. Continued upgrades are planned, starting with further improvements to the one-and two-bedroom apartments.
Hotel Aspen transformed itself into a chic landing spot after completing a $1.5 million facelift in 2010. All of the property's 45 guestrooms were stripped to the core and renovated with wood floors, contemporary furnishings, plush bedding, new window treatments, refurbished bathrooms and a fresh color palette.
Both hotels feature relaxing pool gardens. And both offer a variety of free, summer activities, allowing guests to experience parts of the Aspen way of life they might otherwise miss.
Some fun, free summer 2013 events include:
Allana's Photo Workshop – Guests walk through Aspen's charming, historic neighborhoods, snapping shots. Allana, the social coordinator at the Molly and an accomplished photographer, gives guests some basic tips on photo composition and technical know-how.
Waggin' Wednesdays – Join Molly Gibson mascot Barclay Brown – the resident Goldendoodle – for a pet- and family-friendly happy hour on the Molly's back lawn. Guests are invited to bring their pups and come by for complimentary hot dogs, burgers and beverages.
The Aspen Historical Society's VP of programs & education dresses in character and gives fun, informative talks on the history of Aspen at the Molly Gibson Lodge.
Aspen's summer calendar is chock full of festivals, music, cultural and recreational events, many of them free and family friendly. The legendary Aspen Institute has heady talks and seminars in motion all summer long. And then there are all the outdoor summer activities the Rockies have to offer – hiking, mountain and road biking, rafting and kayaking, fly fishing, stand up paddling, rock climbing, bouldering and more.
Hotel Aspen has offered friendly service to its guests at a great location in Aspen since it was known as the Nugget Lodge in the 1960s. In 1982, the property was remodeled to become Hotel Aspen. In 2010, the new owners completed a major renovation. The Molly Gibson has welcomed guests into its cozy surroundings since 1955. Part of the property was originally known as the Smuggler Lodge, named after the local mine that produced the world's largest silver nugget in 1894.
Contact:

970-925-3441
www.hotelaspen.com
www.mollygibson.com