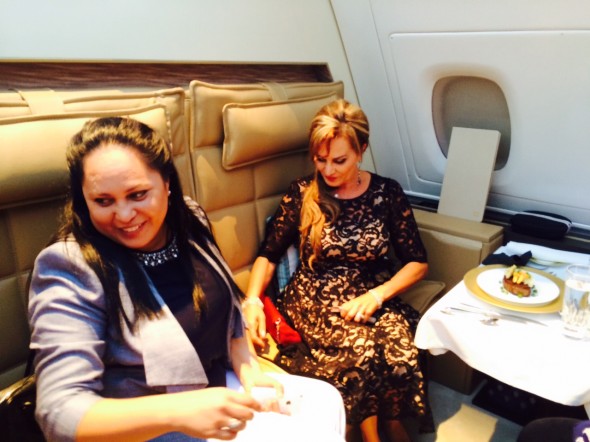 While Elite rewards flyers are finding automatic upgrades becoming ever more elusive, the first class cabin, itself, may be going the way of the Edsel.
In recent waves of announcements and rollouts, the concept of the first class cabin is getting ever more spacious and luxurious – if you happen to be a member of Saudi royalty perhaps, and are flying from London to Abu Dhabi.
Etihad will be launching the first of its Residences in the Skies on that route in December on newly delivered Airbus A380s for a mere $21,000 one-way. The three-room span is a mini-apartment with a "living room," bathroom/shower and bedroom – and dedicated butler to run it.
And while airlines like Air France, Singapore and Emirates are beefing up their top seat products, the first class cabin is fading fast amid a multitude of airline companies and fleets. Lufthansa, for instance, has eliminated the first class cabin in more than a third of its long-haul aircraft and expects to be free of first class entirely by the end of 2015.
"We think the mark is on premium economy (seats), and they will be here to stay," said Lufthansa spokesman Nils Haupt. "Long-haul first class is getting reduced and even business class is getting reduced on routes to non-business destinations. We still believe in a very big business class, however. And we are filling those seats."
Qatar Airlines also announced recently the intent to eliminate first class cabins fleetwide, with the exception of its new Airbus A380s.
U.S. carriers have not been late to the party. Widely characterized as "whales," those passengers that spend prodigiously for their comforts, these customers are either in short supply these days or have discovered the joys of private aviation, and companies like Delta Air Lines and US Airways have seen wisdom in allowing business class seats and premier economy options take up the slack at the front of the plane. First class typically costs 20 times that of a cheap coach seat.
In fact, there is no shortage when it comes to international airline companies turning those empty first class thrones into business class gold. TAM of Brazil no longer operates a first class cabin and KLM, SAS Scandinavian, Alitalia, LOT of Poland, Iberia, Air New Zealand, Aer Lingus, Virgin Atlantic, South African Airways, LAN of South America and Air Canada are among the believers as well.
Both Lufthansa and Air New Zealand, however, are betting on the premium seat. Those are seats between coach and business class that take perks from the front of the plane and put them into seats in the forward rows of coach. They're a bit wider, a bit more comfortable, perhaps a bit more elegant, and considerably more affordable than business class.
For Lufthansa, the new class represents a significant departure from its former cabin design configurations. Launching in November (and targeting a fleet-wide completion next summer), the new cabin will contain up to 52 seats. Slightly wider than economy class these seats will also have a wide console armrest inside the 2-3-2 row format. The backrest will recline further than coach and the seat pitch will measure a spacious 38 inches (average coach pitch – the point between the top of the seat and the same point forward or behind – is 32 inches for a U.S. carrier). Passengers have 1.5 times as much room as their economy class counterparts.
"Business travelers will still fly business class; they need that night's sleep. This is really for economy travelers and will cost around $800 roundtrip on top of the coach fare," said Haupt.
Air New Zealand has also targeted the coach class upgrade as the new face of luxury flying and rolled out innovative seats for this market in 2010 when it unveiled the "Skycouch" or "Cuddle Seat." The spread takes a row of three seats and converts it to a nice, tight futon for two (or a parent with two kids). Air New Zealand has 20 sets of these Skycouch seats on each of its Boeing 777-300ER aircraft.
But it is the "Spaceseat" unveiled last year that has flyers talking. The seat uses a "pod" concept for seats to slide forward rather than recline and gives some side room for "Z" rest. It uses a squashy beanbag element as a footrest and has well considered platforms and storage to make all the available space more efficient.
The new leather luxury seat has a 41-inch pitch and 5-inch wide armrests. The seat comes with such added perks as premium check-in, on-demand inflight entertainment, noise cancelling headphones, in-seat power, USB and iPod connections, chef-designed menu with Kiwi wines, and an amenity kit.  These seats are expected to replace the premium economy seating in the 777-200ER fleet next year but are already installed on 300ER series.
"We market it as a 'Business Lite' product," said Kerry Reeves, Air New Zealand's Head of Aircraft Programs. "We realized the value this product gave our passengers based on the feedback and set about improving the seat product to provide more space and flexibility. This remains an emerging market. Many airlines still do not offer a true 'Premium Economy' but more of an 'Economy Plus' proposition."
Related Stories: