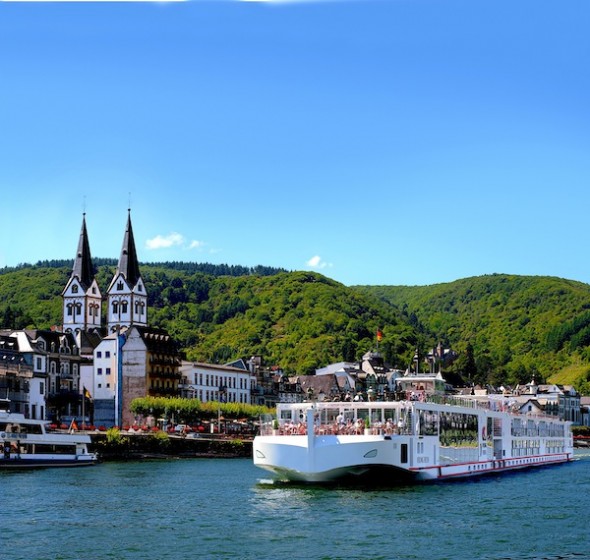 Richard Marnell, Senior Vice President of Marketing for Viking River Cruises, shows weary road warriors and vacation-starved American workers where the R&R is on water between meetings, reports and flights.
TI: What do you think separates river cruising from ocean cruising for people looking for a paramount luxury vacation experience on water?
Marnell: Our research shows that more travelers than ever want travel experiences that bring them closer to the destination. Because of this, we are designing ships, itineraries, excursions and onboard river cruising experiences that put destinations as the true focus and keep well-traveled guests in mind, ultimately showcasing the unique aspects of river cruising and ocean cruising.
When we started out with river cruising, our guests found that the smaller ship size of our river vessels provided a more personal experience, while the carefully crafted itineraries offer guests more time in ports, providing an intimate look at cities and towns along some of the world's most historic and scenic waterways. Privileged-access excursions and onboard experiences make these destinations the true focus.
We do not aim to be a luxury product, but we do aim to provide our guests with a comfortable way to explore history and culture on enriching trips to interesting destinations – and it is our view that this sets us apart from what others doing in the industry.
TI: Why do you think a river cruise might make a perfect vacation or relaxing escape for a work-weary traveler? Why might these types of cruises make more sense than other week- to ten-day wedges in the life of busy workers seeking vacation comforts?
Marnell: One of the perks of sailing with Viking is the ease of travel, which is something many travelers take into consideration.
By nature, river cruising is a convenient, relaxing and highly scenic way to travel – it allows guests to unpack once, then enjoy gliding along scenic landscapes and visiting small ports along the world's historic waterways. And Viking's inclusive pricing means there is no nickel-and-diming, which makes it easy to relax and enjoy the trip. The cruise price covers just about everything: accommodations, meals, beer and wine during lunch and dinner, port charges, internet access, lectures, activities and shore excursions.
In addition to a great value and relaxing way of travel, guests are treated to Viking's Culture Curriculum on each itinerary. This offering delivers a rich and memorable travel experience by providing background information and insight about each destination. In any given itinerary, Viking's Culture Curriculum includes onboard lectures or performances from local historians, musicians and artists, as well as authentic culinary demonstrations and "A Taste Of" events that provide an opportunity to taste local cuisine.
TI: What makes Viking stand out from its competitors?
Marnell: Viking offers its guests a broader selection of choice than any other river cruise line—from our large fleet of Longships and wide variety of stateroom categories, to destinations and pace of exploration. Viking is also committed to providing guests with flexible scheduling options that allow them to sightsee at their own pace. Comprehensive guided tours are included each day for those who want to immerse themselves in the culture and history, and Viking's onboard Program Directors can provide all the information and maps guests need to explore port cities independently. We also offer guests the complimentary onboard Viking Concierge Service – an extension of our overall high-level of personalized customer service. With a vast network of contacts and an intimate understanding of each port city, onboard Viking Concierges can reserve a table at the best restaurant, recommend specialty shops, order theater tickets and even arrange for a private guide and car service.
TI: Is river cruising in danger of becoming an endangered vacation product, given the effect that global warming is having on some of the world's great rivers?
Marnell: We certainly hope not. Right now, our Switzerland-based nautical team and our network of local partners and authorities focus on monitoring and adapting to current water levels so that our guests experience the least possible disruption should seasonal climate changes cause periods of high or low water. Additionally, river cruising continues to be one of the fastest growing segments of the travel industry – with demand for this type of travel continuing to increase.
TI: What can a river cruise vacation offer busy travelers that other types of vacations might not be able to match?
Marnell: As I mentioned, the ease of travel is a huge benefit to sailing with Viking. Guests can unpack once and enjoy the ever-changing scenery along the banks. Comfortable and convenient, river cruising offers guests the opportunity to explore a greater variety of destinations than they could on another single vacation. Our guests spend less time getting to the destination, and more time learning and enjoying, which is why so many people have fallen in love with this relaxing and immersive form of travel.
TI: If you were a tired and overworked American employee, what Viking River Cruise itinerary might you want to take to get the most for your precious off time?
Marnell: Two of our most popular itineraries – Rhine Getaway and Romantic Danube – are 8-day itineraries that allow guests to see a lot without spending a lot of time. They also begin or end in a major European city, allowing for more flexible flight itineraries – particularly for business travelers who may already be in Europe and would like to extend their trip for leisure.
Romantic Danube takes travelers through three countries where they encounter the grand cities and quaint villages along the celebrated Danube River. This sailing has something for everyone – with the opportunity to explore the fascinating city of Budapest; experience Vienna's imperial architecture and gracious culture; and tour the picturesque town of Regensburg, the oldest city along the Danube.
On Rhine Getaway, guests can experience the highlights of the legendary Rhine in four countries. On this 8 day trip, guests can visit the many charming castles along the riverbanks in Germany; admire Cologne, the jewel of the Rhine; explore Holland's famous windmills and waterworks; experience multicultural Strasbourg in France; and explore Basel, the gateway to the Swiss Rhineland.
TI: For travelers who want more than a break – and would welcome a little adventure — is there a Viking trip that can satisfy both the need for relaxing luxury and the need for adventure?
Marnell: Countries like Myanmar, Vietnam and Cambodia have fascinating cultures and storied histories, and those who travel with us to this part of the world greatly enjoy the combination of Viking service and comfort, along with the adventure that comes with slightly more exotic destinations.
Our Magnificent Mekong itinerary is a 15-day cruisetour that takes guests from Vietnam's bustling cities to the tranquility of Cambodia, discover two countries, two cultures that bring to life the natural beauty and rich history of the magnificent Mekong River, along with some of the finest cuisine in the world. And Myanmar Explorer takes guests through Bangkok's Grand Palace to breathtaking Inle Lake, before heading through celebrated areas of Burma and the colonial architecture and ornate palaces and pagodas of Yangon and Mandalay.
Related Stories: