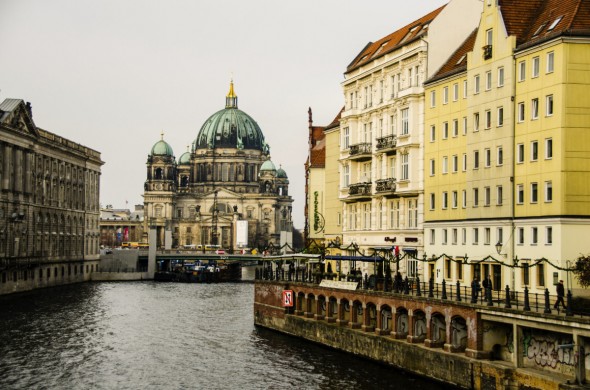 The top 10 sightseeing spots in Berlin might just surprise you.  Experts at The Berlin Pass weighed in and came up with this summer's don't miss list for those who are targeting Germany in their summer plans.
Count the Checkpoint Charlie Museum, the Berliner Dom, the Pergamon Museum and Neue National Gallery among them. The Berlin Pass provides access to more than 60 of the city's attractions. A two-day Berlin Pass costs €79 ($89) for adults and €38 for children ($42, aged 6-14 years), and includes a Travelcard for unlimited use of the city's public transport services, plus travel into the city centre from Schönefeld Airport. A free guidebook is also included.
Kick start a stay in Berlin with a hop-on-hop-off bus tour. It's the ideal way to get your bearings, see some of the city's top sights and decide which you want to visit again in more detail.
Visit on a Thursday! Many visitors come for a weekend break, but on Thursdays many of the city's museums such as the Bode Museum stay open late until 8pm, giving you plenty of time to explore after the school groups and tourist buses have left.
At The Berliner Dom cathedral, make sure you climb the 270 steps to the dome walkway, which offers sweeping views of the city skyline and Museum Island in particular.
Follow a visit to the Berliner Dom with one of the city's most unusual modern art installations.  The lobby of the nearby Radisson Blu hotel boasts a giant fish tank that's 25 metres high by 12 metres wide and holds 1,500 fish – stop for a drink at the bar and enjoy the colourful entertainment!
The Brandenburg Gate is a must-visit of course, but it's extra special at night when lit up with a golden glow on its columns and statues. Did anyone say 'selfie'?
Make sure you check out Berlin Central Station to see some of the city's most spectacular architecture. It's Europe's largest train station and took 11 years to construct. And if one station isn't enough, the nearby Hamburger Bahnhof is the home of the city's superb Museum of Contemporary Art.
Live like a local by heading for Mauerpark on a Sunday to enjoy the flea market that pops up there.  Explore craft and food stalls and take the opportunity to perform outdoor karaoke for just one Euro – there's always a supportive crowd ready to watch!
For a unique artistic experience, head to the Musical Instrument Museum. Many Sunday mornings at 11am, visitors can enjoy a live performance of Early Music on rare period instruments, using traditional playing techniques. Museum entry is free with the Berlin Pass; the 'Early Music – Live' concerts are €14.
Head out of central Berlin for one of the city's hidden gems – the Schloss Köpenick. This Baroque palace, commissioned by King Friedrich I of Prussia, is located on a manmade island and houses treasures from the Museum of Decorative Arts.
See the world's most valuable stamps at the Communication Museum – the Blue & Red Mauritius stamps are reportedly worth more than $4 million!
Contact: Berlin Pass
(+44-0-870) 242-9988
Related stories:
Romantic Hotels in the Czech Republic