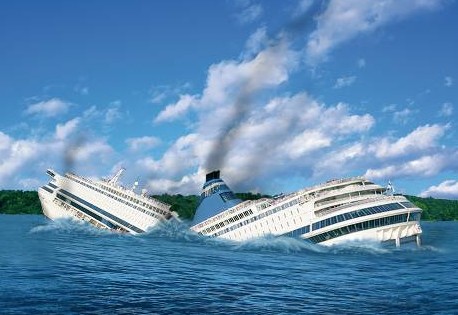 Does this sound familiar? A recent posting on Cruise Critic about an NCL cruise from Copenhagen to St. Petersburg went something like this:
Is all the staff outsourced? After our 20-hour trip to Copenhagen to board the ship. we found our stateroom dirty and disgusting. I pointed out the obvious spills on the carpet, the dust and the still-wet wall smudges from the previous guest who apparently had smeared gel on his or her head while leaning against the wall in bed. The sofa in the room was so dirty so we asked for towels to cover it. The curtain was torn, the bathroom smelled and again, dirty. Do they REALLY clean the room when new guests arrive? 

 
While the staff is very pleasant and certainly tried to accommodate I don't think they are trained in their specific jobs and specifically in cleanliness. However, it seemed there were no (NCL) department heads or Executive Staff other than the Captain.
EXCURSIONS- We purchased St. Petersburg Hermitage Museum Tour. We received the Hermitage ANNEX Building tour, NOT THE ACTUAL Hermitage Museum, and while the guide was great and very knowledgeable, at the end of the tour we all had to walk down three or four FLIGHTS of Stairs in the complete darkness – no light or flashlight. We all used our cell phones to get down.
For the City Tour – We were simply dropped off at a concession GIFT Shop – not in walking distance to anything and completely surrounded by street construction. On the way back we saw the main shopping street with cafes and shops and restaurants. Shame on them! ….
Published 09/28/15
Conquering the Cruise Conundrum
Cure for a cruise gone bad? Planning. And planning a cruise is not easy. There are big bucks in the balance and plenty of opportunities disappointment between lovely high end options, acceptable mid-tier choices and rip offs at all levels in types of experiences you can book. To navigate the waters of cruise vacation possibilities, even experienced cruise travelers, once chastened, turn to the experts – travel agents. In fact, according Cruise Lines International Association (CLIA) 2015 State of the Cruise Industry Report, seven out of ten cruise travelers (70 percent) use a travel agent to plan and book cruise vacations.
"Travel agents that specialize in cruise vacations can help both first-time and veteran cruise travelers find the best cruise options for their travel style as well as help them take advantage of the best deals and promotions available," said Cindy D'Aoust, Acting CEO of CLIA.  "In addition to providing travelers with a stress-free vacation planning experience, there is no cost to a traveler who uses a travel agent."
Here are some of the reasons cited by CLIA why travelers are best served by a travel agent when booking their cruise:
A Trip Tailored to YOU: Travel agents not only handle booking travel, but can help find the best cruise for every traveler.  A travel agent can create a perfect travel experience based on preferences, tastes and travel hopes. A great agent can also help find unexpected activities and destinations that fit travel styles to create a once-in-a-lifetime cruise experience. For example, are you a Francophile with a penchant for finding the best local cuisines wherever you go? Your agent can help book a perfect Parisian cruise and maybe even provide tips for finding the best crepes and macaroons during shore excursions.
An Expert at the Ready: Travel agents are a wealth of travel information with plenty of real-world travel experience. Cruise-focused agents go through extensive training as well as visit ships regularly to provide incredible travel advice. Agents work with a variety a cruise lines so they make a great resource for any questions regarding differences in cruise ships or destinations. Agents can also provide counsel to travelers thinking about everything from travel insurance to dining times to cabin location.
Discounts & Deals: In most cases, travel agents have access to deals and discounts that aren't available to consumers booking directly. Agents sometimes have the ability to book-in-bulk so clients are privy to lower pricing for booking through an agent. As a bonus, the majority of agents are paid through commission so there isn't an out-of-pocket expense for their services.
Perks & Personalized Travel: Travel agents want travelers to be happy and what is one way to make that happen? Perks! Most agents can offer clients incredible perks, like complimentary bottles of wine, prepaid gratuities and onboard spending money.  In addition to fun extras, agents can also arrange personalized travel details for your cruise like gluten-free dining or post-cruise transportation home.
A Stress-Free Travel Experience: For a stress-free travel experience, identify a credentialed cruise specialist. Many agents become accredited cruise counselors through CLIA's Seascape Academy or take courses through the different cruise lines to elevate their expertise in cruise vacation experiences. These travel agents are committed to providing the best travel experience for every client every time. This leaves the logistics to a professional, giving travelers someone in their corner if things go wrong. If a flight is missed or excursion is cancelled, an agent can handle refunds and logistics to take the stress out of traveling.
And, perhaps, if the cabin turns out to be disgusting and cruise experience lacking in so many ways, there is someone to tell that may be able to make it right – now or the next time.
Related Posts: