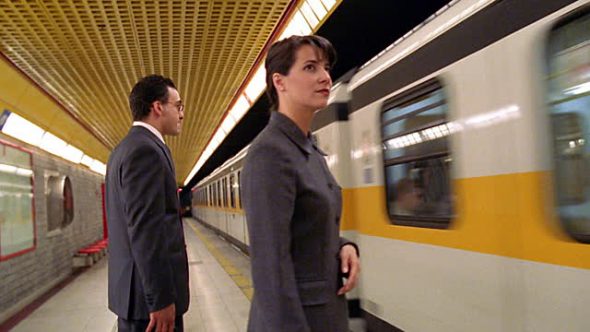 Travel, whether leisure or business, is stressful. But for business travelers this can be particularly true. From flight cancellations to lost luggage, a new survey reveals that business travelers experience a higher level of travel stress due to the gamut of anxiety-inducing scenarios that leave them worried and anxious. Mix in unforeseen circumstances within the global climate, and the stress level increases even more. The reality, though, is that business travelers still have to travel.
The research, compiled by Booking.com, surveyed over 4,500 business travelers across eight countries. Findings highlight that although a third of business travelers generally feel positive about traveling for business (39%), the biggest stressors for those traveling internationally for business stem from the logistics of their travel, with a staggering 93% feeling stressed at some point on their journey.
A combination of pre-travel planning, booking accommodations, arranging transport, managing expenses and receipts, and navigating the destination, combined with a lack of sleep, has the potential to leave business travelers weary and strained. That's all before the important meetings and actual work have even begun.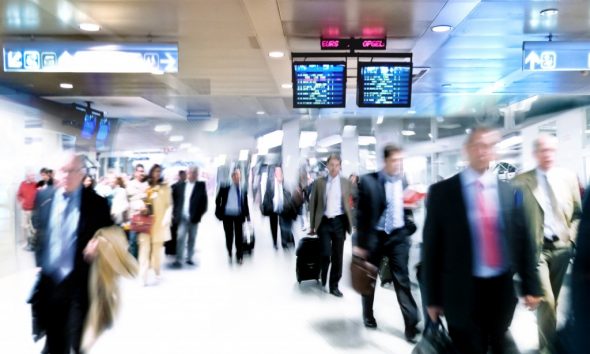 TOP CAUSES OF ANXIETY FOR AMERICAN BUSINESS TRAVELERS
Missing a flight / train: 32%
Language barriers: 26%
Possibility that luggage will be lost: 22%
Unfamiliar surroundings: 21%
Getting around the city: 18%
Losing important documents (e.g. passport, presentation): 18%
IT setup / whether devices will work: 17%
Meetings being cancelled: 16%
Presenting to / meeting with people for the first time: 16%
Cultural norms / differences: 13%
Losing a company-owned device (e.g. laptop, mobile phone): 12%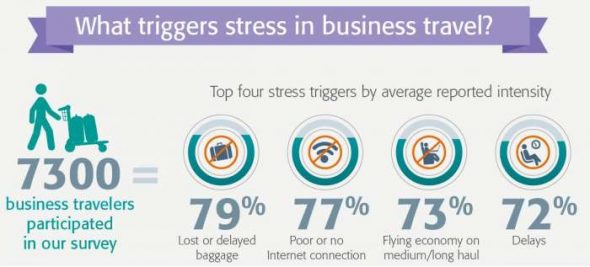 AIRPORT ANXIETY
Airports are the biggest source of angst for American business travelers. Among their least favorite things about international business travel, delays and cancellations topped the list, with half (47%) of business travelers complaining about this. One in three (32%) say missing their flight is their biggest concern. As would be expected, jet lag (42%) and airport security queues (26%) are also disliked.
TOUCH DOWN TROUBLES
Touching down in a foreign destination can feel exciting and adventurous for those on vacation but for business travelers, it can be a different story. The research shows that worries don't end at the airport, with one in four (26%) feeling anxious about language barriers when they reach their destination, and one in five feeling uneasy about being in unfamiliar surroundings (21%), and cultural norms and differences (13%). In addition, more than one-third say one of their least favorite things is being away from family or friends. Men (40%) are slightly more likely than women (34%) to feel this way.
Research commissioned by Booking.com and independently conducted among 4,555 people (18-65) across the USA, UK, Germany, France, Spain, Japan, China, Italy who had traveled internationally for business four times or more in the past year. Research took place from 29th of January through to the 11th of February 2016.