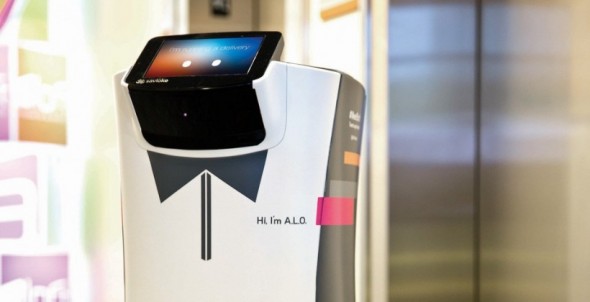 Your next bellhop may actually be a robot if a cyber experiment at Aloft Hotels takes off.  Starwood's tech-forward brand flipped the switch on a new concept in service staff – a "Botlr" or robotic butler that can assist in delivering amenities to guest rooms and modestly accept tweets for tips.
The R2-D2-sized machine had its close up last month at the Aloft Hotel in – where else? – Cupertino, CA located ever so conveniently across the street from the Apple Computer campus. The machine, named A.L.O., is pulling its weight as human staff at the hotel place items in a bin it holds and taps at the room number on its touch screen interface. The Botlr chirps back the room number ands heads off the elevator for a smooth reconnaissance with the room occupant.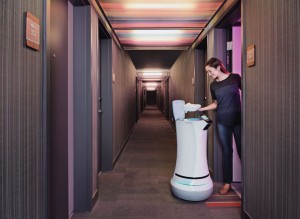 "As you can imagine, hiring for this particular position was a challenge as we were seeking a very specific set of automated skills, and one that could work – literally – around the clock," said Brian Robits
McGuinness, Global Brand Leader, Starwood's Specialty Select Brands. "As soon as A.L.O. entered the room, we knew it was what we were looking for. A.L.O. has the work ethic of Wall-E, the humor of Rosie from The Jetsons and reminds me of my favorite childhood robot, R2-D2. We are excited to have it join our team."
The squat assistant is "dressed" in a custom shrink-wrapped, vinyl collared uniform and nametag. It is hoped that this latest addition to the staff will not only free up the time of other employees, allowing them to create a more personalized experience for guests, but will enhance the hotel's current tech-forward offerings, which are ever so popular among the Millennial markets that the brand is targeting
A.L.O. comes from the labs at Savioke – a new company focused on developing and deploying robotic technology in human environments founded last year in Santa Clara, CA. The Botlr represents first iteration of robots. A.L.O. was designed for rudimentary tasks and hospitality. Transitioning to its new role as Botlr, A.L.O. will now facilitate and prioritize multiple guest deliveries, communicate effortlessly with guests and various hotel platforms, as well as efficiently navigate throughout the property – including the elevator – with ease. Already Aloft is known for its industry-first smart check-in program, "Cool Concierge" program and piloting Apple TV in-room services.
A.L.O. officially reported for duty on August 20 at Aloft Cupertino, with several new Botlrs to join in the upcoming months. Aloft operates 100 hotels currently or opening soon in 14 countries and calls itself the hotel for the "always on" next generation of traveler.
Related Stories: