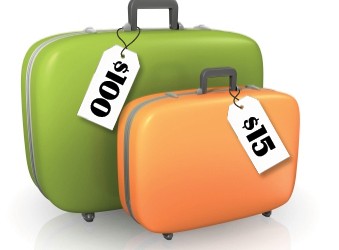 With air travel rising and seat size shrinking it is not surprising that IATA (International Air Transportation Association) is proposing a new carry-on bag size and that size is significantly smaller than the current standard.
Problem is, most carry-on bags are operating in the current 22 x 14 x 9 inches in their dimensions, while new dimensions are reading 21.5 x 13.5 x 7.5 in a world where every half-inch counts.
While passengers may start to fret (and sweat) as their ever-trusted totes are snagged on the gangway portal and stuffed into bag measuring devices they no longer fit, luggage companies, too, are feeling the pinch. They may have to replace shelves of heretofore "perfect" overhead luggage items with those costly little adaptations.
As it now stands, the proposal remains to be implemented. And many luggage brands are hesitant to board the IATA's "perfect bag" initiative because they're concerned that American travelers need more space and are unsure that the new proposed size will fit their needs.
"At this point, only two of the more than 200 brands that carry luggage for eBags.com have even hinted at the possibility of integrating the IATA's proposed sizing into their collections," says Bill Van Ess, Director of Merchandising for Luggage and Travel Goods at eBags.com.
So what does this new proposal mean for travelers? For the foreseeable future, U.S. airlines will continue to allow passengers to fly with the current standard carry-on size of 22 x 14 x 9 inches. In light of the potential change, however, three types of bags can make the waiting process easier to bear.
SwissGear Travel Gear 20″ Exp. Spinner Upright
For people flying internationally, a carry-on made from soft material is recommended. This way, bags that aren't overpacked can easily compress to fit into tight overhead spaces or under the seat. With a telescoping locking handle system and spinner wheels that offer 360° mobility, the SwissGear bag has an expandable, fully-lined interior. It includes tie-down straps to secure garments and inside zipper pockets to hold small items and accessories. It also contains convenient exterior front pockets for last-minute add-ons or personal items to keep within easy reach.
TLS Professional Weekender
For those planning flight on a regional jet, it's important to keep in mind that overhead bin dimensions are quite a bit smaller than on traditional carriers. For general travel and accommodation on regional jets, the TLS Professional Weekender offers a hands-free professional laptop carry-on that breezes through TSA inspection, has multiple compartments for super organization, and is fashioned in a sleek all-black style.
Travelon Wheeled Underseat Carry-On with Back-Up Bag
Because overhead bins often provide limited space, taking advantage of area under the seat offers alternative storage and easy in-flight access to belongings. The Travelon bag was designed for this convenience. This bag features a large main compartment for clothing, shoes, and other belongings. It also offers three interior organizational pockets for keeping smaller essentials such as office supplies, cosmetics, medications, and small necessities neat and handy. Two zippered PVC mesh pockets on the inside front panel provide easy accessibility, and a separate cooler compartment even keeps snacks and beverages cool. A full-sized backup bag folds away for laundry or extra storage and comes with an Add-a-Bag strap on the back to attach it to the wheeled carry-on.
While there's no need to throw out perfectly good carry-ons and permanently replace them with the new IATA proposed size, finding a bag that is versatile within current regulations will help to make flying easier on busy travelers.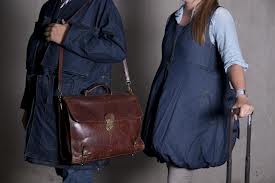 Why Carry When you Can Wear It?
Should you wince at that thought of replacing your perfectly good carry-on with a slightly smaller version of the same, and get a further blast of disgust knowing airline profits are skyrocketing these days due to baggage and other fees, consider ways to get around check-in fees and carry-on conflicts with these five "bag it" tips.
Leave your carry-on and suitcase at home. Outsmart airlines by wearing your luggage with a luggage jacket.
Pay for your flight with an airline-affiliated credit card that offers a free checked-bag benefit.
Fast track your way to preferred status to get free checked-bag benefits.
Purchasing a business or first-class ticket often entitles you to a free checked bag.
Only fly on airlines that do not charge fees for checked bags.