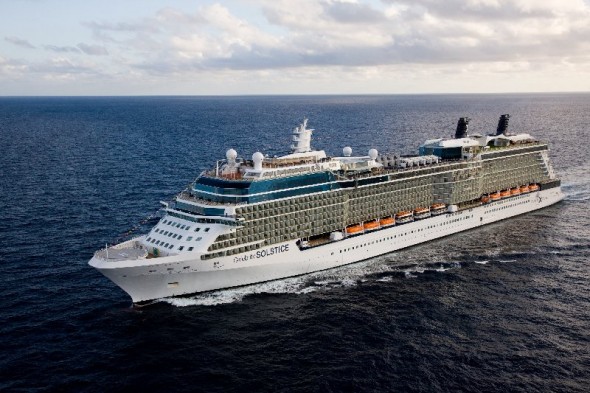 By Bill Becken, Cruise Editor
Q. You've said the Solstice has repositioned in Seattle in order to offer expanded capacity to Alaska. What was behind this?
Alaska is already a very well-addressed market by all the cruise lines. It's a crowded market. Of course it's hard to say we've had a clamor for more berths to Alaska. But the thinking behind this repositioning is a) from a brand standpoint, our only West Coast presence is during the Alaska season. And b) at the same time, Alaska is an important destination for us. For one thing, our guests consider it a popular destination — it's a very desirable one. We've always been in Alaska. We always had three ships doing Alaska. We just moved one ship out to Europe, and moved the Solstice into the market. So we stayed, capacity-wise, about the same — a small increase. We substituted the newer Solstice for a Millennium (the Solstice is a little bit bigger than a Millennium class vessel). So the strategy was to put our best hardware, our Solstice class hardware, on the West Coast, to give people an incredible vacation experience and differentiate ourselves from the competition, because Alaska can be a very competitive destination.
Q. What is the largest ship doing Alaska? 
Good question. The Solstice can still cruise everywhere the Millennium did. There are no restrictions competitively, none whatsoever. We're offering agents a little more capacity from Celebrity, and, we believe, the best ship doing Alaska…you think of Alaska and it's not like there are places Celebrity can go and our competitors can't or don't. Alaska is pretty straightforward. We want to win on the hardware. What we've seen so far is that the guests do pay more for this product, compared to the Millenium class and compared to competitors. Yes, we are the price leader in this space.
Q. What are some benchmarks in this space, and do you attempt to compete on them? For example, Disney's treatment of kids on an Alaska cruise?
No, not necessarily. As to that example, Disney caters to children and takes care of adults. At Celebrity, we cater to adults, and we'll take care of your children. That's the thing: Alaska is a family destination, very driven by families. And that's why we bring so much to the plate. To make sure that everybody within your group will be happy. The kids will be happy, the parents will be happy.
Q. Are excursions on Alaska cruises commissionable?
There are excursions on our Alaska cruises, but they're not commissionable. We do pay commissions on group excursions; we just don't pay them on excursions for individuals.
Q. How do you account for the happiness of the full range of passengers you carry?
Basically, this is part of our challenge as brand managers. We have 2,800 guests onboard the vessel. We recognize that everyone's vacation is vitally important. How do you provide different avenues and different venues for them? Once we changed the look on this ship, it really changed the dynamics of who was coming aboard. We started to see our average age drop. After the introduction of the Solstice class worldwide, we started to see a younger demographic coming aboard. But we also said, with this new modern luxury look and feel, we needed to become a little bit more open, fun, exciting, with or product. And that's why we've spiced up, for example, our music, making it a little more lively – an ambience that says even if you're a 45-year old, at 10:00 p.m., the ship hasn't shut down. You can get your fill of music, you can go hang out. So how do we engage the customer while they're on the ship, how do we make that experience more lively and fun? That was something we wanted to do. How do make the ship cooler and hipper? More fun? I think we've pushed up the bar nice and far—perhaps even a little too much for more traditional guests, but that's a very subjective matter.
Q. Regarding Canadian agents, any thoughts as to what the impact will be on them, how they'll be placing clients on this ship, what the demand will be among their clients, etc.
It's funny. We also have ships leaving Vancouver to Alaska, the majority of the ships based in Seattle are sourced by agencies within the U.S. The vast majority of guests who go out on our ships out of Vancouver, are Canadians. It all has to do with that border, the crossing of that border, although it's a couple of hours away. In terms of bookings, though, we have seen more Canadians come south to get on the Solstice in Seattle to do Alaska.
Q. What was the genesis of 1-2-3 GO? What thought went into it? How was it conceived and how did it come about that you enacted it? When it was conceived, and when did you realize that it was a winner?
It was conceived simply as the logical extension of the fact that we didn't want to compete on price. How can we own our segment without getting down to the least common denominator, which is price? How do we protect our brand integrity? We posed this question to our whole sales-marketing-revenue management team — our whole senior leadership team. At the same time, knowing that wave season is our busiest time of the year, the January-March timeframe, we actually asked how can we be the most aggressive we've ever been: that was the key point. We wanted to be aggressive, value-focused and hit 'em right between the eyes and say this is an incredible deal. That was really the foundation of we wanted to be aggressive at a time when the consumers are buying the most vacations.
Q. Some agents have said that 123-Go is finally a cruise line program where the incentives are funded. Is this so?
Yes. Let's just say the price of a cruise is $2500. We will take the value, instead of lowering the price to say, $2000, we will take the price and add amenities funded by the cruise line. We pay gratuities, we give the customer an onboard credit, so the price isn't adjusted. So we're adding value, we're not lowering the price. More importantly in an agent's case, what the agent is happy about is his/her commission is higher, because I'm paying them the commission on the higher amount from that perspective.
Q. He/she gets discretion in charging for the extra amenities?
Yes, because we're funding that, that doesn't come out of his/her pocket. And it's a great message to the consumer as well. So the one thing we were seeking with 123-Go is, we were creating a lot of demand for our travel agency partners, because of the value. Even though the price point may have been higher than what competitors may have been in the marketplace with, the consumer said wow, I still get a better value with what Celebrity is offering me versus just the low price point in the marketplace.
And it does a lot for our brand, it really makes sure that a) our proposition to the consumer is strong; b) our relationship with our travel agency partners is stronger through this; and c) and it protects our brand, because we're not out on the marketplace racing to the bottom. We prefer to stay on top and compete on the value versus price. If I have to compete on price, I'm going to lose. There will be someone dumber than I am. I want to compete on value, and I think I can control and can win in that situation more times than not.
Q. What are you planning for the program—in terms of the future, how you might evolve this?
123-Go is not a platform available 365 days/year. It was a sale. We did it during our wave portion of the year, which was in Jan. And it lasted thru March timeframe. Came out with it in early Jan, 2013. Went through March came back into marketplace sometime late March. Right now it's not in the marketplace. It's a strategic sales platform and promotion. That's all. That will be used strategically throughout the year. Best case, probably 3-4 times a year, we'll go into the marketplace with a big sale. Because the key thing with 123 Go was it was very robust and rich. Of course we couldn't do it every day of the year. So we really want to make sure when we go, we go big. And that's the key with that.
Q. Can you give five bullets about how you work with agents to fill ships?
Create demand for the agencies. That's part of our job, demand creation. So make their phones ring. That's number one, the most critical part.
Work with our travel agent partners to extend our reach to consumers. And that's also important.
Work collectively together to market—we don't want to throw 100 darts at the board and hope 10 stick. We want to target market our consumer—what is the right consumer.
Segment their database. Work w/our partners to help them segment their database. Here's what the different segments are like. So that we're going after the right consumer, versus the wrong consumer per agency.
So the approach we have with them is we went to them and said let us help you market, take your database, segment it and say, break it down a bit. The agent can now say: I only want to market to this group because I think this group will have a propensity to like my brand. These other groups are price shoppers, they're buying low end, now I don't have to waste my marketing dollars going after them — l can go after the right segment.
Q. The agents can't figure all this out themselves?
The smarter ones can, those who have time. But not necessarily all of them. And we couldn't figure that out until recently, because it takes a lot of technology investment to become savvy in segmenting your database. First of all, do you have a database? Secondly, how do you segment it? Do you have the right information about your guests? So as to help you become a better marketer and seller? The last way we work with agents is training. Helping our partners get their staff trained to be able to understand our brand, our value proposition, so they feel comfortable selling it.
Q. Do you think, vis-à-vis Carnival or Norwegian or other RCCL brands, Celebrity is doing something special with training that is more vigorous?
Yes, Celebrity has to be sold. If you think about those brands you mentioned, they push people into the agencies. It's the push-pull strategy of marketing. Those other brands are so big and their awareness so strong, and their marketing budgets so big, they're in effect pushing consumers to the retail front door. For Celebrity, the agent has to sell our brand. A client will come in and say I want to go on that Royal Caribbean ship, or I saw a commercial for Carnival I want to do that one. That's the push. We, on the other hand, have to pull someone who comes in and says I want to go on a 7-night Europe cruise, help me understand, here's whom I'm going with, so the agent has to a) qualify the guest, understand the purpose of the vacation ("is it you and your wife?"), is it you and your extended family are you celebrating an anniversary, how many kids, how old? Just to make sure that the travel agent is putting the right guest on the right product at the right time. Because there may be times when the Royal Caribbean brand may be best suited for their (intended) vacation experience. But there are also times when Celebrity will be the best vacation. So qualifying guests is incredibly important for that decision. That's one of the things we really focus on in the training: are you asking the right questions? Qualify what the guests expectations are of the vacation experience.