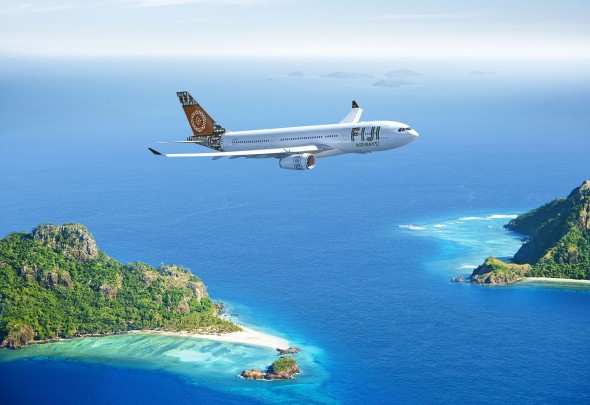 Travel-Intel speaks with Fiji Airways CEO Stefan Pichler about the airline's push to become viable and bring needed lift to boost tourism to Fiji from the U.S..
Fiji Airways recently rebranded from its former Air Pacific days and brought on Stefan Pichler as CEO to take the new airline into a new decade. Pichler, who has had chief positions at Lufthansa, Jazeera Airways, Virgin Blue and V Australia is known for successful launches and airline turnarounds but also knows the travel industry well from time spent as CEO at Thomas Cook in Germany.
The following is an interview with Fiji Airways MD and CEO, Stefan Pichler.
Describe Fiji Airways now verses before 2012 when it was Air Pacific.
I can only describe the situation, which I inherited when I started in September 2013. At that time, there was a lack of leadership and direction as the previous CEO had relocated to the US a year ago. You can't lead people via Skype. Some important decisions had been implemented, such as the re-painting of the aircraft or the replacement of the old Boeing 747 by A330, but there was no corporate strategy in place. So, we started to develop a Strategic 5-Year Master Plan that got approved by our Board in December 2013. This was a financial plan, setting profit and cash flow targets for every year. And, as a consequence, it was also a growth plan, as we needed to add frequencies and destinations as well as people and aircraft. And now, we execute this plan diligently.
Well, Fiji is a global consumer brand and Air Pacific wasn't. So, we had to align to our country, Fiji, and capture all the synergies that arise if more than one player tries to leverage this high-end brand: Fiji Tourism, Fiji water etc. – we all share the family name. In this context, we also just re-branded our regional carrier, Pacific Sun, into Fiji Link. So, mother and daughter share the same name…
What were some of the reasons Air Pacific was losing profits and how does Fiji Airways differ from the former airline in regard to those reasons?
Well, the company lost money in 2008 and 2009, and this was partly because they made the wrong calls in hedging fuel. In the years 2010-2012, the company moved out of the Qantas umbrella to become a stand-alone airline. The underlying operational results for this 3-year period were around break-even. Now, from this year on, we are supposed to make strong operating profits, and so far, we are on track. Half-year results will be published soon.
Please describe your 5-year plan and how Fiji Airways is on schedule to meet the goals of this plan.
We are on track with our plan. Our staff is motivated, we have revamped the network, signed new deals with such airline partners as Etihad Airways, and enhanced our existing deals. We just re-launched our onboard product to better meet customer expectations. And we have improved our on-time performance from 55-60% (Jan to Aug 13) to what is now a consistent performance above 80%. We micro manage our operations. We incentivize management and staff, as we just paid a profit share to every eligible team member for 2013. And we will pay dividends. We want every stakeholder to be a winner.
Details of Fiji Airways' 5-year plan.
Please describe how the Fiji Airways product – i.e. the service, the cabin experience, the flight amenities, differ from what might have been experienced through Air Pacific?
We just introduced a revamped onboard product for our international flights. Hot meals in Economy Class instead of the sandwich boxes, a choice of meals designed per destination, more vegetarian options, the upgrade of our breakfast experience and – to be introduced by 1st September – a new Business Class experience: with an hors d' oeuvre together with a welcome drink, a signature cocktail, and a partnership with one of the famous Fijian chef de cuisine (Lance Seeto) in order to create Fijian designed food that tastes the same when consumed on board a flight. Of course then there is the sleeper service, free in-flight entertainment, a new and exhaustive Duty Free offering with global consumer brands as well as truly Fijian brands.
Please address for a moment how FA might be a great choice for business and leisure travelers – perhaps there are some services and amenities that would particularly appeal to this traveler or some routes, promotions, flexibilities they should know about.
As mentioned, we have an enhanced sleeper service, our Yadra Vinaka Service. You can take your meals and drinks whenever it suits you. We will also introduce a Business Class signature dish designed by renowned Fijian Chef Lance Seeto. We will offer a la carte dining to deliver a more personalized service on all of our long haul flights. Finally, we have changed our wine menu to complement the flavors of the main meal.
Please discuss Fiji Airways' approach to the U.S. market: market share perspectives, expansion plans, route plans. How important is this market to the airline and why?
We are happy with the performance of our flights to Los Angeles and Honolulu and the American market has bounced back after a weaker 2013 year. We plan to increase frequencies, just added another flight to LAX and we are also working closely with American Airlines to enhance our partnership and the offering of interline fares and code share flights ex US and Canada.
In what ways is the airline working hand in hand with the Fiji Tourism Board to ease travel to Fiji from the U.S. and enhance the country's viability as a major tourism hub?
We all promote Fiji and try to capture synergies in our marketing activities. Thankfully, the brand positioning of Fiji as a holiday destination in targeting niche markets is consistent. So, it makes it a lot easier for us to join forces. And we have to with this agency, as tourism accounts for around 38 % of the GDP. Fiji Airways is in the process of developing a new brand campaign, which will complement and also add to the efforts of Fiji Tourism.
Related Stories: