As Norwegian Cruise Line prepares to launch its 16th ship this June, Travel-Intel looks at the features and amenities in store. For starters, expect to find the largest onboard race track on the seven seas.
The Bliss will sail to Alaska and the Caribbean with select voyages to the Mexican Riviera beginning next year. And, of course, it will carry with it many firsts as cruise ships go.
Following the popularity seen aboard Norwegian Bliss' sister ship in China, Norwegian Joy, guests will be able to put the pedal to the metal for the first time aboard a North American-based cruise ship with a two level electric-car race track. The competitive 1,000-foot track, the longest at sea, will feature many twists and turns with four speed settings accommodating novice, intermediate and advanced drivers, who will be able to reach up to 30 miles per hour with a special "turbo boost" available on each lap. The electric cars are quiet so will not disturb passengers seeking the quieter joys of sailing. Still race car drivers will have the full racing experience as the sounds of a race car engine are piped in through speakers located in the car's headrest.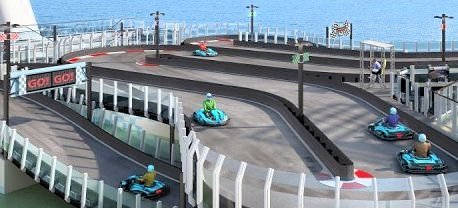 After burning rubber at the race track, guests can test their agility at the open-air laser tag course. Themed as an abandoned space station, the course comes to life both day and night as guests go into stealth-mode and compete against family and friends with state-of-the art laser guns.
After working up a sweat, guests aboard Norwegian Bliss can cool down at the ship's expansive pool and sundeck featuring two pools and six infinity hot tubs that scale the side of the ship. The ship's Aqua Park also includes two multi-story waterslides. Not for the faint of heart, the high-speed Ocean Loops free fall slide includes two exhilarating loops, one that extends out over the side of the ship and a second see-through loop that stretches down to the deck below, sure to offer a wet and wild ride. The tandem Aqua Racer slide allows guests to race side-by-side on inner tubes for more than 360 feet, with a translucent section that provides stunning ocean views as guests twist and turn to the finish line.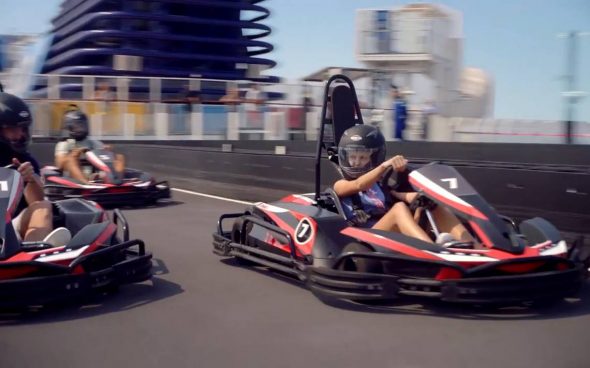 Junior cruisers can splash and blast at the Kids' Aqua Park, a watery wonderland of splash pads, water cannons, tipping buckets and slides. Kids will also enjoy the ship's Splash Academy, the fleet's complimentary youth program. Centrally-located on Deck 5, Splash Academy will offer age-appropriate supervised activities for children aged three to 12 with fun and energetic programming including games with the conservation-minded Officer Snook, a circus spectacular celebration, jungle-themed nights and more. Teens aged 13 through 17 will enjoy their own space aboard Norwegian Bliss on deck 5, Entourage, adjacent to the ship's arcade. The exclusive teen space features plush lounge furniture, gaming stations, foosball, air hockey and a dancefloor with neon lighting, as the space transitions to the hottest teen nightclub at sea in the evening hours.
Foodie Fare and Bliss
Foodies and cocktail connoisseurs will be able to dine, sip and savor with a breadth of dining and bar options aboard Norwegian Bliss, including signature Norwegian favorites as well as exclusive new concepts that will debut aboard the line's newest ship.
Modern décor and premium ingredients will meet southern flavors at the all-new Q Texas Smokehouse, where guests will be able to tap their boots to the beat of live contemporary country music each night while binging on authentic Texas barbeque in a sleek urban setting.
The flavors aboard Norwegian Bliss head south to the Los Lobos, offering an upscale, modern take on traditional favorites like fresh guacamole prepared tableside, al pastor tacos, enchiladas de mole, handcrafted margaritas featuring private-label Patron Barrel Select, Norwegian's own tequila blend.
Sweets and treats will be served up day and night at Coco's, a completely new à la carte dessert venue located on deck 6 in the heart of the ship. Chocolate in an enclosed oversized fountain will adorn its entranceway. The chocolate-themed dessert restaurant will feature handmade pralines, truffles, crepes and other decadent treats paired with fine coffees and teas.
In a nod to the ship's homeport of Seattle, Alaska-bound guests aboard Norwegian Bliss can warm up with a Caramel Macchiato or grab a Shaken Iced Green Tea Lemonade to sip on while lounging on a pristine Caribbean beach with a full service Starbucks store on board. Guests can start their day with Starbucks coffees, teas and bites available à la carte.
Norwegian will bring together the best of its specialty dining experiences aboard Norwegian Bliss with signature à la carte restaurants including French cuisine at Le Bistro; the tastes of Tuscany at La Cucina; the finest fresh seafood at Ocean Blue; global fusion cuisine featuring sushi, dumplings, and handhelds at Food Republic; Cheeseburgers in Paradise at Jimmy Buffett's Margaritaville at Sea; and handmade cupcakes and macarons at The Bake Shop. Teppanyaki, the brand's Japanese hibachi steakhouse will also be onboard at cover charge pricing. Complimentary dining outlet The Local will offer guests pub fare in a relaxed neighborhood atmosphere 24 hours a day.
Norwegian's original beverage concepts will round out the ship's culinary offerings. The A-List Bar, named for Norwegian President & CEO and 30-year veteran Andy Stuart, will serve handcrafted cocktails, wines and premium spirits. The District Brew House will serve 24 beers on tap and more than 50 bottled beers. Local favorites on tap at The District will include craft beers from Red Hook Brewery and Elysian Brewery in Seattle as well as Wynwood Brewery and M.I.A. Beer Company in Miami. The Cellars, A Michael Mondavi Family Wine Bar will offer a curated wine list featuring 35 grape varietals including top selections from Washington-area vineyards, Tuscany and Michael Mondavi's own Napa Valley Estate. Paying homage to her homeport cities, Norwegian Bliss' beverage program will also feature a selection of local craft cocktails developed by Seattle-based celebrity mixologist and chef Kathy Casey as well as Miami-based Gabe Orta, one of the master curator's behind the city's ultra-popular BarLab concepts.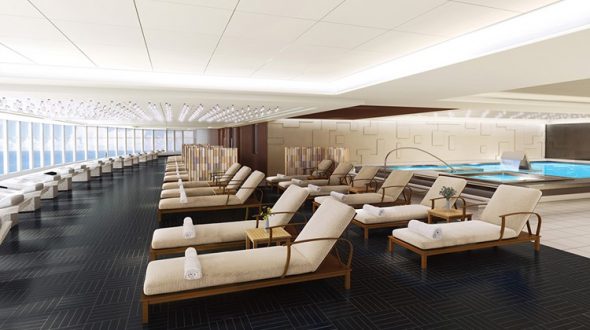 Bringing in the Great Outdoors
During her inaugural summer season, Norwegian Bliss will sail weekly seven-day Alaska cruises each Saturday from Pier 66 in Seattle. Unlike any other ship sailing the West coast, Norwegian Bliss will feature The Waterfront, a popular feature that debuted on Norwegian Breakaway in 2013. The outdoor promenade is designed to enhance guests' connection to the ocean with al fresco dining, bars and lounge spaces and offer spectacular views of Alaska's breathtaking scenery and wildlife or the Caribbean's stunning turquoise waters.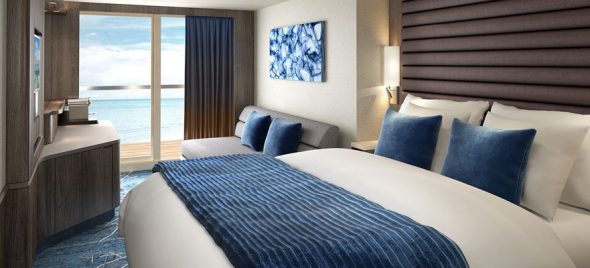 At approximately 167,800 gross tons and accommodating 4,000 guests, Norwegian Bliss is currently being constructed at MEYER WERFT in Papenburg, Germany and is scheduled for delivery in Spring 2018.
Contact: bliss.ncl.com