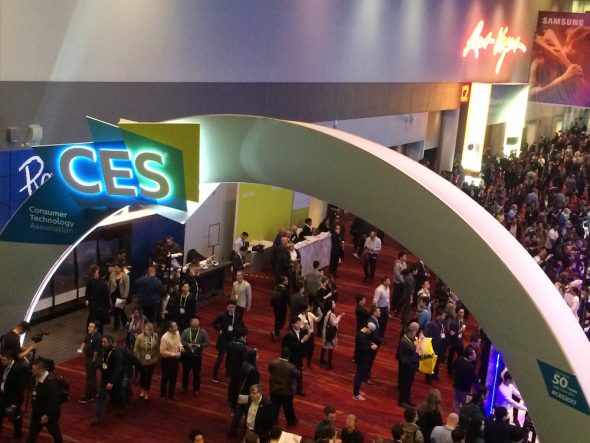 Whether it's the post-holiday blues, the winter season blahs or the burn for spring break, most of us are ready for a warm weather vacation. But, at CES 2017, much of that "anywhere but here" drive saw unexpected solution in a barrage of Virtual Reality gadgets that may begin to define what travel becomes in the future.
Indeed, being surrounded by beautiful beach scenes and soft wave sounds through earphones and awkwardly proportioned goggles might make for a nice 10-minute distraction, but it is no substitute for a special, long-needed break. At CES this year, forward thinking designers and exhibitors offered plenty of gadgetry and technology for travelers – from the quirky, such as remotely sending your dog treats through a wall mount or teasing your cat with a laser toy from 3000 miles away, to the practical, such as a handy lighted compact mirror that doubles as a charger.
Formerly the Consumer Electronics Show, CES has come a long way from its debut 50 years ago as the celebrated showcase for what was mostly the latest in console-heavy television products. This year, those units are sleek, curved, paper-thin 4K entertainment systems that turn on and change channels with voice commands that also operate the fridge, the temperature, the stereo and the blinds.
You want to get into your hotel room or cruise cabin, there is a wearable for that, through which you can also order drinks and dinner and buy perfume. There are beds that sense your snoring and lift your head, cool you down, warm you up or give you monitored support while you sleep.
CES 2017, held in Las Vegas earlier this month and celebrating its golden anniversary, was a full treasure trove of odd lots mixed inside a morass of self-driving auto prototypes, more sophisticated and affordable virtual reality set-ups, robots that showed promise but still did little of use, multitudes of drones, and voice command house functions that Alexa will still screw up most of the time.
For those planning their next vacation, CES always produces some hidden finds that make traveling more fun. Here are ten gems from CES 2017 for travelers seeking the latest in consumer electronic gadgets for comfort, pleasure and transport efficiency, and that may make life a little more interesting.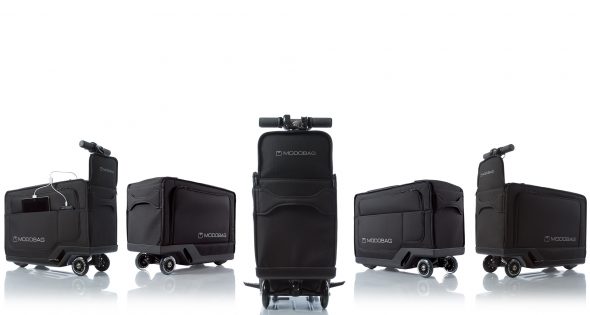 Your luggage as a motorized vehicle. If you could ride your luggage like a Vespa, would you? One luggage company is betting you would and has created a carry-on bag for those frequent flyers that want to maximize the dash to the departures gate. The hard case bag weighs about 23 pounds (watch out for the stuff you put in it if you want stay within carry-on weight restrictions for many international carriers), is made of high strength ballistic nylon, includes a lithium ion, dual port Smart Charger and an electric motor powered by UL lithium batteries that can keep the case driving for about six miles (based on carrying a 180-pound driver). You can whip through airports at speeds of up to 8 mph, using the quick release foot pedals for acceleration, the extendable towing handle for steering and the dual-wheel breaking system for near misses. No license required. The Modobag is TSA, FAA and IATA compliant and will be priced at around $1000 when it comes out this spring.
Your phone wrapped around your wrist. No, this is not an Apple Watch; it's your phone, wrapped like a bracelet or band around your wrist. Ok, why? Because thinner is always better. The phone measures 6mm in thickness and weighs a mere 3.5 ounces. It acts as a regular phone that can lie flat and rigid and it acts as a fitness tracker/heart monitor/calorie counter and all things app-friendly as it hugs your wrist and eliminates one more thing to keep track of. Humorously called Gumby's lost cousin, the phone offers 3G connectivity, can fit a SIM card, and runs off the Android OS. The Royole Flexible Phone is priced at $299.
Your computer in your palm. This 2" by 2" device packs a lot of power as it merges LTE hotspot functionality with a network-attached storage operation. You will be able to store up to 2 TB of information, data, programs, photos, music, movies, whatever you want to access from your computer-driven menagerie from anywhere via Wi-Fi. The power cube contains a Samsung SSD storage unit and a Samsung Exynos 7420 processor to make all of your digital content within reach across all your devices wherever you are. The casing is waterproof and shock resistant and weighs as little as three ounces. For a small item, however, the LINK will come at a big price when released in April, starting at $349 for 256 GB and ranging up to $1,150 for the 2 TB option.
Your doodles and notes popping from pad and paper to your smart devices instantly. This technology by ACECAD has been a long-time coming, starting, perhaps with Newton message pad in 1993. The evolution in tech notes has led to a new writing pad to which you affix a regular piece of paper or note pad and write with your favorite pen but you will still be able to port all your notes and drawings directly to your PC or Smartphone instantaneously through a downloadable app. The writing pad features more than a thousand levels of pressure sensitivities to know exactly what is being scribed or etched. The ACECAD PenPaper 5×8 digital notepad is connected to devices via Bluetooth and sells online for around $140.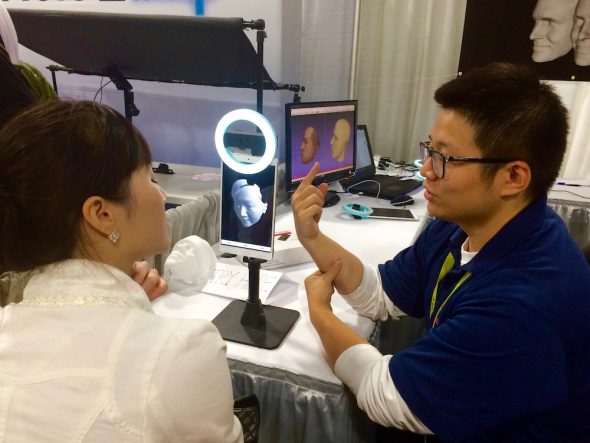 Your thoughts moving mountains. It may feel like a modern-day remake of My Favorite Martian as you don the smooth black headband and begin focusing hard to communicate your thoughts. In your hand is a Smartphone with an app that tells you just how hard your are concentrating – in numbers: 33, 34, 35, going up. At CES, the headband and phone connected wirelessly to a computer that was wired to a robot. At about 38 or so the robot began to move and up when its left arm, the command I fired firmly in my brain. Mission accomplished. The headband technology called Lucy from BrainCo.tech will officially launch March 31, but its purpose will be less about making robots move than training brainwaves to attain certain frequencies to enhance focusing abilities and improve performance and productivity as partners come in for creating end-user apps.
Charging your computer on the fly or lighting up a room wherever you go. You are on an airplane, working on your computer and the battery runs out. Unfortunately, you are not sitting in the front section of the aircraft and there is no place to plug in and charge at your seat. But the Omnicharge powerbank you brought with you is strong enough to do the job. It has a smart AC/HVDC output plug, two USB ports in case you want to also charge your phone and iPad at the same time, can transfuse power from the sun and can light up a small home if you happen to need to do that, too. The sleek, black everything charger weighs as much as two large apples in convenient dimensions that will fit easily into a large hand. It comes with a generous selection of connectors, charges fully in less than an hour and offers between 65 and 100 watts of continuous power in two sizes. The Omnicharge in available as of February on Amazon and starts at $299.
Glasses that make you sleep – or stay awake. Jet lag, insomnia, we have all had it and probably have it regularly. A company in Shenzhen thinks they can fix this condition using technology developed for astronauts and high frequency transmissions of blue light. Pegasi claims more than a decade of research working with Johns Hopkins Medical School to create a product that sounds as much like snake oil as it does modern medical technology. But used correctly, the people at Pegasi Smart Sleep Glasses say it will help you fall asleep within 30 minutes, whether on a plane, in bed or in a wet dirt trench by sending lights of certain wavelengths to stimulate the hypothalamus to product less cortisol and more melatonin. At the same time, using these glasses at the right time can reduce seasonal affective disorder (SAD) and help wearers feel more awake and alive. The glasses are strange looking – a cross between Google Glass and something Star Trek's Commander Geordi might have worn, and come in a variety of colors. Pegasi Smart Sleep Glasses are also on the expensive side – around $200 and can only be purchased at the site currently.
Shielding your Wi-Fi with a protective egg. You are in a crowded café and you are about to make a Skype call, except your account just zeroed out. You need to re-up fast but do not want to be vulnerable to nearby phone hackers. Time to pull that Keezel out of your pocket. Fitting in the palm of your hand is an egg-shaped save that works secretly behind the scenes to make sure all your devices are covered from incoming info-thieves. Simply pair your phone or other devices to the Keezel, pair the Keezel to the Wi-Fi you want to use and you are good to go. The strong encryption it supplies can work in 160 countries and can be used with any Wi-Fi enabled device. The unit includes an 8000mPh powerbank to charge the devices you are protecting. The Keezel costs $139 and requires a subscription on its services, which run around $30 a year.
Carrying your gadgets with confidence and panache. Knomo of London was at CES trying to give women and men a way to take all their electronics with them and look stylish at the same time. Backpacks, clutch organizers and totes bring easy access pockets for storing tablets, phones, even a 15-inch laptop and make it possible to find what is needed without missing a beat. Focused on the analog side of creating and maintaining "a life organized," Knomo's bags do include an RFID pockets in all models, and power chargers in some. But all items are lightweight, attractive and set with right-sized pockets in the right places. Knomo bags will soon be found at major department stores in the U.S.
Wearing your wares. An easy answer to the two-bag carry-on problem is wearing, rather than carrying, your things. And while this usually cannot be done without a certain amount of embarrassment if you intend to wear all the clothes you are bringing, it can be done with ease and style for most of the electronics and entertainment items you want to wear and keep at your seat. A clothing company called SCOTTeVEST figured out a way to create pockets in clothing that will have the dual job of carrying everything from computers and tablets to hard-cover books while keeping you covered and giving you a slimming profile. Items range from vests to jackets to raincoats and cardigans, weather proof and lightweight and mostly unrevealing of the many gadgets that may be in tow. A light cardigan selection for women is especially useful as it works as a long sweater or cover to the mid-thigh, has important hidden zipped pockets and provides an attractive hood that can be tossed on the head to use as a head scarf in countries and places where such attire is required. SCOTTeVEST items are found online and run between $35 and $200.