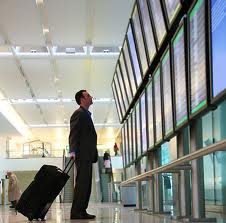 Ticket sales by travel agents may be surging but travel plans by the American public are on the wane, according to two reports this month.
A first quarter ARC report notes the consolidated dollar value of airline tickets sold by U.S.- based travel agencies increased 6.57 percent in the first three months of 2012 compared to the same period in 2011, and 18 percent over the same period in 2010 for a total of $23.3 billion, compared to $21.9 billion in 2011, and $19.8 billion in 2010.
At the same time the U.S. Travel Association released its quarterly travelhorizons™ survey that showed a hesitancy for making travel plans among a wide swath of the 2,200 U.S. adults interviewed for the survey in February. The report, executed through MMGY Global, periodically amasses what it calls a Travel Sentiment Index to mark emerging trends in travel.
"Americans are continuing to travel but intentions remain somewhat restrained compared to pre-recessionary levels, which is not surprising given the uneven nature of the modest economic recovery to-date," says David Huether, senior vice president of research for the Association. "We are carefully monitoring the on-going surge in gas prices, which could erode travel perceptions about the affordability of travel as we edge closer to summer."
The survey underscored these highlights:
Leisure Travel
The share of U.S. adults taking a leisure trip edged up to 69 percent in February 2012 compared to 68 percent a year earlier. After two years of consecutive declines, this latest news is a positive sign that leisure travel is on the mend. The number of trips taken by leisure travelers in the past year remained relatively constant at 4.0 trips.
Looking at intentions, a little more than half (56%) of U.S. adults plan on taking a leisure trip in the next six months. This is lower than the 59 percent who answered similarly in February 2011, but the same as February 2010.
Business Travel 
After falling precipitously from 39 percent in February 2008 to 24 percent in February 2011, the share of U.S. adults who took a business trip in the 12 months ending in February edged down to 22 percent in February 2012.
More than 4 in 10 (41%) of those who traveled for business in the past year were general business or "transient" travelers, while 31 percent were traveling for conference or convention purposes. The fact that general business travel was a larger share of overall business travel than the prior three February surveys signals that general business travel appears to be recovering faster than meetings and conventions.
Business travel intentions for the next six months remain essentially flat compared to a year earlier (15% versus 16%), indicating that economic growth in general will likely be moderate in the near term.
And when they finally make up their minds and commit to those elusive travel intentions, where are Americans traveling? When traveling stateside, it's New York City, Las Vegas and Orlando, according to 2012 surveys by Hotels.com. When crossing the pond it's London and Paris and when crossing the deep blue Pacific they're heading to Hong Kong or trying their luck in Bangkok, Shanghai, even Singapore, Seoul and Taipei.
Those looking for five-star value in their travels visited Warsaw, Marrakech and Cairo where the highest rated hotels go for the lowest prices: an average daily rate of less than $190.