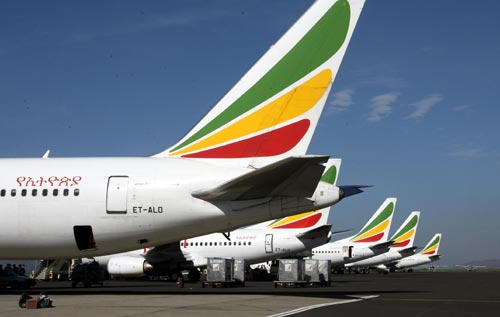 By Lark Ellen Gould
In the land of the Lion of Judah, Ethiopian Airlines (airline code ET) has proved to be a force to be reckoned with. The airline has a long and strong history that has lasted through wars, famines, disastrous politics and economic woes no country should have to face. Yet it survives and thrives as one of the few airlines in Africa that can be counted upon to get travelers to their destinations safely, comfortably and reliably.
The proud carrier remains in growth mode at a time when other carriers are puling back. Its expansion plan includes a non-stop route between Toronto and Addis Ababa that launches this month and a nearly doubling of its fleet in the coming few years to make the line as competitive as any other on the continent.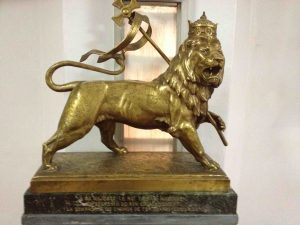 To add some sugar to the mix, Ethiopian became a member of the Star Alliance in December, expanding its marketing reach globally. The 47-craft fleet operates in the black, serving 41 international destinations in Africa, eight in Europe and the Americas (Brussels, Frankfurt, London, Milan, Paris, Rome, Stockholm, and Washington DC), and 17 gateway cities in the Middle East and Asia.
On a recent trip to Addis Ababa, Travel-Intel talked with Henok Tefera, Director, Corporate Strategy & Government Affairs at Ethiopian Airlines to find out what makes Ethiopian Airlines the force that it is. 

Travel-Intel: Why do you think ET is one of the pre-eminent airlines in Africa?
ET: Since its inaugural flight to Cairo, Egypt in 1946, Ethiopian Airlines, with a motto of "Bringing Africa Together", has made its mission to provide safe and convenient service for the last 65 years. Ethiopian's challenge of being a pioneer African airline has now been accomplished with flying to 43 destinations in Africa and we are currently working to bring the continent closer to the world.
ET operates a modern fleet of 47 with 43 new fleets on order. Ethiopian Airlines has ordered 10 Boeing 787 Dream liners and 12 Airbus A350-900s with the first Dreamliner scheduled to start operation in the coming August.
Ethiopian's well appointed, certified training center, and its maintenance and overhaul facilities have been offering services to many third parties in Africa, Asia and Middle East in addition to fulfilling its own requirements.
Travel-Intel: What challenges have you had getting to that place?
ET: Becoming a pioneer African Airline has its challenges as Ethiopian had to break ground in many African countries by competing with many non-African airlines all over the world. Garnering trust as an African airline in countries that were liberated from colonialism was one of the challenges Ethiopian faced. Despite developing niche markets in thin routes Ethiopian had the courage to fly to these destinations, which had very low load factors.
Operating under the previous military regime, which was a period that saw the lowest tourism travelers to Ethiopia, was also another challenge.
Travel-Intel: Who are your top competitors?
ET: Emirates and Kenya Airways.
Travel-Intel: What measures are you taking to strengthen your brand worldwide?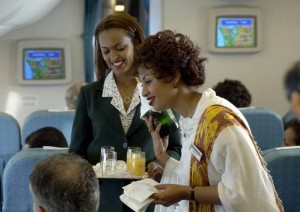 ET: Some of the methods and strategies Ethiopian follows in making its brand strongest compared to other airlines in similar categories are undergoing constant revision.
ET considers a mixture of Products, Price, Promotion, Placement as well as People & Process from time to time in order to create exceptionality in the specific markets and gain a competitive advantage to attract its customers. Hence, we are able to determine our Unique Selling Points (USP), which are actually the basis of our brand values: demonstrating total customer dedication, being a pioneer, providing excellence service, maintaining integrity, and encouraging all our staff to contribute.
Travel-Intel: How is the US flight doing? Is it daily? What are your plans for expansion in the US?
ET: The flight to the US is doing very well. Traffic is growing, especially after Ethiopian improved its service by upgrading its fleet with the long range Boeing 777-200 LRs.   As a result, Ethiopian is flying directly to the US. Ethiopian flies to Washington DC/Dulles Airport daily. However, frequencies will be adjusted depending on the seasons.
Ethiopian plans to expand its network to North America. The flight to Toronto, Canada, will start on July 16, 2012. Although the frequency right now is only twice per week, ET will be adding more flights once limitations in bilateral relations are lifted. In addition, ET is also planning to add one more destination in the near future – on the West Coast of the U.S.
Travel-Intel: How are you marketing ET in the US?
ET: In the US, we use a two-pronged approach. On one hand, we market to the trade (travel agencies, consolidators, sub-agents and home based agents). On the other hand we market directly to the consumer. We mainly use online media.
Travel-Intel: What are your strongest foreign markets? Why is that so?
ET: The strongest foreign markets for ET are Dubai and China. This is due to the increasing number of business travelers to these destinations from African countries who rely on the strength of the network Ethiopian has, which makes Ethiopian the fastest growing airline in Africa.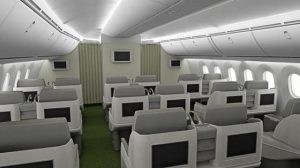 Travel-Intel: You are more than doubling the fleet. Why at this time? By when are these deliveries expected?
ET: Ethiopian Airlines has 47 aircraft in its fleet, which are self owned and leased. ET has also 41 airplanes on order, which include the most modern and game-changing aircraft. Ethiopian has a firm order for 10 Boeing 787 Dreamliner and 12 Airbus A350-900. The first of the ten Dreamliners is scheduled to start operation by the end of August.
Ethiopian is increasing its fleet to achieve its goals of "Vision 2025". These include network expansions with addition of more than 50 new destinations, greater flight frequencies, expanding banks and upgrading existing capacity.
Travel-Intel: What are your most successful routes?
African routes are, in general, the most successful routes. Addis-Washington route is also one of ET's strongest routes. This is due to the strength of the network Ethiopian has in Africa.
Ethiopian currently flies to 41 destinations in Africa with a new flight to Cotonou, Benin, which just started on June 15.  In addition, the Middle East routes are also one of ET's fastest growing markets.
Travel-Intel: What are the challenges in marketing to the US and expanding in the US?
ET: The challenges to US destinations are the need for ultra long-range aircraft and availability to fortify niche markets. However, the niche market focus has already been developed throughout the years since ET's inaugural flight to the US in 1998.
The recent addition of the Boeing 777-200 (five in the fleet) ultra long-range aircraft and the12 orders for the Airbus A350-900 (expected to start delivery by 2017) are also strategies ET is using to cover long-range destinations like the flights in the Americas.
With both the markets and the availability of aircraft addressed, expansion to North America is forecasted to be a thriving market for ET. However, as any other market, fuel costs remains a challenge.
Travel-Intel: How do you see Star Alliance making a difference in the strength of the airline?
ET: As customer service is at the core of Ethiopian Airlines' priority, being a member of the largest of airline global alliances brings huge benefits to Ethiopian's customers.
By joining the Star Alliance, ET now accesses 1,293 airports in 190 countries. This allows Ethiopian to offer its customers 20,500 daily departures and access to over 950 lounges in airports served by members of the Alliance.
The expanded network coverage enables Ethiopian to have coordinated schedules, access to new markets and traffic, and increased revenue as well. With Star Alliance, Ethiopian provides consistent worldwide recognition, convenient and secure global access, plus a hassle-free service experience.

Contact Ethiopian Airlines:
800-445-2733
FlyEthiopian.com