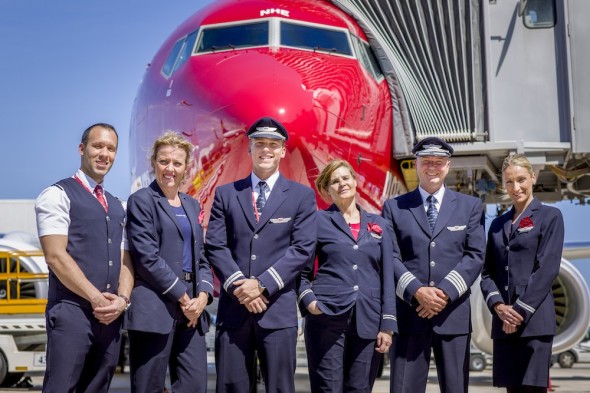 Flying to Europe these days is anything but cheap. That is, unless you are flying the Nordic way. Norwegian Air Shuttle, better known as Norwegian, is taking up the challenge, and that challenge is simply this: offer low cost air routes between Europe and the U.S. an stay in business.
Moving into year three of said challenge, Norwegian is expanding, fuel costs are staying in check and after a bumpy 2014, life is good for the can-do low cost carrier from Oslo.
Norwegian may be trying to do for transatlantic travel what Southwest Airlines did for U.S. travel: that is, make flying affordable, offer lots of routes between U.S. and European gateways and intra-Europe gateways, keep frills to the barest minimum and be the airline that pops to mind when someone says, "how 'bout Europe?"
The company has been flying for 20 years and giving regional lines like EasyJet and Ryanair a run for their money. But the budget transatlantic space is still anyone's game, and anyone's gain when competing against legacy carriers charging top dollar for those pond-crossing seats. Norwegian's rates come down to as low as $1000 off on economy tickets during off-peak times – and travelers can go the distance for less than the cost of a round trip ticket between Los Angeles and Las Vegas on a walk-up Southwest reservation.
While under a microscope in the aviation world Norwegian continues an aggressive expansion plan in the U.S.  It recently opened a communications office in New York City and prepares to launch a smattering of new routes in the coming months. Norwegian began long-haul flights using the 787 out of Scandinavia in May 2013 and added connections from London Gatwick to New York, Los Angeles and Fort Lauderdale.
The airline runs a fleet of seven Boeing 787 Dreamliners on those routes, which will rise to 17 by 2018. Each offers 291 seats (259 in Economy and 32 in its Premier cabin). The fuel efficiency of the Dreamliner aircraft is passed on to passengers in rock bottom fares but also in a trend that is becoming all to prevalent and all too annoying. Passengers in economy have to pay extra for just about anything but oxygen. Fortunately, given the engineering of the new aircraft, that O2 is much fresher these days, and the air pressure throughout the plane is much more tuned than it is in other aircraft, meaning the passenger is much more refreshed and has ears that work after a sapping 10-hour flight.
Passengers will like the hip nature of the airline's culture – kitschy uniforms, and communications with the stewards bay managed entirely through the seat entertainment screen.
What passengers might not like is the low-cost carrier way of charging for everything – from pillows to peanuts to all bags but the one you bring on the flight. Economy is a crowded affair: 3 x 3 x 3 configurations, 31-32-inch seat pitch and17.2-inch seat width.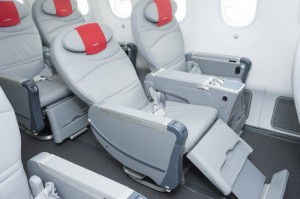 Premier class seats, while not quite of true Business Class caliber, will cost less than half of most Business Class fares between same routes and do offer a few perks. Seats are slightly larger than economy at a 46-inch seat pitch, and a 19-inch seat width. Rows run 2 x 3 x 2.
Large polarized windows keep out glare and light at the touch of a button, a Dreamliner signature. But those sitting in the window seat will be very hard pressed to escape for a bathroom break should their neighbor be fully extended and asleep while the seats in front are also fully reclined. It just cannot be done without walking on the head of the occupant in the aisle seat.
All seats get the 9-inch Android-based touchscreen IFE system, and they bring the conveniences of a USB port and power adaptor. Through this system passengers order any additional food and beverage choices they like. Wi-Fi is not currently offered on long-haul flights.
The entertainment system is easy to work and offers a reasonable, although limited, selection of films and entertainment.
Beverages are complimentary through the meal service in Premier but after that, everything is on the tab, whether coffee, coke or cookies. The meal will likely be something to be picked at so best to bring on personal snacks and food no matter what class the seat.
Snacks throughout the plane run from Toblerone chocolate bars (2.50 Euros) to sandwiches with a beverage (8.50 Euros) but there is not a lot in between (Potato chips? Brownie?) and major credit cards are accepted.
Norwegian offers three easy booking classes for Economy on long-haul routes:
• LowFare, which includes hand luggage only and the option to individually purchase any additional services. Changes can be made to the booking at a cost.
• LowFare+, which includes hand luggage, checked
luggage (of up to 20kg/44lbs), seat reservation, meals and drinks. Changes can be made to the booking at a cost.
• Flex, which includes hand luggage, checked luggage (of up to 20kg/44lbs), seat reservation, meals and drinks. The booking can be changed up to 30 minutes prior to departure and is fully-refundable.
Last-minute upgrades are possible from the latter two options.
To date, Norwegian does not share miles with other airlines. Lounges, however, are shared – with OneWorld in the Tom Bradley International Terminal in Los Angeles, for example and Korean Airlines at JFK. The airline also maintains a partnership with Executive Lounges by Swissport.
Meanwhile, Norwegian is hedging its own bets that Foreign Carrier Permits will prevail as flights from Las Vegas commence in the fall, along with routes to San Juan, Puerto Rico (SJU) and St Croix (STX). Additionally, the airline will launch service from Baltimore/Washington (BWI), Boston (BOS) and New York City (JFK) to both Guadeloupe (PTP) and Martinique (FDF) in the French Caribbean.
In total, Norwegian will soon be offering 31 routes from 10 U.S. airports, including more nonstop destinations from the U.S. than any other European airline.
Contact:
800-357-4159